Besides little nippers and toddlers, even adults are now into using baby shampoos for various dermatological reasons. The best part of using a baby shampoo is that it keeps you safe from those harmful chemicals that can create an everlasting hair fall and a rough hair texture. The no soda formulas of most of the baby shampoos give you shinier and softer hair without the expense of a beauty salon. The natural and gentle ingredients of most of the baby shampoo form the prime reason why every age group in the family uses them. Baby shampoo is the best mild shampoo for adult to treat and protect hair fall, dry scalp, breakage, and dandruff.
Although there is no special baby shampoo for adults so far, we have still jotted the list that can be referred by while shopping one for yourself. Baby care products are always safe to use for adults. Also, this is how you can save extra money on hair care products.
Why you must be wise enough while choosing a shampoo?
Mild shampoos for adults are generally taken as an epitome of perfection. Thus, we would like to clarify some doubts that you might be having in your head from long. Well! Talking about the reality, not all shampoos have that "chemical free" formula. There are hoards of shampoos brands that infuse are harsh chemicals and yet tag it "mild" to make little extra money. The chemical stuffing can give you rashes and skin irritation. Do pay attention to the following points while choosing a shampoo:
Fragrance
Take a note that strong smelling shampoos can lead to more hair fall and scalp irritation. They have more chemicals to produce nostril tickling scents. Say "no" to them.
Parabens
Parabens? What are they? Well, even I was not aware of them during the inception. But, Gradually I learned about them. Parabens are a group of chemicals that can lead to reproduction disorders. They can reduce sperm production and induce asthma attacks. Hence, any shampoo that comprises of paraben must be instantly rejected and the natural ones should be selected. It is also one of the main factors for hair fall.
Formaldehyde
If you have some sort of respiratory disorder, do not pick up a shampoo that is infused with formaldehyde. Formaldehyde can result in temporal nausea and headaches.
In such all the cases baby shampoo works best. However, you must always buy a shampoo that belongs to well-known brands. Not all companies sell mild shampoos in the name of dermatological products. Some may do it just for inflating their sales. A trusted baby shampoo brand would possibility provide you with a satisfactory blend of natural ingredient and chemical free formulation.
Why is baby shampoo a safer alternative for every age group?
You know it better! Anyways, emphasizing on technicality, baby shampoos have all those ingredients that are skin friendly and safe. They do not lead to any kind of eye or skin irritation. Maximum of the branded shampoos comprise of sulfate as the key ingredient. Sulfate t is really harsh over the sensitive skin. Surprisingly, if you visit any parlor or a dermatologist, first of all they would you stop you from using a sulfate infused hair wash. When you commence with the usage of a baby shampoo, you are left with nothing else but a healthier scalp.
Also Read:
Top 10 Best baby shampoo for adults
So, finally we are commencing up with the most awaited list of the baby shampoos. We have sorted some of the best brands and products that are just the best for you and your family:
1. Mamaearth Gentle Cleansing Shampoo for babies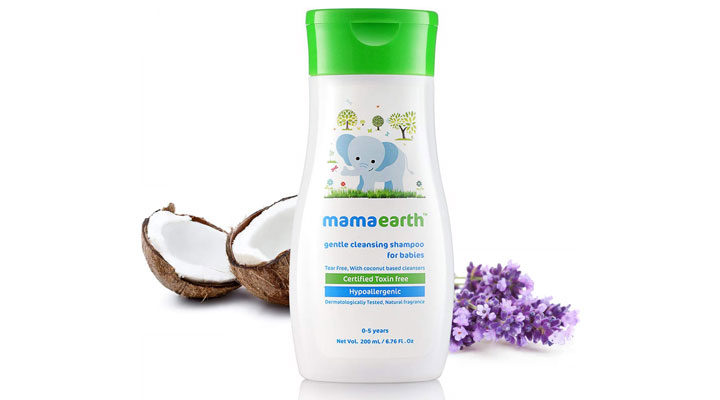 Mamaearth Gentle Cleansing Shampoo is Asia's 1st made safe certified toxin-free brand. Clinically tested in Europe, hypoallergenic and safe for sensitive skin. Enriched with the goodness of coconut-based cleansers and jojoba oil to nourish little one's scalp. It is the best baby shampoo for adults who have sensitive skin and deals with hair problems.
Mamaearth Gentle Cleansing Shampoo keeps the scalp moisturized and hair visibly healthy. It is formulated with Coconut based cleansers, this tear-free shampoo helps replenish the essential moisture and nutrients that the scalp can lose during bath time. The mild cleansing formula keeps the hair soft and clean, while the light fragrance leaves behind a clean scent. Because of its delicate fragrance and hypoallergenic, pH-neutral formula, the shampoo is gentle enough for daily use for the baby and the mother.
Mama Earth Baby Shampoo is the best tear-free, soap-free and paraben-free shampoo that you can share with your baby. It is the best mild shampoo for adults for treating hair fall problem.
2. The Moms Co. Tear-Free Natural Baby Shampoo
This baby shampoo is made of a perfect blend of powerful coconut-based cleansers and natural oils. TheMomsCo. Baby Shampoo is clinically tested to be hypoallergenic, mild and gentle for Baby's soft sensitive skin. It is a toxin-free, sulfate-free and paraben-free baby shampoo that is made without Mineral Oil, Sulphates (SLS, SLES), Parabens, DEA/TEA, Phenoxyethanol, Synthetic Fragrances, PEGs, and many other potentially harmful chemicals.
Unlike all other natural baby shampoos in the market that may contain hidden chemicals, The Moms Co. tear-free shampoo is an Australia-Certified Toxin Free, Made Safe and Australia Allergen Certified, so you never have to worry about getting only the safest cleaning solutions for the hair. It is one of the most trusted baby shampoo brands by many.
Key Ingredients: Coconut – Based Cleansers, Organic Moringa Oil, Organic Argan Oil, Pro-Vitamin B5
3. Mee Mee Mild Baby Shampoo
Mee Mee Mild Baby Shampoo contains grapefruit extract to cleanse and deodorize the hair leaving them shiny and lustrous. For safety and health, Mee Mee shampoo is carefully made to the highest safety standards. Mee Mee baby shampoo is the mild formulation with the conditioner that cleanses the scalp and leaves hair naturally clean and shiny. Specially made for baby's hair and scalp, it comes with a "no tears" formula and contains natural extracts.
If you're looking for a mild baby shampoo for sensitive skin the search ends here. Mee Mee mild baby shampoo gives ample form in pea-size. Hair remains soft and silky for a longer time. It is one of the most recommended baby shampoos for adults in India. It is a hypoallergenic and dermatologically tested baby shampoo that is completely safe for both children and adults.
4. Himalaya Baby Shampoo
One of the most trusted brands the Himalaya Herbals baby care shampoo is enriched with natural sources of protein that leave hair soft and nourished. This gentle baby shampoo is formulated to cleanse and strengthen hair with sensitive skin. Himalaya baby shampoo is a natural and herbal shampoo containing no harsh chemicals. It boasts anti-inflammatory and soothing properties to protect and care for sensitive scalp. All in all, it is an essential baby shampoo for adults that helps you get rid of dirt and other harmful infectious particles from the sensitive scalp, without damaging it.
Its main ingredients include chickpea, hibiscus, and khus khus. Chickpea which is reached in protein leaves the hair strong and shiny, while hibiscus acts as a natural conditioner to make it soft and smooth. Khus-khus soothes the sensitive scalp, with its antibacterial and antifungal properties. It is one of the best mild shampoos for dandruff and hair fall. These natural ingredients make Himalaya baby care shampoo perfectly safe for daily use for an adult.
5. Johnson and Johnson baby shampoo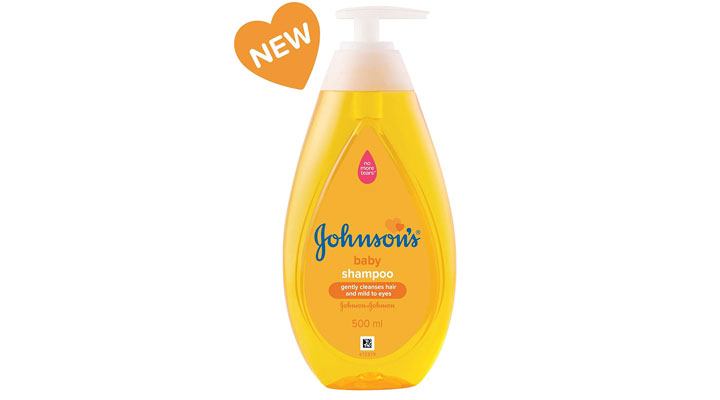 Of course, Johnson and Johnson's baby shampoo deserves to be in the top list because of its exceptional quality and the price tag. Baby shampoos are generally quite expensive, but in the case of Johnson and Johnson baby product, you won't have to undergo a quality compromise on spending low.
This shampoo is specially designed to be as gentle and mild to the eyes. Johnson's baby no more tears shampoo is free of soap and harsh chemicals. It is the best baby shampoo to clean the scalp and hair perfectly without leaving any adverse impact on the protective layer. Its anti-fungal and anti-bacterial properties prevent allergies or infections which is the main factor for hair fall. It's no more tears formula cleanses gently and easily, leaving the hair soft and healthy. It is the most recommended baby shampoo for adults who have experienced hair fall and dandruff. No more tears for grown-ups!
My scalp is extra sensitive because of which I was using Pantene`s mild version to clean it up. However, gradually I noticed a constant hair fall that made me tensed. Since I was not required to change my eating habits (as I am already a dietician!), I decided to switch over to a milder shampoo. To my surprise, it worked within the first wash itself.
6. Chicco No Tears Shampoo
Another best baby shampoo for adults is Chicco No Tears Shampoo. It gently cleanses the hair without irritating the scalp and eye. Chicco No Tears Shampoo contains no parabens, SLS or SLES clinically tested on sensitive skin Hypoallergenic (formulated to minimize the risk of skin allergies). It is also dyes and alcohol-free.
Chicco's baby care and hygiene products are a class in themselves. The Chicco No-Tears Shampoo is a unique product. Its uniqueness lies in the distinct features that set it apart from other popular brands of baby shampoos. It contains natural extracts like pot marigold, which is an active component of the no-tears formulation, it moisturizes and softens the hair and prevents the formation of tangles and hair fall. This Chicco No Tears shampoo also leaves behind a mild fragrance and natural shine to the hair.
7. Sebamed Children's Shampoo
The made in Germany shampoo Sebamed Children's Shampoo is the top choice for adults with dandruff and hair loss problems. It has a ph of 5.5 and has sugar based mild cleanser. Other regular shampoos have ph greater 7 and chemicals like formaldehyde, sulfates, phthalates, SLS which leads to allergic reactions and weaken the hair root. At ph 5. 5 the scalp barrier remains intact.
Sebamed children's shampoo is ideal for cradle cap, hair fall, infections, seborrheic dermatitis, and dandruff. It is 100 percent soap and alkali-free shampoo and especially mild cleansers for gentle cleansing without irritating the scalp. Sebamed children's shampoo is a clinically proven suitability for cleansing of hair and scalp in babies and adults with a sensitive scalp that was proven in the dermatological study.
8. Cetaphil Baby Shampoo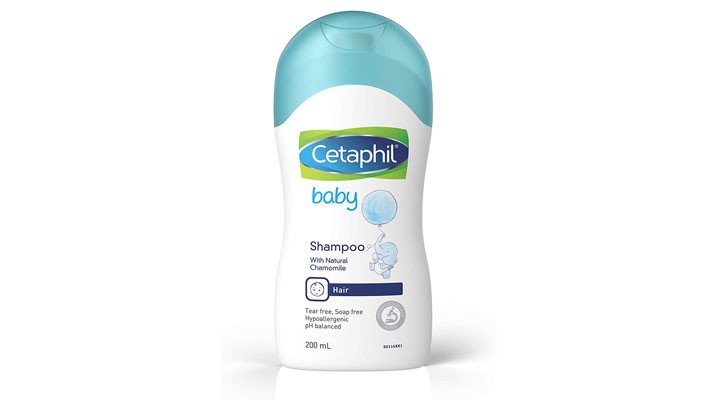 The tear-free Cetaphil Baby Shampoo is enriched with natural ingredients: Chamomile, Glycerin, Wheat Protein, and Aloe Vera. It is safe to use even on newborn skin from Day 1. Cetaphil Baby Shampoo is a soap-free pH balanced shampoo. It is allergy tested & dermatologically tested. It contains no harmful chemical – pamas free.
Cetaphil Baby Shampoo is one of the best mild shampoos for dandruff and hair fall. The Chamomile acts as a soothing agent and emollient. Glycerin helps in maintaining skin hydration, thereby locking in moisture of the skin and fight dandruff. It is one of the most widely clinically recommended baby shampoo for adults. Cetaphil baby shampoo should be on your list if you want to get chemical-free, soft, clean, manageable hair.
9. Baby Dove Rich Moisture Shampoo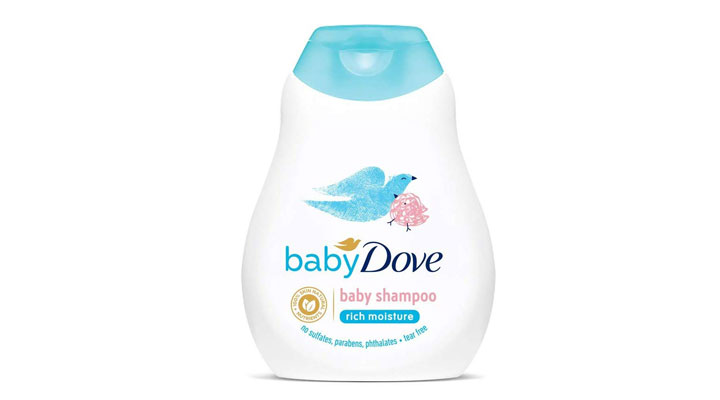 Dove has been the trademark for moisture-laden shampoos for adults since the beginning. Baby Dove Rich Moisture Shampoo is loaded with moisture for gently cleanse baby's soft hair. Adults who have brittle and damaged hair and dry scalp will instantly feel the difference in hair texture and scalp condition after using Baby Dove Shampoo. It is a pH neutral formula that produces a rich creamy lather, for skin that's clean, effectively moisturized, soft and delicately scented.
This Shampoo is specially formulated to moisturize the scalp and make hair soft. The best thing about Baby Dove Rich Moisture Shampoo is that it helps in fighting scalp infection and hair fall. It is one of the best choices of mild shampoo for adults. Free from all kinds of chemicals and skin irritational substances and contains 100% skin-natural nutrients to retain the natural moisture in the hair and scalp.
10. Lotus Herbals Baby Body Wash and Shampoo
Are you looking forward to a clinically recommended baby shampoo for adults? Lotus Herbals Baby+ Body Wash and Shampoo is your answer for it. It is a clinically tested with no harmful chemical, alcohol, synthetic color, fragrance, mineral oil and 99 percent natural. It was brought to life with handpicked ingredients sourced from very rare plants, herbs, and flowers. Lotus Herbals baby+ shampoo is as safe as nature itself. The shampoo is a much better alternative to the typical dandruff-free chemical shampoos for adults floating in the market. The paraben-free formula makes it an immaculate product.
You can try any one of the baby shampoos for adults enlisted above. All of them have been tried and tested. We know how effective they are for resolving the skin issues, hair fall, and dandruff. If in any case you are doubtful, do consult your dermatologist before beginning up with the usage of any.
The only con of using a baby shampoo
If you have been perfect in selecting a perfect baby shampoo for adults, the only downside that you might face is its lesser cleaning power. Baby shampoos are generally very mild to cut away the accumulated dirt and oil from an adult hair and scalp. Hence, it would be better to shampoo your hair twice.
Reader Interactions