Nothing can be more upsetting than hair fall. Yes! It's both stressful and annoying to notice the growng empty spaces between hairs. In fact, we don't bother when we first discover it, as biologically hair fall is natural to some extent, if there is no hair re-growth usually, then it becomes a nightmare. However, we try every possible remedy to stop it as to live with hair fall problem is painful. Now you are tired of finding the solution, but yet there is hope. To solve your problem, here we are going to review top rated anti hair fall oil In India. Do stay with us to select yours.
Causes of Hair Fall – What causes your hair to fall out?
As every problem has specific causes, so does hair fall has. Here we are discussing the causes point wise:
Genetics
The usual causes of hair fall that create the male or female pattern of baldness are gene–related. It has been noticed that there are men and women who began to face hair fall problem after a certain age in many families. In these cases, hair fall started at the age of 35-40 and get the full shape, what we called, baldness.
Stressful lifestyle
A stressful mind affects our physical cycle the most. So individuals who are undergoing any physical trauma, like surgery fever, any accident, may experience temporary hair fall.
Chronic Diseases
People who are suffering from any chronic disease like Asthma, Diabetes, Schizophrenia, and Epilepsy may experience hair fall. As chronic diseases take much time to cure, it weakens the body immunity system that made the hairs to fall out.
Lack Of Protein
Hair cells are made of Keratin, which is a kind of protein. It is the hair re-growth element in our body. So it may be one of the reasons of hair fall for those who have excluded protein in their diet or following a crash diet.
Due to Harsh Chemical
Use of products that contain harsh chemicals for a long time weakens the hair strand. Moreover, excess use of styling products for hair, like hair straightening; hair smoothening, hot oil treatment may damage the hair follicles. So hair fall is common to them who are using these procedures for a long time.
After Pregnancy
Hair fall is a usual part of an after pregnancy symptoms. During pregnancy, the female hormones rise in level reduce the chances of hair loss. After the baby has been delivered, the hormones return to their normal level and cause hair fall.
Specific Medicine
People undergoing certain medication may have hair fall problem. Some medications like an atidepressant, blood thinner, drugs for anti-inflammation make hair to fall out.
Thyroid
Both hypo and hyper Thyroid causes Hair fall. The hormone produced by thyroid gland works for our metabolism and body growth. So improper secretion of thyroid hormone can result in hair fall.
Pollution
One of the major reasons for hair fall is pollution and overexposed to sun rays. Men and women both have to spend hours outside with hair exposed to dust and heat for long hours. Moreover, untreated water, chlorinated water used for hair wash may also cause hair to fall.
12 top rated anti hair fall oils in India
Nourishing hair with oil massage is an old procedure to promote hair follicles to grow. So it is essential to select the best re-growth hair oil, especially if you are facing hair fall problem. There are so many best anti hair fall oil in India that we get confused often which one to buy and which not. So a proper guideline is much needed that would be helpful for a customer. Here we go with 12 top rated anti-hair fall oils in India.
1. Indulekha Bringha Hair Oil
Indulekha Bringha hair oil is best ayurvedic hair oil in India that is best known for its medical properties. The oil has been extracted from different ayurvedic herbs, which are very beneficial to stop hair fall and promote hair growth.
Ingredients:
All the ingredients in this oil are 100% natural. The principal herbs that are used are:
Amla
Neem
Yasthi
Karpura
Draksha
Bringharaj oil
Pros:
 Indulekha Bringha oil is pure and herbal.
It comes up with self-bottle which is user-friendly.
Control hair fall.
Promotes hair growth.
Supply essential nutrients to hair strands.
It Improves hair volume and split end problem.
Cons:
2. Himalaya Anti-hair fall oil
It's a super combination of distinctive herbs that inhibit hair fall and promote hair growth. So it has been considered as a super formula of best anti hair fall oil.
Ingredients:
This Ayurvedic oil is rich with key elements like
Fenugreek (Methi)
Bringaraj
Amalaki.
Indian gross berry
Neem
Soap Nut
Pros:
Combined herbal ingredients rejuvenate hair strands and have the beneficial herbal properties has made this oil one of the top rated anti hair fall oil.
The presence of Methi nourishes the hair root.
Neem works as an anti-infection and anti-fungal to prevent any scalp irritation that causes.
Reduce split end and smooth frizzy hair.
Budget-friendly.
Cons:
 May not work in specific cases where the reason of hair falls relating to other health issues
3. Patanjali Kesh Kranti oil
Patanjali in India is best known for its herbal products for skin and best hair re-growth oil this is one of the best Ayurvedic oil that combines herbs that nourishes and strengthens hair roots and stops hair fall. This oil has lots of benefits as a top rated anti hair fall oil.
Ingredients:
Patanjali Kesh Kranti oil is enriched with the following ingredients-
Alovera extract
Sunflower oil
Wheat germ oil
Mehendi
Bringharaj
Amla extract
Yasthi Madhu
Bramhi
Pros:
Reduce hair fall.
Nourish hair root and boost up blood circulation through massage.
The antitoxic properties of wheat germ and aloe Vera reduce toxin and make hair smooth and free of the tangle.
Soothing essence.
Affordable.
Cons:
May appear stickiness after use
4. Dove advanced serum oil
Dove advanced serum oil is one of the best hair re-growth oil available on the market.
Ingredients:
Coconut oil
Sunflower seed oil
Almond oil
Cyclopentasiloxane
Dimethicone
Methylpropinal
Linalool
Pros:
User-friendly packaging.
Makes hair tangle-free and smooth after use.
  It stimulates hair roots.
Reduce hair fall and promote hair growth.
Sweet smell.
Cons:
Makes hair sticky.
Smoothness disappears quickly, so need reapplication.
5. Khadi Tulsi Hair Oil
Khadi oil is the best Ayurvedic oil to reduce hair fall. This product is easily available on online shopping sites like Amazon and Flipkart.
Ingredients:
Tulsi
Amalaki
Shikakai
Neem
Sankhapushpi
Pros:
Herbal ingredients act to detoxify the scalp and make it dandruff free.
The vitamin and minerals prevent hair loss.
Cons:
Stickiness appears after use.
6. Bio Bhringraj Hair Oil From Biotique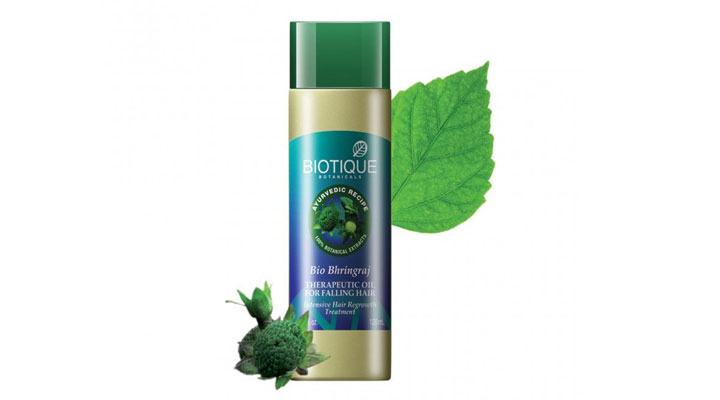 A total solution to hair fall problem with the best ayurvedic oil is now available in India with Bio bringharajHair oil. It is a widely used top rated anti hair fall oil in India.
Ingredients:
Bramhi
Amalaki
Mulethi
Bringharaj
Cow milk
Goat milk
Tesu
Pros:
Very light hair oil.
Reduce hair fall and other hair related problems that encourage hair loss.
Affordable price.
Cons:
7. Trichup oil
The best anti hair fall oil you can trust. So we have placed it on our list of top rated anti hair fall oil.
Ingredients:
Coconut oil
Sesame oil
Bringharaj oil
Amalaki
Extract of Karanj
Brihati
Mulethi
Pros:
It contains all the goodness of coconut and sesame oil.
Extremely beneficial for treating hair loss problem.
Bring smooth effects on hair.
Protects scalp from germs.
Cons:
Heavy and sticky
Hard smell
8. Advanced Parachute Scalp therapeutic hair Oil
Parachute is a well-known hair oil brand from Marico in India that improvises the goodness of natural oil into their products. This is such a formula for best hair re-growth oil and hair fall control.
Ingredients:
Coconut oil
Vitamin E
Butylated hydroxyanisole or BHA (Antioxidant)
Tert-Butylhydroquinone or TBHQ. (Aromatic organic compound
Hibiscus
Pros:
Easily covers all hair shafts.
It reduces protein loss from hair texture to some extent.
Presence Of antioxidants prevents free radicles and helps to stop hair loss.
Nonsticky.
Cons:
It smells like medicine.
Takes time to show any effects on hair.
9. Aroma Magic Stimulate Hair Oil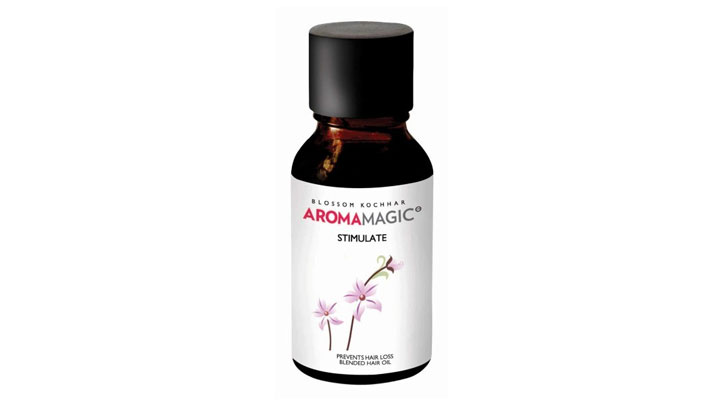 Listed as top rated anti hair fall oil in India for its effectiveness as a hair care product and best re-growth oil for hair.
Ingredients:
Key ingredients are-
Ylang Ylang essential oil
Rosemary oil
Cedarwood oil
Pros:
Stimulates Hair Follicles.
Ylang ylang essential oil is best to reduce stress, thus controlling hair fall due to stress.
Cedarwood oil has antifungal properties that minimize scalp infections.
Increase softness.
Cons:
Short shelf time
No quick result
10. Murtela hair oil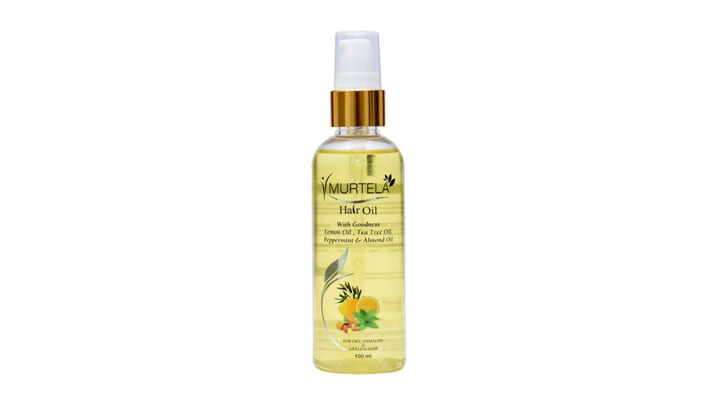 An ideal combination to treat hair fall and other hair problems from Murtela. Its active effects on hair fall control have made it one of the best anti hair fall oil among the top rated anti hair fall oil In India.
Ingredients:
Lemon oil
Almond oil
Peppermint oil
Tea tree oil
Arnica extract
Alovera
Bringharaj
Hibiscus
Pros:
Effective on all types of hair. (Dry, oily and frizzy).
Solve dandruff and other scalp irritations.
Fusion of lemon and almond oil controls hair fall.
Cons:
11. Dabur Amla Hair oil
Dabur Amla hair oil is one of the oldest and the best anti hair fall oil that is being used by millions of Indians over the years and with a positive result.
Ingredients:
Sesame oil
Canola oil
Peanut oil
Palmolive oil
Mineral oil
Extract of Gooseberry (Amalaki)
Antioxidant TBHQ
Pros:
Easy to use
Non-sticky
Manage hair fall
Leaves hair smooth and shiner
Cons:
Smell is strong
There is no system to pour the oil drop by drop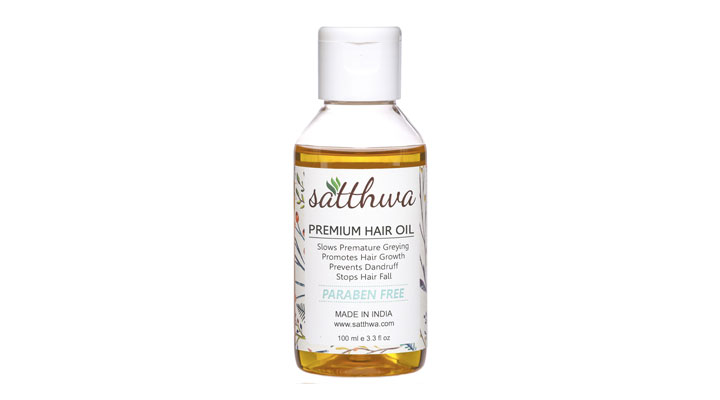 It's a combination of different essential oils mixed in a perfect proportion that is gained much popularity as top rated anti hair fall oil in India.
Ingredients:
Castor oil
Coconut oil
Almond oil
Amla extract
Grape seed oil
Emu oil
Olive oil
Jojoba oil
Pros:
The healing properties of natural oil–infused together to combat hair fall problem
Super absorbing
Free of chemical like paraben
Reduce dandruff
Not too heavy
Cons:
It's available only through online.
High price.
How to prevent hair fall naturally?
If you tired of trying the best cosmetic hair fall products from the market and have nothing have worked out yet. Then home remedies come to the rescue. Do you know natural ingredients always work the best for all types of hair problems? Here we will discuss some effective home remedies which can control your hair fall problems.
1. Egg hair mask
Eggs work as the natural hair spa agent as it is a rich source of protein, sulphur and iodine which will promote your hair growth naturally.
Ingredients Needed:
One egg white
4-5 drops of lemon juice
2 teaspoon of olive oil
1 Vitamin E capsule
Procedure
Take one egg white by separating the yolk in a clean bowl.
Add olive oil, lemon juice and poke the Vitamin E capsule to take out the oil from it and add to the mixture.
Beat all the ingredients for making a smooth paste and on the roots to tips of your hair.
Wait for an hour and finally rinse it off with a mild shampoo.
This hair mask will make your hair smooth and silky.
If you are suffering from dry and damaged hair, apply this hair mask once a week for the best results.
2. Aloe Vera gel Hair Spa
Aloe Vera Gel is known for repairing the dead skin cells on the scalp because of the presence of proteolytic enzymes. It is also a great natural hair conditioner which reduces dandruff, promotes hair growth and reduces hair fall.
Ingredients Needed:
3 tablespoon aloe vera gel
3 tablespoon extra virgin coconut oil
1 teaspoon raw honey
1 Vitamin E capsule
Procedure:
Take all the above-mentioned ingredients in a clean bowl.
Mix everything very well into a paste-like consistency. You will be noticing that the paste has turned white in colour.
Now apply this natural hair spa all over hair from roots to tips during bedtime and keep it overnight.
Next morning rinse it off with a mild shampoo.
This hair spa works great for the people who are suffering from extreme dandruff and dull hair.
You will be getting a parlour like hair spa result in the first use itself.
Amla, Shikakai and Reetha Hair Mask
We all know the benefits of Amla. It is rich in Vitamin C which strengthens the hair follicles and prevents hair loss.
Shikakai, on the other hand, is rich in antioxidants, saponins and vitamins which heals the scalp and prevents hair drying.
Reetha has antibacterial and anti-fungal properties which act as the natural cleansing agent.
Ingredients Needed:
1 tablespoon Amla Powder
2 tablespoon Shikakai Powder
1 tablespoon Reetha Powder
Rice water
Procedure
Take Amla powder, shikakai powder and reetha powder in a clean bowl.
Mix all the ingredients with the required amount of fermented rice water.
Mix it well until you get a smooth paste-like consistency.
Finally apply this hair mask all over your hair, especially on the roots and keep it for about 30 minutes.
After 30 minutes, just rinse it off with a mild shampoo.
Repeat this after every 15 days.
This hair mask is the one-stop solution for all your hair problems.
Hibiscus Hair Mask
Hibiscus is a great source of Vitamin C and amino acids which improves the blood circulation under the scalp in stimulating healthy hair growth. It also contains vitamins and antioxidants which boosts the pigmentation of the hair.
Ingredients Needed:
2 hibiscus flowers
1 big bowl of fresh hibiscus leaves
2 teaspoon extra virgin coconut oil
1 teaspoon aloe vera gel
Procedure
Take the hibiscus flowers and hibiscus leaves and grind it very well into a smooth paste.
Add coconut oil and aloe vera gel to it.
Mix all these ingredients very well.
Apply this hair mask from the roots to tips of your hair and keep it for about 20 minutes.
Finally, wash it off with a mild shampoo.
This is an efficient remedy to put a stop to hair fall, revent premature greying and encourage hair regrowth.
These are the easy and effective hair fall treatments at which you need to go for. These home remedies provide permanent results as they are free from chemicals and are purely natural.
Conclusion
In conclusion, we hope the above list would be quite helpful to select one of the top-rated anti-fall hair oil that you are looking for in the market. Though hair oil massage contributes a lot to stops hair fall, it's also important to check up inner health. Change your food habits to boost up the nutrients absorption. So try to avoid ready to use food and includes green vegetables, fibrous food, protein in your diet to get a thicker lustrous hair.