Shopping… Do you even need a reason to pick up those fancy shopping bags from Vero Moda or fight back the tantrums of life. For every sorrow or midlife crisis that we go through in life, shopping is the answer. Shopping is the answer to the million of questions your ex didn't answer. It is the answer to all anxiety disorders and stress. It could be your partner to boredom or mood lifter. Shoppers without shopping hacks are not true shoppers indeed. You fight over shopping destination, cheaper offers, product quality around your shopping spree.
One trick of shopping on which every shopper would agree- "Bargaining is the king of street shopping". However, the shopping business is also categorized into different categories depending on the source of shopping.
Types of Shopping
# Street Shopping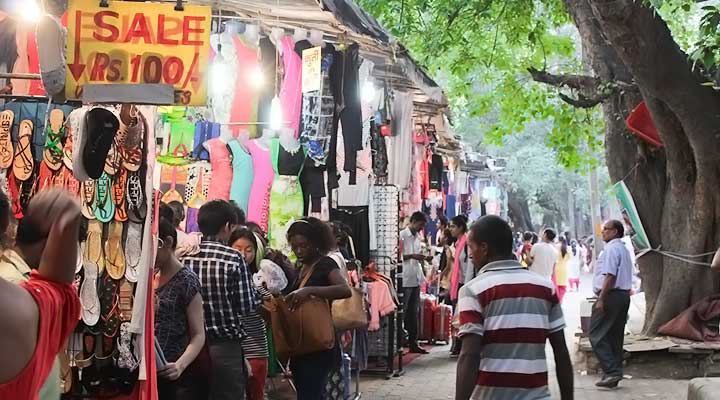 Shopping around in malls seems one of the convenient options for majority of buyers. The high-priced products often lead to heart-attacks and compromises a common man makes. Street shopping from independent shops serves as a boon in most of the cases. You don't have to jump into an Allen Solly showroom, if you just broke your slipper while running errands. There are handicraft and hand-made products available at affordable cost which you would realize while shopping from a local shop. The lanterns, bed-side lamps you ever dreamt out of "Wake Sid" movie would be found during the street shopping hunt at a reasonable price. Street shopping is all about shopping carelessly with family or friends, enjoying the street foods or drinking coffee along with shopping.
If you are new to street shopping in India and do not have much idea about how to shop smartly then we are here to help you out. Here, we are with great street shopping tips that will help you save money and also help you in getting the best things from the local markets.
Things you need to keep in mind while going for street shopping in India
1. Comfy Dressing
Street shopping can be tiring process at time if you don't dress up properly. So, we strongly recommend you wear comfy clothes. Girls can wear kurtas and pyjamas and boys can wear the casual t-shirt and loose pants. Wear a comfy pair of shoes. Sandals will be perfect in making your shopping experience a happy one. Never wear heels or new pair of shoes because in street shopping you will have to walk a lot and it is always better to be comfortable while bargaining, as getting tired will be the last thing you want in the street shopping.
Avoid wearing low waist jeans for both girls and boys, no butt cleavage show appreciated in the market.
Don't go for the broad neck dress as you might need to bend down, and you wouldn't like to be an eye-candy for the men out there.
2. Carry Change
In street shopping, most of the shops do not accept credit cards or net banking. So, it is very important that you have enough cash with you before you go out shopping. Otherwise, there will be high chances to lose the bargained price because of not having enough cash. Make sure to carry change while shopping.
You can also go digital. Thanks to digital India, many shopkeepers have started using paytm. And that is convenient for everyone.
3. Perfect Timing
Secondly, it is also very important that you arrive as early as possible. This is because during the morning you get better opportunities in browsing at a slower pace. If you go to the market lately, the less bargaining opportunities you are going to get.
4. Check out the corners and edges
Most of the products that you will be getting in the street shopping are export rejects. So it is particularly important for you to go through each and every corner and edge of the product. Make sure to check the stitches and pattern before buying so that you do not regret later on. Most of the people make mistakes here.
5. Carry A Big Bag
Yes you got it right. The shopkeepers will give you that pretty dress in a polythene bag. And these types of bags are very weak and may ditch in the middle of the road. Here we recommend you to carry a big bag where you can just keep your products make your one hand free. Also will be environment-friendly, after all we have some duties towards our Mother Earth
6. Awesome value for money
If you go to the market to buy a shirt, you will get the same piece in a variety of prices. So, why will you buy the shirt in five hundred bucks when you can purchase the same shirt for just a hundred bucks. Because let's be honest, in street shopping the cheaper piece is always going to be the winner there.
7. Bargaining
Street shopping is the perfect place to bargain that you are not going to get in window shopping or outlet shopping. It is undoubtedly the plus point here in street shopping. Moreover, no one is going to judge when you just simply walk into other shop and can be able to make the purchase at half price.
8. How to deal price
Dealing with the sellers is the most important thing that you need to know. One of the common as well as the personalised charm in calling your nearest seller 'bhaiyya Ji'. Yes, it sounds crazy, right? In street shopping there no sir no madam. The seller and buyers are just like a wide network of 'didis and bhaiyyas' ?.
9. Set a budget
It is particularly important to set a budget in a smart way before you rich the market. You can set a price limit for the specific items that you are going to buy. Do not try to overspend your money.
10. Parking Facilities are free
If you go shopping at a mall, then you might need to pay 50 bucks. But street shopping is quite affordable as compared to the basement parking. Sometimes you may not need to pay for the parking. So this is the plus point here.
11. Avoiding Sales
Yes, it is challenging sometimes to avoid the product that is labelled with the huge discount with sale stickers. Don't be an early bird in sale as you may end up buying cheap item. This is because in most of the sales offers, the shopkeepers sell rejected or chepa item. So don't throw your hard earned cash in sale.
# Shopping in Malls
When we talk about shopping, nothing can be so better than a shopping mall. Amazing offers, festive sales, discounts and lots more in just one place. Shopping at the malls provides a lot of entertainment. There are gaming zones, cinema halls, ice cream parlors, restaurants and lots more. You can spend the entire days in a pleasant and in a leisurely way. Of course, you need to pamper yourself time to time. It is a place where you can get all the product just like the supermarket. Purchasers can explore varieties based on their requirements. Shopping at a mall is quite different than the street shopping.
Things you need to keep in mind while going for shopping in malls in India
1. Stay Stylish
Well, going to the mall is not just about shopping but also showing off, Weird isn't it? But its true. And for showing off you need to look super cute and super stylish. But at the same time, you also need to choose comfy outfits. Girls can wear pretty dresses or shorts while boys can wear the casual t-shirt and denim pants. It will make you all look stylish and trendy.
2. Shop with the list
This tip is extremely important especially if you are going to a mall shopping. Most of the people spend the extra amount of money while buying extra things that they don't even need. This is your hard earned cash, right? So before you go shopping, just prepare. Prepare a list of the products that you are going to buy and ask yourself do you really need it. And then finally include the item in your shopping list. Make sure to use the list while shopping so that you do not overspend your money.
3. Set a budget
It is not possible for you to bargain in malls. And this is the main reason that you always need to set a particular budget within which you can make the purchase and always make sure you stick to it.
4. Saves time
Shopping at a mall saves a lot of time as well as the effort which you generally lose while going for the street shopping. This is because you are going to get all the things in just one place. Isn't it great? In street shopping, you need to move from one store to another for getting the better deal which you need not have to do here.
5. Quality
The quality of the products in the mall is far better than the product that you will get in the street shopping. They generally sell branded products which are the plus point here.
6. How to deal with the price
You cannot bargain with the price in the shopping mall. They are already fixed so you are bound to pay the amount that has been set by the mall. However, before going to the shopping malls you can compare the prices of the products in the malls in various applications. These apps will allow its users in comparing its prices online. It is the only way through which you can deal with money.
7. Carry Extra Bag with you
Make sure to carry the extra bag with you in the mall shopping as well. This is because there are some shopping malls that charge extra money for providing a bag. If you have a bag with you then you can save your money.
8. Crazy deals and discounts
Mall shopping can be great during the festive season as you can get a lot of deals and discounts and lots of buy one get one offer. You can get the best products at a low price. But you also need to make sure that you don't over-purchase. Stick to the list. Always look for the cashbacks and other offers that are given by banks. Malls and brands have tie-ups and they give better offers. Redeem them and you will be proud of yourself. A little research before going to malls will help you in doing smart shopping 😛
9. Take Advantage of the trial room
Well, you are not going to get into any of the shopping. Not every local shops have a trial room. In the mall, you can try the products, specifically the garments in the trial room. Through this, you can go through the fittings and if any issue comes out, you can go for any other dress.
10. Off-season shopping
We always recommend everyone to go shopping during the off-season. Suppose you are willing to buy a sweater for you. We advise you to buy it when its demand falls. You can buy it during summers. But there are sometimes when you cannot find those products during the off-season because the mall owners are clever enough to deal with your trick. Check out the next tip given below.
11. Off-hours shopping
We would not recommend you to go shopping during the holidays. This is because on such days more people visit the malls to buy products and hence more price. It will be best if you visit the malls during weekends. This is the perfect time as most of the people are busy with their work and you can get better deals.
12. Before Buying, ask yourself
You are going to get amazed by seeing a lot of discounts going on the season sale at malls. And literally, you will pick up so many things in your shopping cart. So we always recommend you to ask yourself a question that is this product really important for you?
13. Communicate with staffs
If you have any confusion regarding any product or item, don't just buy it. You are paying and you have the right to ask about that particular item. You can take the help of mall staffs. They will provide you with all sort of information regarding the product.
14. Bag Check
There are some malls where you may not get shopping carts and this makes difficult for you to carry the stuff that you are going to purchase. So it is important that you check your bags properly before leaving the mall.
15. Don't forget to go through the catalogue
If you are in a mall shopping, then you can just read out the brochure or catalogue. This will give you the brief overview of the products they are selling and also the offers. You can also take the extra brochure with you if they permit. It will definitely help you in future to prepare a shopping list.
# Online Shopping
Why face crowds and queries when you can easily shop at comfort by sitting and relaxing at your home? Online shopping obviously is one of the convenient ways that not only saves your time and efforts while purchasing but also saves money. With the growth of the digital generation, it had become easy for people to buy their day to day products online. Moreover, you can do shopping online without any hassles or any location constraints. And the best part you can always return or exchange your products if it is not suitable for you. But there are some things that you definitely need to know if you are going for online shopping for the first time.
Things you need to know if you are going for online shopping in India
1. Go for free shipping
Most of the reputed e-commerce companies offer free shipping in most of the products. So you need to check out before making the purchase. It will help you in saving extra bucks of money.
2. Go to the familiar websites or use COD
If you are not sure enough to buy from any new website, always opt for the website from which you have purchased earlier. Through this, you can be assured of the product based on your earlier experiences. There are some fraud websites who offer a great sale and discount. To avoide mistake and regreat used POD or COD (payment/cash on delivery) as a mode of payment.
3. Getting Best deals
In online shopping, you can get the best deals and offers during particular days of the week generally on weekends. Here you can get discount codes and make the purchase by saving a lot of money. Many e-commerce websites give special discounts and offers time-to-time. They also give benefits like zero cost EMIs. That is the best time when you can buy your high ranges DSLRs, laptops, phones, and other items like branded shoes, and authentic women sandals online that are on your wish list without making a hole in your pocket.
4. Check out the reviews and ratings
If you have finalized to buy something for you. Make sure to go through all the reviews of the product. This will help you to get an idea about the quality. There are also some paid reviews in such sites. So you need to be careful about that. Opt for that product that has the maximum number of reviews. Don't forget to check the sellers' ratings as well.
5. Filter Options
The online shopping is the perfect place where you need not have to bargain for the products you are going to buy. You can simply go to the filter option and set the criteria as per your choice. You can get the product as per your chosen criteria.
6. Shopping Cart saves you
You can save the particular product in the cart option and make purchases later on. There are sometimes when the brands itself reach out to you and avail you discounts.
7. Pricing Range
In online shopping, you are going to get the products at an affordable pricing range. So make sure you compare the prices and then proceed for buying.
8. Gift Options
If you are willing to send gifts to your near and dear ones, then online shopping is the best option that you can go for. You can gift the item conveniently without any hassles.
9. No crowd
This is the plus point of online shopping that you can shop hassle-free because there is no crowd. The crowd can affect your concentration towards shopping and online shopping makes you a very convenient option. And for all my introvert friends you don't have to face the awkward situations with the people outside.
10. Contact to the customer support for any issues
There are some times when you might receive the damaged product. And they may not provide you with the return option. So in such cases, don't forget to take the help of the customer support team. They will definitely help you in this regard.
11. Avoiding Sellers' Trap
Generally, when we go for outlet or street shopping, we fall under the sellers' trap or pressure where we are bound to buy those products which we need not intend to buy. But it doesn't happen here in online shopping. We can shop freely.
#Some Additional Tips
Here we are giving you some additional tips which will even help you to shop better:
You can set a particular timeframe before you go shopping. Don't waste your time in roaming here and there. Once you have bought all the items that you planned to buy, just stop shopping. Otherwise, you will end up spending more money.
Select the best shopping time as per your preference. Avoid going to such timings when the markets or malls get overcrowded.
Always carry good quality purse or wallet with you. There are sometimes when you might face the problem of pickpocketing. So you need to stay alert and also carry the good purse. Avoid carrying your wallet in your back pocket.as this will give the thief chance to snatch your wallet.
This will sound weird but it is true. Don't shop when you are tired, bored, hungry or upset. This will end up to overspend as you are not in a mood to bargain. You can do some other activity until you feel alright.
No matter how sweet or friendly the sales person is, always remember he is only there to sell his product to you. Yes, you cannot avoid this fact. Their main purpose is to engage you with their friendly behavior so that you can buy products from them. So be mindful.
So, these are some of the amazing shopping tips that we wanted to share with you. Shopping can be an enjoyable and relaxing part of your weekly routine. But sometimes it can also be time-consuming if you do not know the exact trick to shop. Hope these tips help you out make your shopping experience great.
Feature Image: Freepik.com