As the fashion or beauty lover, when we talk about eye makeup, the first thing that comes to our mind is applying shadow. And for the perfect eyeshadow application, it is very important to know those basics of choosing the best eye brushes for our eye makeup. There are a lot of eyeshadow brushes available in the market. Each brush serves its own purpose.
So if we go for smokey eye look, dramatic cut crease makeup or closed banana cut crease, then we need to choose the best eyeshadow brush accordingly. For those of you, who are new to this fashion and makeup world, then it would be difficult for you to choose the best eye make brush based on their brands and functions. So, to make it easier for you to understand, we have shortlisted 15 best eye brushes that suit for all eye types.
Also, Read
Different types of Eye brushes that you need to know
Eye Liner Brush:
Eyeliner brushes are the slim brushes that are extremely useful for drawing fine lines. For achieving a precise shape or line, various eyeliner brushes come in handy. With the help of an eyeliner brush, one can easily draw a curved or a winged line on her own.
Eye Contour Brush:
The eye contour brush has an angular edge as well as folding bristles which is just perfect for blending the eyeshadow products by giving it a perfect definition by contouring the edges of the eye.
Eye Shadow Brush:
An eyeshadow brush is a brush which is used for applying cream as well as powder eyeshadows evenly.
Eye Blending Brush:
When we talk about eye makeup, it is very essential to blend the product evenly. An eye blending brush will help you to experiment with various colors such as dramatic smokey eye, blown outlook or a cut crease.
List of 15 best eye brushes
1. Urban Decay Pro Iconic Eyeshadow Brush
Urban Decay Pro Iconic Eyeshadow brush also comes under the list of the best eye brushes. This brush is extremely effective for blending the product up. The output that you will be getting after blending the product is next to awesome. The hair of the brush is made up of synthetic materials that are both environment-friendly as well as cruelty-free. Not only this, the brush works really well during the application of liquid and cream eyeshadow. We recommend every beginner to try this brush out as it does not have any cuticles. This is the main reason that the Urban decay pro iconic eyeshadow brush is known as the best eye makeup brush.
2. MAC 252S Large Shader Brush
MAC large shader brush is the most popular eyeshadow brush which all the makeup artists use. It has firm and soft bristles that are designed in paddled shape and the materials that are used are of excellent quality materials. This is the best eye brush for applying cream applying cream eyeshadows and the products blend easily. Not only this, the brush works efficiently to highlight the browbone area.
3. MAC 209 Eye Liner Brush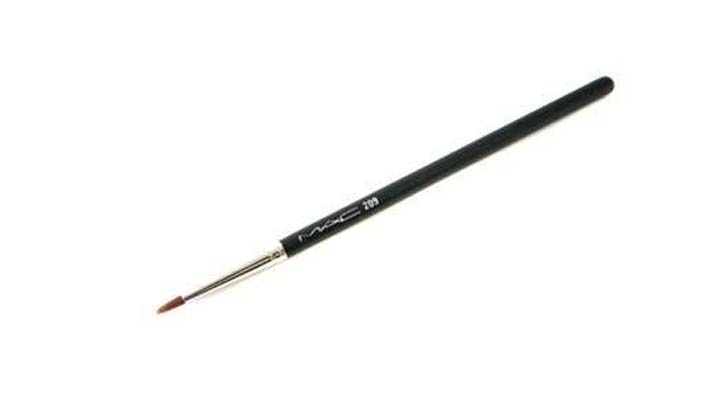 MAC 209 eyeliner brush contains soft and firm synthetic bristles as well as fine round tip. The brush comes very handily by making it the best eye brush. The tip of the brush is very soft that it works perfectly to draw the fine lines on the delicate skin all around the eyes.
4. Sigma E11 Eyeliner Brush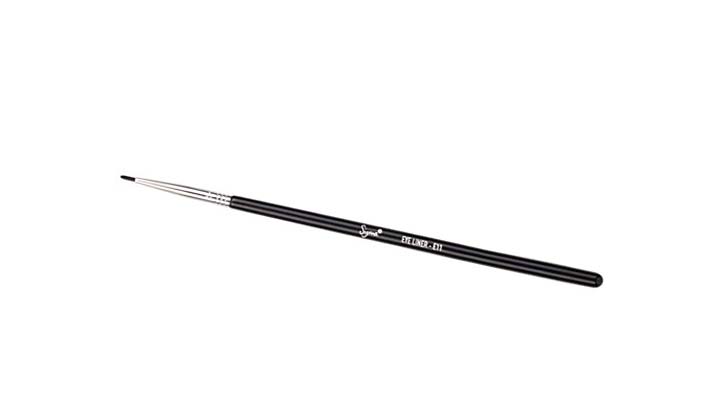 This brush from Sigma helps in blending the base of your eye makeup. And the result that you will be getting is just awesome. The brush is made up of superfine bristles as well as ergonomic handles which helps in giving you a fine textures and shapes making it a best eye makeup brush.
5. Generic Eye Contour Brush
This brush is very good for softening and buffing out the cream or powder eyeshadows. This high-quality soft contour brush is perfect for blending and placing the product on to the eye area.
6. Bobbi Brown Eye Contour
This brush from Bobbi Brown is one of the most popular eye contour brushes available in the market. It has an angular brush head that is designed for fitting precisely on the crease area of the eyelid and makes it an easy application.
7. Sigma Beauty E55 Eye Shading Brush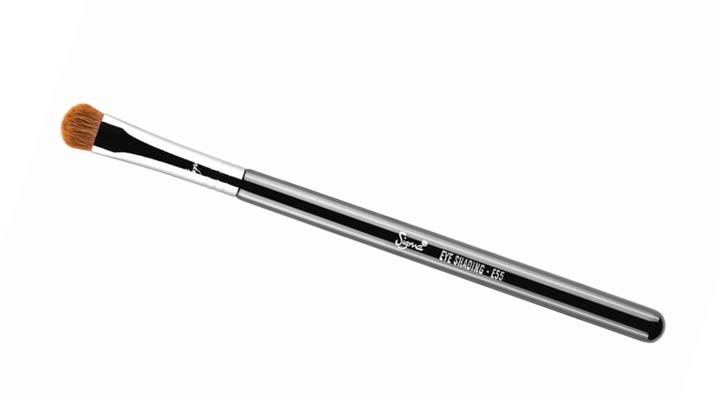 This is the best eye brush from Sigma Beauty which has soft bristles that is of round edges. The eyeshadow blends evenly. You can literally play with the eyeshadow and control it on your own. It is a multipurpose best eye makeup brush that you can use to blend your eyeshadow on the crease line and also used for all over eyeshadow application. The main plus point of this brush is that it is extremely affordable that anyone can go for.
8. Japonesque Dual Fiber Eye Brush Set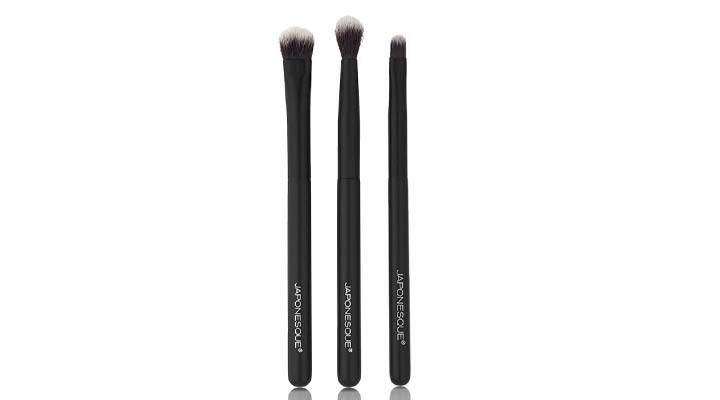 It comes with three different brushes that are designed with high-quality bristles. The brush works perfectly for the heavy eye makeup. If you are on a trip, this brush set will come in handy for as it really travels friendly. The brush has been included in the list of best eye brushes as it blends the products on your crease line and gives you a perfectly blended look. It is also good for the smaller eyelids as well as for the hooded eyes.
9. MAC 217 Blending Brush
The MAC 217 eye blending brush is designed in nickel plated and black wooden packaging. It has silky soft and white fibres which makes it easier for the user to blend the product. Because of its flat oval shaped fibre, it makes easy application and gives you a perfect texture.
10. NYX Pro Blending Brush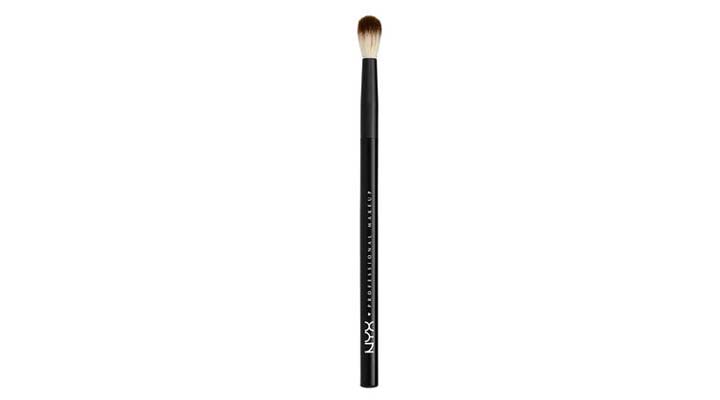 NYX Pro blending brush has fluffy ends which are very excellent in blending the colours seamlessly. It works great in giving the precise transition and go all over the edges by confirming it that there is no harsh line above the shadow. This is the best eye brush that you can go for.
11. Lancome Tapered Natural-Bristled Eyeshadow Brush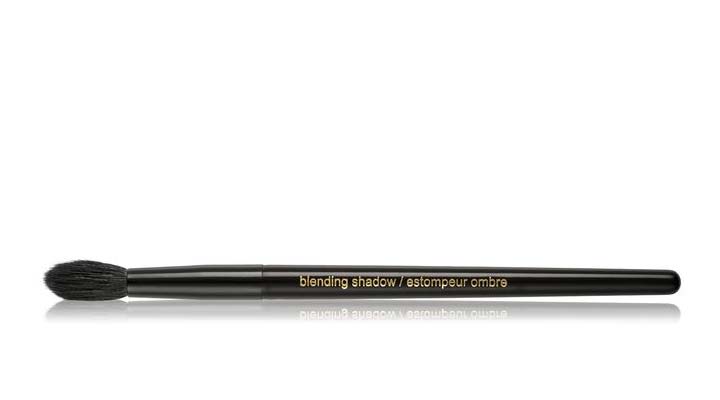 It is a multi-purpose brush that is uniquely designed. It is the best shader brush for all eye types. The brush works perfectly for softening up the contouring colours as well as to diffuse the eyeshadow pigments. It lasts for long as it is made up of the natural bristle.
12. Make Up For Ever 216 Medium Precision Eye Blender Brush
This is best eyeshadow brush for those of you who have smaller eyelids. It works great to blend the crease area as well as the accent colour. The product is made up of wooden handles that are quite well balanced and comes handy. The brush is really good smudging and blending the colour along the crease line. It blends the pigment smoothly like a pro. We highly recommend to all the beginners out there to try out this product.
13. Hourglass All-Over Eyeshadow Brush No.3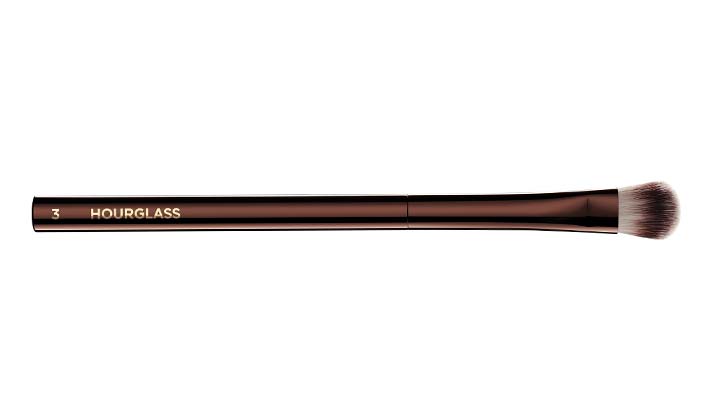 This brush of Hourglass is the best eyeshadow brush as its quality is just more than awesome. The bristles are made of multitone taklon and soft bristles. If you are going for heavy eyeshadow look, daytime or natural look, then this brush is perfect for you. In short, it is a multi-purpose brush which can work well in all type of eye makeup. However, it does not really work well for the smaller eyelids. It does its job perfectly in blending the shadow all over the eyelids and give a perfect definition to your eyes.
14. Jane Iredale Eye Shader Brush
This brush from Jane Iredale is flat, short as well as is of medium density. It works wonderfully in creating definition and blending up the eyeshadow. Also, this is the best shader brush for all eye types as it goes perfectly for the bold or soft eye look. Yes, it is definitely pricey but once you start using it, you will never get dissatisfied.
15. Lamor Eyeshadow Brush Set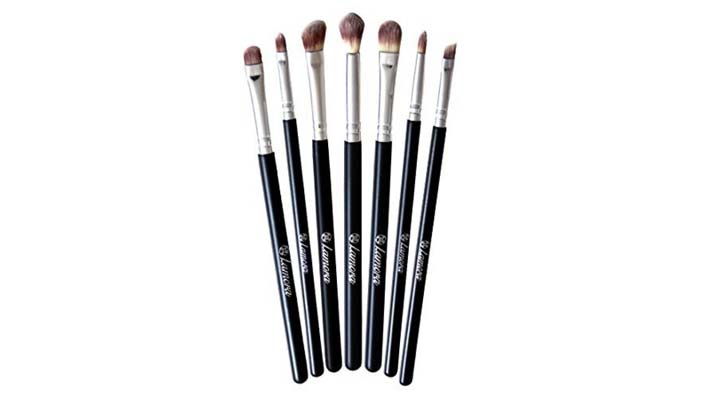 Lamora Eyeshadow Brush set is designed in a circular box form. The output that you will be getting after applying the eyeshadow is more than awesome because of its soft and firm bristles. This is the best shader brush for all eye types as one can try out different looks including daytime, natural and smoked out look. One can easily use this without putting in much effort. If you are one who is in search of an affordable best eye makeup brush, then this product will satisfy your needs.
Also, Read
A perfect eye makes up speaks a lot
So, these are our hand-picked best eyeshadow brushes that you need to try out. A perfect eye makes up speaks a lot as it enhances your look. If you have any other idea regarding the best eye brushes, then do write in the comments section below, we would love to read your comment and experience.
Reader Interactions