White and plumper skin is always the desire of most girls. A bright facial skin helps you more attractive and makes you more confident in every case. For some people, they get that desirable skin from birth while many others don't. Many people put their hopes on lightening creams or pills to whiten their skin with the desire to own a flawless skin. However, there are also many inadequacies surrounding applying this way, such as financial issues or the quality of the creams and pills. With creams and whitener pills, they are often expensive and require long-term use, so it is difficult for low-income people to pay for them. As for low-cost products, they are usually poor quality that can affect your health and skin and even damage your skin. There are many cases that people buy low-cost products and suffer from the unfortunate consequences.
Meanwhile the rest of the world has a smarter choice, which uses natural beauty recipes that are extremely safe and can be done at home. These methods are simple and effective but not everyone knows them. So, today we have decided to offer these tips that can tone up your skin in one week. Let's see what they are!
1. Regularly clean and exfoliate your skin
Skin cleansing and exfoliation are important for whitening your skin. This is the first step in any to improve your skin tone. Daily cleansing helps keep pores clear and prevent skin problems such as acne, rash, oiliness, etc., which will make your skin look duller and worse. Exfoliating the skin ensures that you remove dead skin cells to allow your skin to reproduce more easily. Exfoliation also makes your skin smooth and refreshed. It is a process that removes dead skin cells, dirt, and sebum, giving skin a smooth look.
Besides, exfoliating helps accelerate the skin regeneration, reduce brown spots, clean the pores, and make the skin brighter. Your skin also absorbs cosmetics better. However, you should not exfoliate daily because this is not really necessary or even harmful to the skin as it will make your skin more irritated and vulnerable. Your skin will be eroded and not have enough time to regenerate new cell layers Moreover, the epidermis is thinned, so the skin is not sufficient to protect under the influence of the environment. With oily skin, you should exfoliate twice a week, and once a week with mixed skin. For people with sensitive skin, they should only apply this once a month. And exfoliation in winter is usually less than doing in summer. (The no 1 most effective tips to get lighter skin tone in a week)
2. Steam your skin with lemon peel
Commonly, when your skin is not properly cleansed, acne will appear due to blocked pores. Cleansing your face twice a day can only remove the dirt and excess mucus on the surface of the skin after a long day. To cleanse the pores from deep within the skin, you need to apply the other measure. Steaming is considered the most common way to cleanse the pores and soften the dead skin on the face.
Steaming your face with lemon peels will leave your skin pores wide, which will help get rid of sebum and dirt on the skin more easily and comprehensively. While you use the steaming method, vitamin C in the lemon peel will work to enhance your skin tone and remove the blemishes on your face such as dark spots, acne, pimples, etc. In fact, steaming the face is effective to help widen the pore to expel the excess oil and dirt out of the skin. So, after the performing this action, you should wash your face with cold water or apply ice compresses ice to reduce tight the pores. This way should be applied 1-2 times.
How to do:
Add the peel of a lemon in a pot with 1 liter of clean water
Boil this until you feel the taste of the lemon
Wash your face with cleanser
Put the pot in front of the head and then cover the head with a towel so that the steam goes to your face as much as possible
Keep steaming for 10-15 mins then wash your face with cold water
3. Olive oil and honey for daily facial massaging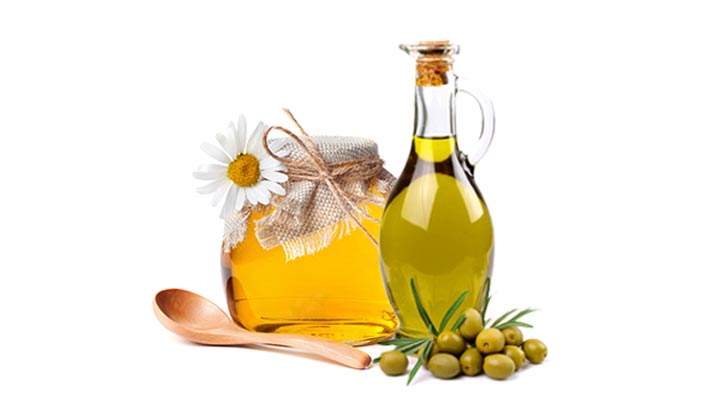 Using honey and olive oil to massage your skin daily will help improve your dark skin and smooth your skin effectively. Properties of honey will help tone up the skin and light the dark spots, while olive oil will provide nutrients to nourish the skin cells and make the skin plumper. At the same time, honey also contains very good anti-inflammatory properties. So, it will help you prevent acne very effectively. If you have oily skin or sensitive skin, you can add a few drops of lemon juice in the recipe. Lemon juice is also a good skin whitening ingredient, and it helps your skin to stop forming acne.
How to do:
Mix 4 tsp. of olive oil with 2 tsp. of honey
Gently massage your skin with this mixture for 2-3 mins
Rinse your skin with tepid water and follow with toner and moisturizers
4. Daily consuming tomato juice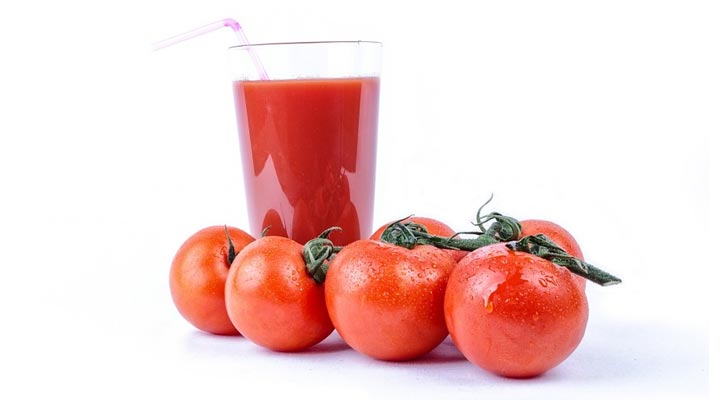 Tomato is a rich source of vitamin C, a wonderful natural vitamin helping whiten the skin and other beneficial substances for your health. Tomatoes contain lycopene, a very powerful antioxidant that protects the skin from the sun and makes the skin less susceptible to ultraviolet rays. Not only is it beneficial for your skin, it also helps you lose weight, improve vision, and prevent cancer. Occasionally, you can also change your taste with orange juice or strawberry smoothie as they also have the same effect as tomato juice.
5. Cold rose water for regular facial spraying
Regularly spray rose water or toner on your face whenever you feel your face is dry to moisturize it. The use of the rose water also makes your skin soft and enhances the color of the skin. Your skin will be smooth, fresh, and white thanks to the application of this method. In addition, dark pigments are easily prevented. To spray rose water on your skin at any time, you can pour the rose water into a small spray bottle.
6. Orange or lemon peel, baking soda, and honey for facial bleaching
Orange and lemon are famous for their vitamin C content, a vitamin that helps to brighten and light out dark spots. Many people mistakenly believe that vitamins in oranges and limes are concentrated in their root. But, the truth is that their peels are the richest source of vitamin C. So instead of using the juice, we should use their peels to achieve more effectiveness. When combining orange or lemon peel with baking soda for a skin whitening mask, you will get its brightening effects, which help to light the dark spots and prevent pigmentation perfectly.
How to do:
Take some lemon or orange peels and put it into a blender
Add 1 tsp. of baking soda, 1 tsp. of honey to this blender
Blend them well to make a paste
Apply the paste to your face and leave it for 20 mins
Wash off your face with cold water
You can also replace the orange or lemon peel with orange or lime powder to save time. In this case, you should put the ingredients in a bowl and mix them manually. However, we still recommend using the fresh one.
7. Apple cider vinegar and rose water for cleansing your face twice a day
Apple cider vinegar cleanses your skin from deep inside, suppresses dead cells, and helps regenerate your skin effectively. Rose water is responsible for moisturizing, soothing, and toning up your skin. This recipe is very simple so you can easily follow.
How to do:
Add 2 tsp.  of ACV and 2 tsp. of rose water to a small bowl
Mix them well and then use a cotton pad to apply this solution to your face
Leave it for 2 mins then rinse your face with cold water
8. Orange peel, cold milk, and honey for a facial mask
Another method uses orange peels to brighten the skin quickly. As we mentioned above, orange peel is an excellent source of vitamin C, so it will help to whiten the skin very well.
Meanwhile, fresh milk contains a lot of fatty acids that make your skin tighten. Honey contributes to softening the skin, lighting the dark, and brightening the skin. This combination is great for smooth, plumper and glow skin. You should use this mask twice a week.
How to do:
Take some fresh orange peels and put it into a blender
Blend well and pour it into a bowl
Add a tsp. of honey and 3 tsp. of cold water to the bowl
Mix them well and then apply to your face
Gently massage your face for 1 min
Leave for 20 mins and rinse your skin with cool water
9. Ripe banana, unsalted butter, and honey for facial massage
This tip is especially effective for sensitive skin and dry skin. Unsalted butter will help to soften your skin smoothly, while banana consists of multiple of great contents such as potassium that gives moisturizing and softening effects on the skin. Also, the Lectin in bananas helps protect the skin from bacteria and acne, while its vitamin A content can light the dark spots and reduce the appearance of blackheads and acne scars. Bananas also contain vitamin B and vitamin E, all of which help to lighten the skin, reduce the appearance of wrinkles, prevent aging, and protect the skin from free radicals and UV rays. Honey has great antibacterial, anti-inflammatory, and anti-oxidant properties that help smooth the skin, reduce wrinkles and dullness, and restore the skin tone effectively. You should apply this way 2 to 3 times a week.
How to do:
Add 1 tsp. of unsalted butter, 4 slices of ripe banana and 2 tsp. of honey to a bowl
Mix them well to make the smooth mixture
Apply it to your face and leave it for 15 mins
You can combine steaming while masking to help the nutrients intake better
Wash off your face with cool water
10. Rice powder and coconut oil for facial massage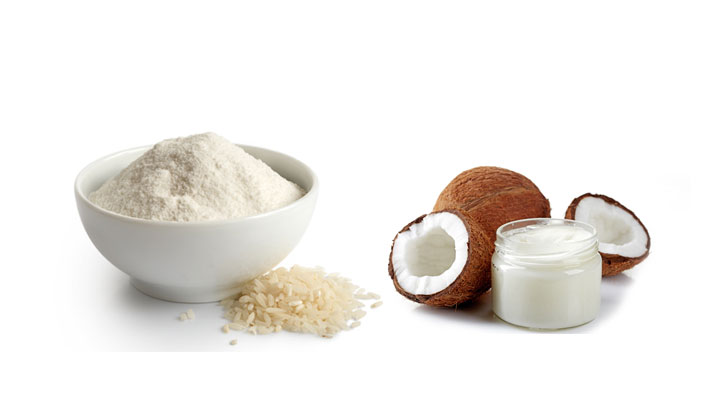 Using the combination of coconut oil and rice powder is a famous method for whitening the skin thanks to its beneficial effect on beauty. When you use these ingredients on the skin, it absorbs the nutrients better. Massaging your face with coconut oil and rice powder should be applied 2-3 times a week because the rice powder has a high cleansing effect.
How to do:
Add 2 tsp. of rice powder and 3 tsp. of coconut oil to a bowl
Mix them well then massage your face with this mixture gently for 2 mins
Wash off your face will cool water
So, Here are the tips 10 natural tips to get lighter skin tone quickly just in one week. In addition to using these tips for skin care, you should also pay attention to preserve and protect your skin by using sunscreen, avoiding long exposure in the sun, drinking enough 2 liters of water a day, and limiting the bad habits such as staying up late, smoking, etc. Wish you soon have the perfect skin as desired. Thank you for reading.
Reader Interactions