Your hair is precious to you, isn't it? Whatever style you pick, if your hair is at good condition, it will definitely suit you. No matter you are a man or a woman, beautiful and healthy hair is all that you desire. But, there is a certain time when you really got pissed off when you face certain hair issues, and hair fall is really one of the most disastrous. According to experts, people lose 100 hair each day and that is normal. The thing becomes serious when you lose that much hair, but the growth is not that much. Therefore, we will be discussing the best hair loss treatment clinic in Delhi, India.
Now, there are several reasons for excessive hair fall. It can be any disease, like diabetes, PCOS, liver damage, pollution, driking water and so on. Therefore, to find the root cause of excessive hair fall, you need to consult dermatologist or hair specialist. Besides these, there are certain causes related to this issue and you can solve those without taking much fuss. Let's find out how you can get relief from your hair fall problem and have beautiful hair.
4 Types of Hair Loss Treatment
1. Bring Changes in Your Lifestyle and Diet
This is one of the most important steps to have beautiful and strong hair without facing problems like hair fall. It is like precaution so that you don't face the ultimate. How little bit change in your lifestyle and diet can prevent hair fall?
Check What You Eat: Try to limit the use of oil in your diet. Too much spicy and oily food will make your scalp greasy that leads towards hair fall. Avoid junk and fast foods and also say goodbye to carbonated drinks and sugar-coated foods. Include more protein-oriented foods and lively greens in your diet.
Have a Better Sleep: When you get a peaceful sleep, your entire body gets better blood circulation. Your scalp gets enough blood while you sleep. So, you shouldn't stay awake late at night and also try to avoid late night working and partying.
Use Hair Oil: Using hair oil regularly before taking a bath nourish the hair roots and improve blood circulation on the scalp. You can try Herbal hair oil and Virgin oil like coconut oil and olive oil to massage your scalp.
Use Shampoo and Conditioner Carefully: Don't go on brand names. There are lots of branded shampoos that are full of harmful chemicals. Try to use herbal shampoo and conditioner. Clean your hair with shampoo at least thrice a week. Always apply conditioner on the tip of the hair. Stay away from coloring and ironing your hair.
Stay Stress-free: Though it is difficult, still you need to try it. Too much stress prevent hair growth and causes premature aging.
2. Using Minoxidil or Taking Pills/Medication
If you are suffering from too much hair loss and no home remedies are helping you out, this is the time to look for the best doctor for your hair loss treatment. There are certain solutions or pills that you can use to treat your thinning hair, but only after consulting the doctor. What are the medicines you can use for treating hair fall?
Minoxidil: Minoxidil is a solution that is readily available at any drug store. Often doctors prescribe it to women who are suffering from thinning hair or male-type baldness. What you need to do is to apply around 1 ml of the solution to your scalp, on the affected area and massage gently. Leave it to dry completely before using any styling products or going to bed. It is an over-the-counter drug that you can buy easily. Both men and women can use it. Minoxidil is highly recommended if you want to postpone baldness in men.
Finasteride: This pill is only for men and you need a doctor's prescription to buy it. You need to take this pill once a day. You must consult a doctor before taking this medication. Finasteride side effects: Decreased libido and disturbed sexual function (but some research shows that these sexual side effects are reversed when the drug is withdrawn.)
Remember, these medicines can boost up hair growth on the top of your head, but a little less effective on the forehead area .
3. PRP Therapy Can Help
PRP is the abbreviated form of 'Platelet-Rich Plasma'. This is a revolutionary treatment procedure that can help in treating hair and skin issues nowadays. In this process, your own blood is used to get the plasma that will be injected on your scalp. Usually, this treatment is helpful for those who are suffering from pattern baldness. Both men and women can go for this treatment. You need to find the best hair fall treatment clinic to have this treatment and Delhi is one of the cities to find the best and affordable one. Usually, the procedure requires around 8 sittings. You can have the sessions two weeks apart. As the treatment procedure is almost free from any side effects, you can go for it.
4. Hair Transplant Is the Final Way out
If any of the above ways don't help you at all, you can go for a hair transplant. Actually, hair transplant is a cosmetic process where the hair from different part of your head is removed and used to cover the bald part of your scalp. Hair transplant is really an effective way to get back your hair and be confident. But, this is a time-consuming process and expensive too. So, before having it, you need to talk surgeons well.
How to Find the Perfect Hair Loss Treatment Clinics in Delhi
There are lots of clinics just budding up and promising you to give the best result. But, it is about your hair. You can't take the risk, right? That's why you need to look for the best hair loss treatment clinic in Delhi. How to find the one that you need? Which one is the most reliable and affordable in Delhi? Here are certain points to remember-
Look for the most reputed one. A popular clinic means they serve the best services to its clients. You can check out their brochure and also go through the reviews on the internet especially on google review!
Know the degrees of the doctor. Is he enough potential for the treatment you need. Talk to the other officials of the clinic and also check out the degrees of the physician, going to treat you. You may meet one of the patients who recently done the treatment at the clinic.
Take note of the cost of each hair fall treatment procedure. You need to know that before going for the treatment.
Top 5 Hair Loss Treatment Clinics in Delhi
To help you to find the best hair fall treatment clinic in Delhi, we are presenting these top 5 clinics which are really the best in providing their services. Let's check out why they have made it on the top-
1. DermaOne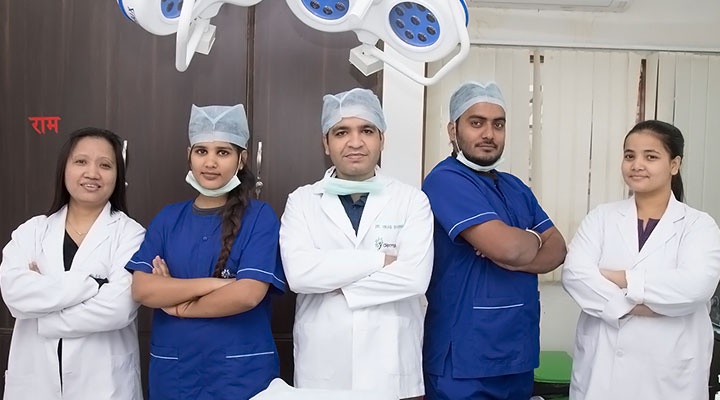 While talking about the best doctor for hair loss treatment in Delhi, you can find them in DermaOne Clinic in Delhi and NCR Region. This is the clinic where any kind of hair and skin treatments are done with utmost care and you don't need to worry about anything as the best doctors will treat you here. There is Dr. Vikas Sharma (M.ISD from the USA, MBBS from MAMC Delhi) from M.D. Safdurjang Hospital with his team to give you dedicated care and the permanent solution from your problem of hair fall. He is also assisted by Dr. Anupama (MBBS, MD is dermatology) who is there to provide you the best treatment. Once you are here, you can get the following hair treatments with utmost care-
Hair transplant
Hair loss therapy
Platelet Rich Plasma therapy
Laser hair reduction
Beard hair transplant
DermaOne Google Review 4.8/5 Stars
Location: A-6, Geetanjali Marg, Block A, Shivalik Colony, Malviya Nagar, New Delhi, 110117
2. Dr. Dutt Hair Transplant
Whenever it comes to hair treatment, Dr.Dutt's Hair Transplant Center will be on the top of the list. With the help of the latest technologies and the expertise in this field for years, Dr. ManasDutt is here to provide the best hair loss treatment to his patients with maximum care. Once it is about hair transplant, you can blindly trust this clinic where Dr.Dutt and his expert team is dedicated to providing you the best treatment procedure that can bring back your confidence that you lost for your baldness.
Dr.Dutt's Hair Transplant Google Review 4.8/5 Stars

Location: Dr.Dutt Hair Transplant and Cosmetic Center, D-962 Ground Floor, D Block, Opposite Mata ka Mandir, New Friends Colony, New Delhi- 110025.
3. AK Clinics
Are you looking for a hair treatment clinic where you can get the treatment and care within your budget? Then, AK Clinic is definitely your final destination. This is one of the world's largest hair transplant organizations where you will be treated by the most skilled and reputed doctors and surgeons. They have the expert team of caregivers who can take the best care of their patients. Whether you need surgical hair treatment or non-surgical, you can have it all in AK Clinic in Delhi.
AK Clinic Google Review
4.9/5 Stars
Location: M-20, GK-I, Near M Block Market, Delhi.
4. Panacea Global Hair & Skin Services
If you have always stayed confused whether to spend so much on a hair transplant, here is your answer to the problem. Once you are in Panacea Global Hair and Skin Services, you can get relief from all your hair and skin issues. Baldness will no longer be the everlasting cause of your low confidence anymore. You will get the treatment at the budget-friendly price. Each treatment procedure is performed by the expert and qualified specialists and the procedures are free from any side effects. They are also equipped with high-end technology and superior equipment to serve you the best. Here are the types of hair transplant services you can get here-
FUE hair transplant
Beard hair transplant
Body hair transplant
Women hair transplant
Eyebrow hair transplant
Hair transplant repair
Panacea Global Hair & Skin Services Google Review 4.9/5 Stars
Location: O-11A, 1st Floor, Lajpat Nagar-2, (Above Idea Showroom, Next to Dominos) New Delhi-110024.
5. B Vertex Care
To sum up the list of the best hair loss treatment clinic in Delhi, there is no better place than B Vertex Hair and skin solution. You can call it one stop solution for all your hair and skin problems. From PRP Therapy to hair transplant, you can get every type of hair solution over here within your reach. If you are suffering from too much hair loss, you should go for the hair regrowth treatment over here. They are rich in well-equipped clinic lab which is perfect for giving you an easy solution to your hair loss and baldness. Their skilled, experienced and professional team can give the best treatment you want to get back your confidence and look great.
B Vertex Care Google Review 4.9/5 Stars
Location: S-29, Rajouri Garden Janta Market, Delhi-27.
Hair Loss Is a Story of Past Decades Now!
With the treatments in these clinics, you can claim that now! No more getting bullied for your baldness! Maintain a healthy lifestyle so that your hair becomes strong from inside at an early stage. Still, if you suffer from hair fall, there are these clinics which can provide the best treatment and bring back your lost confidence.
Disclaimer: As there are lots of hair transplant clinics in Delhi, its really confusing to find the best ones. We are here with few of them that we find clients prefer the most. Though we are not promoting any particular clinics here, we depended on the patient reviews and shared our point of view. Hopefully, you find it useful.
Feature Image credit: Freepik
Reader Interactions