Delhi is the trade center of the country and it witnesses a huge number of tourists every year. It is a great place for foodies and one of the best shopping destinations in the country. The wholesale Market of Sadar Bazar is the prominent place for the shopping of household items, stationery, kitchenware, hand-made embroideries, cosmetics, and so on. I must say your Delhi tour is incomplete without a visit to the Sadar bazar market.
This market is really crowded during the festival seasons like Christmas, Diwali, and Holi. You can find huge cracker stores here, during Diwali. Here you will also find shops for special home decor items like Christmas tree, bells, stars, etc that are exhibited near the arrival of Christmas. So don't miss going to Sadar bazar before this festive session.
Reasonable time to do the shopping in Sadar
One can enjoy shopping in Sadar bazar on any day of the week except Sundays, as it remains closed on Sunday. On weekdays, people can arrive here at 11:30 AM and do shopping till 6:00 PM in the evening. People can easily arrive here on these time slots and enjoy a cheap and tension–free shopping.
How to reach Sadar bazar?
How to reach Sadar Bazar is a general question for new visitors, you can reach here easily as it is near the railway station and local trains to Sadar bazar are easily available. Its distance from New Delhi Railway station is only about 4 KM. You can also reach here by private vehicles. Parking is available at the Qutub Road. If you are traveling to Sadar Bazar by metro then you have two options viz-Tishazari (Located on the Red Line) and Ram Krishna Ashram Marg (Located on the Blue Line). Apart from that people can also reach by auto and buses. Both AC and non-AC DTC buses are available for you.
Shopping guide for Sadar Bazar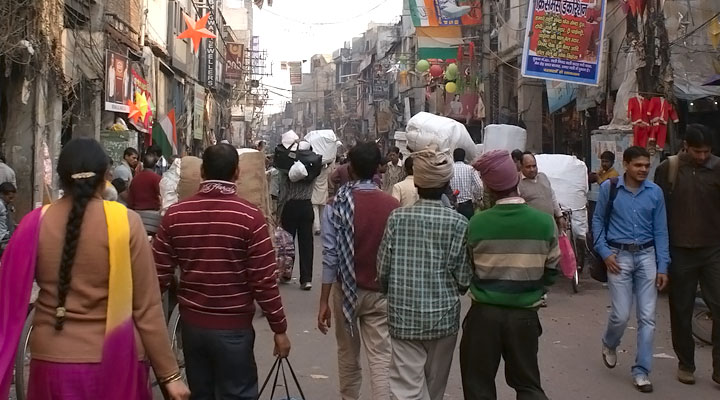 Sadar Bazar is the heart of Delhi right from the pin to the fancy items all are sold here from 10 Rs to as high as your budget allows. To experience the real feel of this market you need to be the bargaining Ninja warrior who knows the real bargaining tricks. Now if you are wondering how to bargain then don't worry, we are here to provide you the best tips that you can use and get your items for the price you wouldn't have thought of. The best option would be buying things in bulk but if you are not looking for bulk then these tips will help you for sure.
1. Ask the shopkeeper for the price
If you like something in the market and want to buy it, then just ask the shopkeeper about the price. He will definitely tell you to take it and promises to offer a good price, it is a great marketing skill. But you are not supposed to hear all that, just ask for the price. In such a situation, pretend that you have seen this product at the other shops also. This will lower down him to a good price.
2. Now think of the price you feel it is worth
'A Product's value is not determined by its material cost but how much is it worth to you'
The shopkeeper will tell such a price that can get him a good profit. Now you have to judge what the actual worth of that product is. Once you have thought of it just hold on and act as seeing other things. This will make the person feel that you are looking for many things and may buy multiple things.
3. Go little lower even on your ideal price
Now if you really did not like anything else then just go a little lower to your expected price as if he quoted Rs. 500 and you feel the worth of the product is 400, then quote even a lower price like Rs 200. He might get rude or he might say give a little more. But stick to that price for a little time. Don't panic and repeat the price.
4. Act like you are not interested
'Don't expect to negotiate in a deal if you are afraid to walk away from it'
I know you liked the item a lot but have to act like you are not interested in that item and familiar with the market. Don't act like a newbie, just start walking towards the next shop or you may see around. This will make him feel insecure and he might offer you a lower price when you go again to him.
5. Grab it
Once the shopkeeper says a final price and you think it is good enough, then just grab it. Mostly you get the product at half price or maybe near to that. If you know how to evaluate the actual price of the product then you can win this game very easily.
Commodities available in Sadar Bazar
Sadar Bazaar is the perfect shopping destination for retailers because from here you can get the commodities on wholesale prices. This is the factor that has made this market popular among the folks and itis a transaction junction of Delhi. From household objects to computer parts everything is available here. This place is for the shopaholics. Except for Sunday, it is open on all weekdays but the amount of shoppers never decreases.
Also Read: List of Delhi market places
Must buy things from Sadar Bazar
Now let's discuss some special products of Sadar Bazar, which makes it a favorite shopping destination.
1. Crockery
We all know how expensive crockery can be at times, but when you are at Sadar Bazar you need not worry about money because you are going to get amazing crockery at a great price. There is a huge lane in Sadar Bazar that exclusively sells crockery which is imported from China and other countries. You have many options to choose from. You get a crockery set in100 Rs also. I know this is hard to believe but it happens and it is beautiful to shop your heart out here.
2. Plastic
Sadar Bazar is also very famous for the plastic materials, be it tiffin boxes, buckets or any other plastic product of day to day use.You can purchase quality products at a reasonable price from this market.
3. Toys
If you have a little one at your home then you definitely need a lot of toys all the time so rather than spending a lot in those fancy stores you can visit Sadar Bazar and get any toy at almost half the price you might have thought. It is a good place to get quality china toys that are very interesting and good for the learning of your kids.
4. Masala's
I hope you all know about Khari Baoli the place that is famous spices. It is not far from Sadar's main market. From here you can get pure Indian spices that will enhance the taste of your food. 
5. Leather items
If you are a person who loves to buy leather items like- jackets, wallets, and belts then this is your place for sure. We all know how expensive it can be buying leather things, so you can go to this market to buy all the beautiful leather products at a very affordable price.
6. Footwear
Sadar Bazar also offers a huge range of men's shows and other footwear. You can also get daily footwear around 20 to 30 rs from this market. It's hard to believe but Sadar Bazar offers it too. It has a street where you can find street vendors selling the duplicate shoes of top brands.
7. Ornaments
Jewelry and women are like best friends, you feel incomplete without some attractive jewelry. So if you want to add good jewelry in your collection then you must try Sadar bazar for sure. The starting range of jewelry is from 10rs and that goes to the highest amount possible. The collection here is huge and it is one of the best jewelry markets available in Delhi.
8. Stationery items
This market also has a huge range of stationery products. And the best part would be if you go for getting them in bulk you can get very heavy discounts as it is a wholesale market.
9. Festivals decors
Be it Diwali or Christmas this market has amazing decorations and cards available in all varieties. You can find have an amazing collection of decors from the lights to the antics here. This market is a real hub for festival shopping.
10. Accessories
If you are looking for some cheap and attractive accessories like sunglasses, watches, purses, etc. then this place can provide you great options. Ladies especially like to purchase purses from Sadar Bazar because they can buy ten purses at the price one branded purse.  
Pro tips to stay safe in this crowded market
In such a crowded place you need to be very careful about your belongings as you may encounter with any thief also.
1. You must know how to safeguard cash and phone
When you go to a market like Sadar Bazar you become so fascinated by the products that you may lose your precious belonging like phone and cash. So make sure you place them in the right place like maybe in front pocket or handbag. Don't ever place it in the back pockets because the pickpocket people are really very smart and might vanish your phone in a few seconds.
2. Carry a bag
Sadar Bazar is a big but congested market and it's for sure that you are going to have a lot of things, so rather than holding so many small covers, it is better you carry a bag. It will help you put all your shopping together and not mess things up. Even carrying a bag makes you feel secure about your items.
3. Prefer taking a person with you
We all are aware of the crowd that you can find in the market, so it's advised that you should bring someone along with you to grab the beautiful items that are available in the market. If you have someone then he or she may help you with shopping. But this advice truly depends on your idea and situation.
4. Bring your water bottle
Shopping requires a lot of time and when you have so much to go around it's always advised to carry a water bottle with you. Because markets like Sadar Bazar are generally very clumsy and you might not get clean water easily. Shopping requires energy so if you have a water bottle then it will keep you hydrated and fresh.
5. Take sufficient cash
Though our economy is getting digital and we have several digital payment options but in Sadar bazar you may find some street vendors who are not so techno friendly. In such a case, it is better to carry some cash along with cards and other payment options.
6. Shopping time
If you really want to enjoy the shopping in one of the traditional markets of Delhi then you must have sufficient time to explore all the street of this big market. Whenever you go shopping allow yourself sufficient time. Though this market is flooded with people throughout the day the rush in market increases as the day progresses, so if you have a big shopping list then reach here as early as possible.
Markets linked to Sadar bazar
# Khari bowli: The Biggest wholesale market of Asia
Now, this is the closest market to Sadar Bazar and is sometimes known as Sadar Bazar by some people. It is famous for spices and dry fruits. You get a huge variety of masala and dry fruit here. The variety it holds can not be found elsewhere in India. So don't miss checking this place to get you some great things to be added.
Khari Bowli is the street that is termed as Asia's biggest marketplace because people can get all the spices at one place. The spices that are sold here include herbs, nuts, and other products. Dry fruits of Khari Bowli are famous, even the almonds of California can be purchased from this place. This is one of the oldest markets of the country that was developed in the seventeenth century and it is active till today. The other importance of this place is that it is situated near Red Fort and on the western end.
# Swadeshi market
The swadeshi market is also one of the best shopping streets for affordable shopping. Especially women love this market because it offers a huge range of artificial jewelry. Apart from jewelry, people can also purchase gift items at low prices from here. Therefore, it can be said that this market is enough to create a difference among the folks.
Also Read:
Famous Restaurants of Sadar Bazaar
It is true that apart from shopping people also enjoy the ethnic taste that will taunt their minds. Yes, the eating giants in Sadar Bazar are famous as they serve tasty food and snacks to the visitors.
Bakers Bite is the place that delivers some real bakery products including delicious pastries and cookies to the people.
Apart from this, if you are interested in traditional Indian sweets then they can visit Madan Lal Halwai for this.
Balaji Restaurant and Rewari Sweets are the other hot options that can be selected by the people to satisfy their taste buds.
Manohar is also situated in the Gandhi market.
Nearby attractions of Sadar Bazar
Connaught place is the nearby place that is considered as one of the most important lace for the financial sector.
Nai Sarak is an exclusive book market where all book lovers can go.
Jantar Mantar is also one of the tourists' places that has a rich history is also located near Sadar Bazaar.
Janpath
Second Heart cathedral is also the famous destinations that are located near this market.
Gurudwara Bangla Sahib is also here, you should visit this holy place to and people can adore its beauty.
In Sadar Bazaar, one is free to take any commodity as all the products are available at wholesale rates. Therefore, if the requirement is big and the money is limited then come here to satisfy the shopping lust.
Reader Interactions