The perfect epitome of hanging out in south Delhi, if there's any then it has to be Hauz Khas Village. This village carries an irony in its name and it kind of makes it look trendier. Being a village in its name, it has never looked like one.
The place works as the perfect place to spend the time and believe it, whether it is a couple or a group of crazy friends, this place serves the best "time-spending" place.
The historical touch to the location
The place was historically a part of Siri, the 2nd medieval town of India of Delhi Sultanate of Allauddin Khilji Dynasty. Currently located in Hauz Khas in South Delhi, the place houses a mosque, an Islamic seminary, a tomb and pavilions developed encompassing an urbanized village. The name of the place refers to a royal water tank and was one of the largest water reservoirs which were first built by Khilji.
Available options for Nightclubs, Pubs, and Restaurants in Hauz Khas Village
Immersed in the greenery of the Deer park, Hauz Khas Village has the potential to create the memorable moments for the visitors. It is a complete warehouse of nightclubs, pubs, and restaurants and attracts healthy crowds especially on weekends.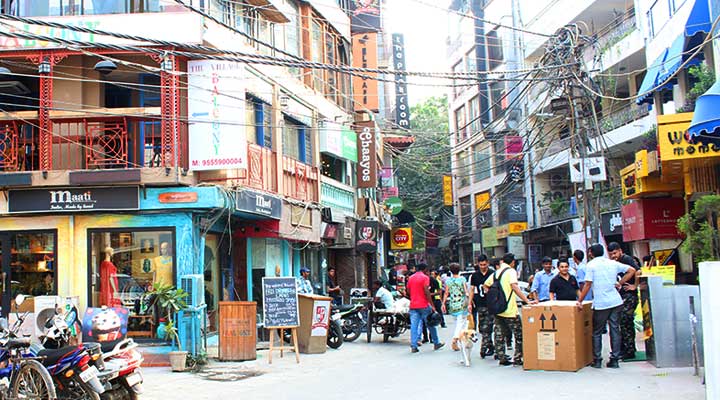 A smoke with a cup of chai
This is probably the most loved serving of the Indian youth and the visitors never fail to enjoy it here. The laid-back Kunzum Travel Café has become the popular focal point of people enjoying free wifi and proves to be the best point for meeting friends.
The favorite Eat-outs where meeting friends becomes fun and Food, Drinks and smoking turn a trendy culture are listed here-
Elma's Bakery
The quaint little dollhouse of this teashop is quite and has the aura that can pull you towards it.
The Grey Garden
This is a little Parisian café that serves thin crust pizzas with toppings such as walnut, pear and rocket lettuce. The extrinsic steamed fish served here with tamarind rice along with mango chutney is the best delicacy. On alternative Fridays, the place hosts themed dinners with drinks for Rs 1,500 per person and meal for two comes to Rs 600.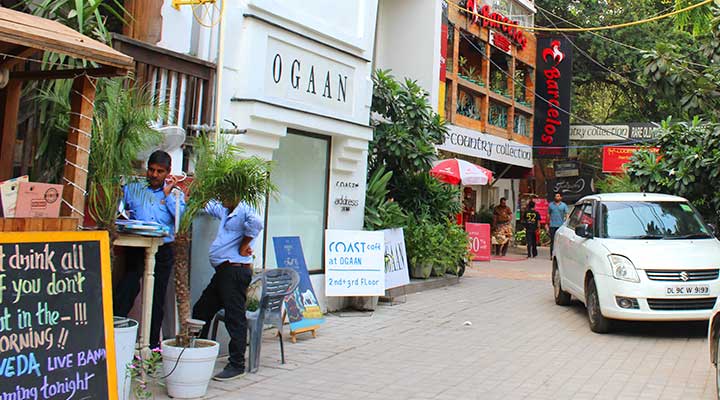 Gunpowder
As the name suggests, it has extra magical chutney that imbues everything else. Found near deer park, this place makes your dining moments in the lap of nature quite memorable and if attended in a night, you are more likely to forget that you are in Delhi. Meals here are offered at just Rs600 for two people.
Shops: The People's Project
This store, run by the Happy Hands foundation carries the essence in socially-conscious practices. From tiny things to many big ones, the shop caters much likable. The shop was started by a bunch of Kamala Nehru College girls and now collaborates with many artisans items where the skill and process are rightfully displayed. The price ranges from Rs 30 to Rs. 4,500.
O Layla
This shop is completely full of color, indicating its art of "sustainable fashion." The products here can be brought between Rs. 75 to Rs. 4,500.
Indian Popular Art
This place is a historical place in terms of ownership. The shop doesn't have any email address, phone number or a website but if you ask anything from old posters to any old item, yes, you are at the right place. Products from this shop can be brought starting from Rs. 300 to 1000.
With so much to serve and with a never–ending list of hanging out spots, Hauz Khas Village has come out to be the best. Though there is various place in south Delhi that can be visited but this place, being in the lap of nature turns out to be standing out of the box material.
Why Hauz Khas Village?
Now, this is a very good question that has been kept in the concluding part. Undoubtedly, none can deny the fact that this place has best visiting places in the south Delhi region but what else come to mind is the grip of nature combined with ultra–modern luxuries.
Well! This is what the young generation of India always feels greedy. More importantly, the free lifestyle enjoyed here is just impeccable. Apart from making those "friend crazy moments" memorable, the couple often finds this place as a perfect place to spend quality time together. And out of many personal experiences, the above statement stands true to remain valid and genuine.
Reader Interactions