Nai Sarak means new street, this street in old Delhi is a paradise for all book lovers. It has a very big wholesale and retail market of mainly school and college textbooks. If you are wondering why is it so unique then you should definitely check this article to know a lot more about it. Nai Sarak is a market where you find books right from school to your professional guides. It is also a place for the book-o-holic because you can find multiple novels at a wholesale price. The most fascinating thing about this place is you find the books of all genres. It serves a linking road between Chandni Chowk and Chawri Bazar. Sadar Bazar, the popular wholesale market in Delhi is also not far from this place.
How to reach Nai Sarak
Now, this is something we all want to know because Delhi is a massive geographical place and a lot of routes are a mess. So let us guide you to reach this place.
Metro: The most convenient way to reach Nai Sarak is metro.
If you are traveling by metro then the best thing would be getting down at Chwari Bazar metro station which lies in the yellow line of Delhi metro. This is an underground metro station.
The cheapest way is through bus: If you are looking for travel via bus, then the nearest bus stop to be dropped is the old Delhi bus stop, and from there you need to walk for about 5 minutes.
You can also reach by private vehicle or hire an auto-rickshaws or taxis.
Why go to Nai Sarak, when you have everything available online?
This is for sure that we live in the digital world and we have access to everything globally. One would definitely wonder why he or she should travel all the way to Nai Sarak market for book shopping,  then these are some reason why Nai Sarak is a yes for sure.
1. Huge discounts
Nai sarak offers a huge discount which makes it really worth traveling all the way to this market. You can grab a discount depending upon the type of book you want to buy.
2. Multiple options
You have multiple books available of a single stream, like different authors and publishers. You can spend time and check the content of the book before buying it. This is normally not easy in the online space.
3. The expert shopkeeper will guide you
Every man has an idea of his own field, so if you are not aware of the alternative options available or maybe the best options available you can ask the shopkeeper to guide you. They have experience in dealing with multiple students daily. Their experience can help you get the best book.
4. Second-hand books are also available
Some books are same throughout years like your school books that don't generally revise yearly. You can get such books at a second-hand price where it's almost a saving of 50%. This is the best help for the students. Other than that as this market is the main market for books, you can also find the old books that are no longer a part of current syllabus but can be helpful for your course or research purpose.
Tips to shop in Nai sarak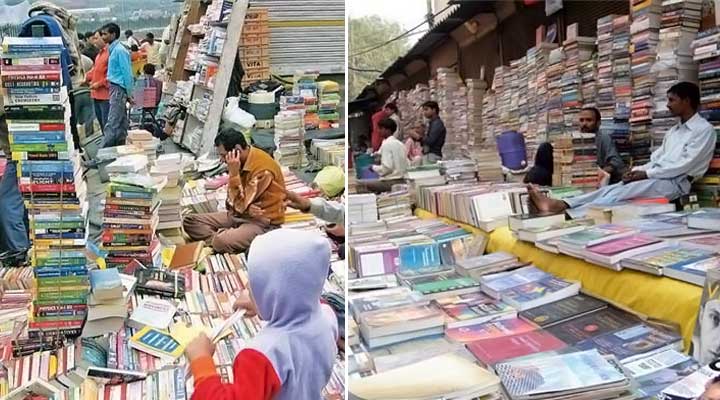 Every place has its own tips and ways to shop. When traveling to Nai Sarak, these are some special tips you should mark and have a safe and pleasant shopping experience.
1. Ask for a discount
Always remember that you have to ask for a discount as there are special discounts that are available in the stores. Generally, for wholesalers they provide 25% and for students 20%, so ask for a discount and get your books at a pocket-friendly price.
2. Check before you buy
This pro tip is especially when you purchase Novels from the street vendors in Nai Sarak. Always check from inside because there might be chances that you get tricked for blank papers. So be aware of it.
3. Check your list
Books are something that is not an option but a need. So when you are buying books, make sure you check your list before leaving the market and buy all the books that made you travel all the way to Nai Sarak. This is the final step in your happy shopping. In case, if you left out some books you might not want to go back to this crowded market under the extreme heat or cold weather of Delhi.
Popular books shops in Nai sarak
1. Ram Krishna books
This shop is famous for medical related books, you find all the entrance guides and study books at this store. So people from the medical background can reach out to this store.
Address: Shop Number 2602, Main Road, Nai Sarak, Delhi – 110006, Near Bradshaw Bulla Chowk.
Phone number: 9152166015
Time: 10:30 am to 9:00 pm
2. All India book house
As the name itself says a store of books. This place is a renowned one for all school syllabus like CBSC, ICSC boards. You can also check this store for medical and engineering books.
Address: 892/893, Nai Sarak, Delhi – 110006, Chandni Chowk
Phone number: 9152499855
Time: 11:00am to 8:00 pm
3. Ramesh book deport
This shop also holds a lot of books but is famous for holding all the test practice papers. They provide all question bank papers for the students in the nick of time during exams. So you can check this store for sure.
Address: 4480, Nai Sarak, Delhi – 110006, Near Roshan Pura Gate
Phone number: 011 23911066
Time: 10:30 am to 8:00 pm
4. Universal Book Stall
They provide more management and art books, besides you can also get engineering and medical books. This store is more of college course books.
Address: Shop No.1697, Nai Sarak, Delhi – 110006, Near Malvari Katra Market, Roshan Pura.
Phone number:011 23250653
Website: www.universalbooks.com
Time: 11:00 am to 7:30 pm
5. Ram Book International Distributor
This stall has a lot of novels and regular educational books, they offer a massive discount on bulk purchase which can be a great deal if you are looking for more savings
Address: 2548/49, Shop Number 7, 1st Floor, Nai Sarak, Nai Sarak, Delhi – 110006, Balaji Market.
Phone number: 01149128470
Time: 10:30 am to 9:00
Other than these shops you also have street vendors who sell novels on the street, if you are someone who loves reading novels you can get them at a fantastic price. So if you are looking for novels prefer going to street vendors rather than going to the shops.
Must visit food joint in Nai Sarak
Be it shopping or any kind of hangout, food is something that has to be a break time between picking your bags up. So when you are shopping in Nai Sarak don't miss these yummy food stores between Nai Sarak and Chandni Chowk.
1. Mo rolls
If you are a roll fan, then you should go to this restrorent for sure, this does not have sitting space you will just have to pick your order and explore while munching. Rolls are the easiest food item to hog on while shopping as it's a blend of bread and vegetable which can actually be your wholesome meal. So when hungry while shopping just grab yourself a roll treat.
Address: 2908-B, Sarak Prem Narain, Chandni Chowk, Delhi – 110006, Near Sita Ram Bazar
2. Lotan chole kulche
Chole kulche are something commonly available anywhere in Delhi, loved by the local crowd but this place has a little twist to the regular way. Normal chole kulche is a dish in the form of a flatbread called kulche served with hot white peas to which salad is added. But at this place, they also serve chole water which gives the unique blend to the entire dish.
Address: 2368, Chatta Shahji Rd, Manohar Market, Nai Wala, Old Delhi, New Delhi, Delhi 110006
3. Hazari Lal Jain khurchan wale
This is an entirely unique food concept that is hidden in this market, khurchan is a food item that is made out of milk and malai (milk top layer) and is really soft and melts in your mouth. If you are looking to try something new, then you should go to this place and give your taste buds a new flavor of joy.
Address: 2225, kinari bazar road, Chandni Chowk
Nai Sarak – A paradise for all book lovers
All these are some amazing things one should know about Nai Sarak, its a hidden market in Delhi. Where you can buy all your education-related things right from textbooks to the stationery. Its a land of books, and definitely every book lovers love for sure. Apart from books you also have some stores for clothing and Chandni Chowk is just 10 mins away so you can grab fabulous Indian outfit while picking your books up.
Feature Image: dfordelhi.in

Reader Interactions