Needless to mention, rice is the staple food of several Indian states. It can be found in more than 40000 varieties all over the world. Rice in India is divided into two categories the whole grain and white grain. The white grain is a processed variety whereas the whole grain is unprocessed one that is highly nutritional. The most popular rice in India is white rice. People choose rice variety according to their personal preferences, flavors, culinary needs, and health benefits.
You may find great diversity in the varieties of rice all over the world. For instance, Chinese cuisines are quite specific about long grain rice whereas American cuisines generally amalgamate short length rice grains. This article is specially drafted for rice lovers as here you will find the health benefits of rice and along with that, I will also share all the important facts regarding the top10 rice varieties of India.
What are the health benefits of rice?
Some of the rice varieties are good for curing obesity while others are an incredible source of energy. It depends upon the kind of rice you have picked for your meal. Let us know about some of the most common benefits of Indian rice –
Aids digestion
Stabilizes blood sugar levels
Slows the aging process
Stimulates immunity
Fights cancer
Good for skin and hair
Hikes metabolism
Cures cardiovascular ailments
Besides these benefits, some of the most popular rice varieties in India can tickle your taste buds with their amazing flavors and looks. They are a part of traditional Indian cuisines and can be easily found in maximum Indian kitchens.
Also Read:
Top 10 most popular rice in India and their health benefits
1. White Rice
White rice is easiest to digest and is most commonly cooked all over India. This particular rice helps in relieving digestive disorders and treats morning sickness. White rice is often known as polished rice. Mainly cultivated in Tamil Nadu and Chhattisgarh, polished rice is the main ingredient of several South Indian dishes like dosa and rasam.
White rice is a starch-rich grain and you must be surprised to know that one small serving bowl of white contains up to 53 grams of carbohydrates. But If the rice is cooked without oil or butter then the fat content becomes almost nil. White rice is rich in taste but not ideal for health, people who are suffering from diabetes should completely avoid this, as it contains a very high percentage of sugar.
2. Brown Rice
The whole grain brown rice is one of the most healthy rice forms that can ever be consumed. However, recent studies have proven the presence of arsenic in brown rice. Hence most of the doctors recommend its lesser usage. Otherwise, the rice is a good source of Manganese, Phosphorus, Vitamin B6, fiber, and Selenium. The muscles of brown rice are needed to be chewed a little more. Brown rice takes 5 more minutes to get cooked as compared to normal white rice. It works best when you prepare Idli or a dosa batter.
Currently, maximum Indian kitchens are replacing the traditional white rice with the brown one. The reason is quite clear, now people are more aware of their eating habits and try to include healthy food in their every meal. Brown Rice is a good source of riboflavin (B2), potassium and calcium. There are numerous health benefits associated with it like- bone development, wound healing, muscle contraction, high metabolism, better nerve function, and blood sugar regulation. And on top of that, it is a great source of antioxidants as well.
Check this out Reasons why you must add healthy Indian pickles in your daily meal
3. Red Rice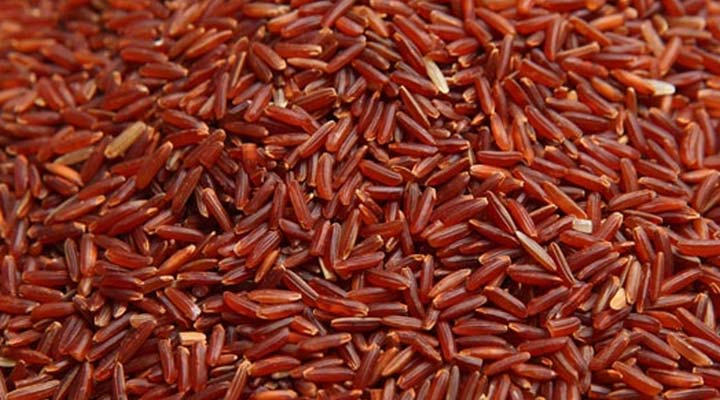 Red rice has its origin in China in 800 A. D. It is commonly used for two purposes- culinary and medicinal. Several ancient Chinese medicines include red rice because of its high nutritional values.
People who are suffering from high blood sugar levels must be advised to consume red rice instead of other varieties. It is a great source of manganese; you must know that manganese is a very vital mineral for our body as it helps our body to process fats and proteins. Along with that red rice is rich in magnesium, phosphorus, and molybdenum. It contains a small quantity of zinc and potassium as well. Anthocyanin antioxidant is responsible for the red color of this rice. The iron-rich rice variety can encounter the risk of cancer as well. Red rice is also one of the most popular rice in India.
4. Parboiled Rice
When the rice is harvested, the hull is removed from it, which is not edible. In this way, brown rice is prepared. In order to prepare white rice, we have to go one step ahead; we have to do some processing to remove the bran from it. But the processing is slightly different for parboiled rice. It starts even before the removal of the hull. In order to prepare parboiled rice, the complete grain of rice is soaked, steamed and dried, after that, the hull is removed.
This whole process provides a unique taste and nutritional value to the parboiled rice. But still, you can not eat this rice without cooking; it takes comparatively less time to cook than regular white rice. It is advisable that you should include parboiled rice in your regular meal if you want to increase the percentage of fiber and decrease the percentage of carbohydrates in your daily diet.
5. Palakkadan Matta Rice
Palakkadan Matta rice is one of the most famous rice varieties of Kerala. It is mainly grown in the border of Tamilnadu. The rice is red in color and rich in magnesium and calcium. It is also found in some states of Sri Lanka. This rice is used to make tasty idlis, appams and snacks like murukku, kondattam or you can simply boil Palakkadan Matta rice and serve it with any dal.
It is also known as Rosematta rice, Kerala Red rice or Red Parboiled rice. Palakkad is a small place Kerela and Palakkadan Matta rice gets its name from this place as it is mainly cultivated here. The nutritional value of this rice is quite high as it contains a sufficient quantity of minerals, vitamins, fiber and many more. Palakkadan Matta rice has a lower content of saturated fats and cholesterol. It is very good for the health of your heart, as it keeps important blood vessels clear of clogs and clots.
6. Black Rice
Black rice is uniquely found in Tamil Nadu and has a strong linkage with Burmese communities. The vitamin-enriched rice is full of antioxidants. The most common usage of black rice is in the making of rice pudding. Generally, it is soaked overnight and pressure covered with cardamom, sugar, ghee and other spices. Often South Indians use black rice as a part of their desserts.
This crop has its origin in China about 10,000 years ago. Black rice is also known as forbidden rice. It contains a sufficient quantity of protein and iron. It is considered as blood tonic by the traditional Chinese system of medicine. The purplish-black color of this rice is due to the presence of anthocyanin; it is the same antioxidant that is present in-purple corn, eggplant, blood oranges, blueberries, concord grapes, acaí berries, and purple cauliflower.
Black rice is not commonly available in all places, as it is not easy to grow. It only yields approximately 10 % -12 % of the harvest as compared to other rice varieties. It is mainly cultivated in Southeast Asian nations like- India, China, Indonesia, Thailand, etc.
7. Sticky Rice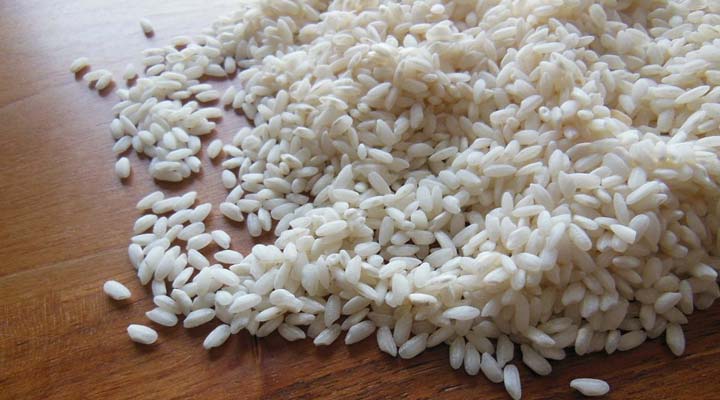 The glutinous, waxy and sweet rice is often referred to as sticky rice. The high Selenium content of this rice is quite beneficial for the proper functioning of the human body. It keeps the connective tissues strong and stimulates healthy brain functioning. Sticky Rice helps in strengthening the immune system. It is grown in South Asian nations like- India, Japan, Thailand, etc, and mainly used for preparing sweet dishes. Sticky rice is popular in Northeast India.
The sticky rice is not as rich in nutrients as brown or wild rice but it very delicious for sure. You must be familiar with the magical flavor of the glutinous rice if you had ever tasted Japanese mochi or Thai mango sticky rice which is prepared by adding sweetened condensed milk and coconut milk in this rice.
8. Basmati Rice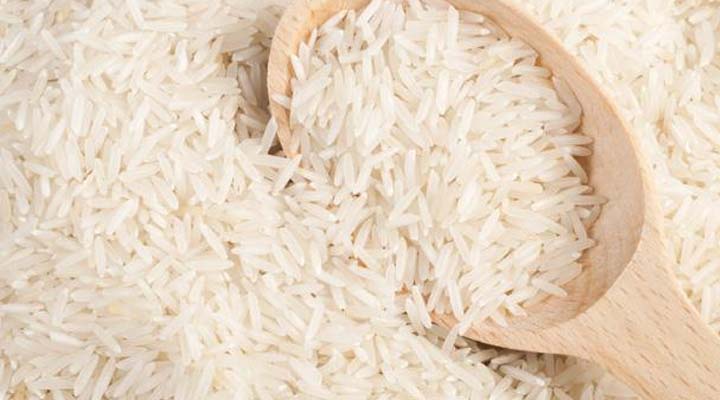 The Slender, long and aromatic basmati rice has a close resemblance with Jasmine rice. It is a perfect ingredient for creating rich Indian dishes like biryani and kheer. Basmati rice is mainly found in the Western parts of the Indian subcontinent. The high calorific value of basmati rice makes it a good source of carbohydrates, minerals, and vitamins. Earlier, this rice variety was limited to India. Later on, it became a part of the Indian export list and circulated throughout the world. Factually, Basmati rice is the most popular rice in India.
It is often said that a traditional Indian meal is incomplete without a bowl of basmati rice. In southern India rice is the main source of carbohydrates, you will easily get Rasam rice in Tamilnadu, Kerala or any other southern state. While North Indian kitchens are famous for Rajma Chawal. And the favorite rice variety of all the Indians is- Basmati no doubt. The basmati rice is available in the white and brown variants. But if you take brown basmati rice then you can easily increase the nutritional value of your food as it contains more fibers. Brown basmati rice is rich in various vital nutrients like- iron, vitamins, thiamine, niacin, and folate, Generally, one Bowl of basmati rice of either variety can provide 3-4 grams of proteins as well.
9. Wild Rice
Actually, Wild rice is not a variety of rice. It is obtained from an aquatic grass which is found in freshwater marshes. We consider it rice because it looks similar to other varieties of rice and the cooking method of wild rice is the same as normal rice.
Wild rice is one of the most expensive rice varieties found in India. The flavor is peculiarly awesome and it takes slightly longer time to get cooked. Wild rice is not available in the general market or offline stores. It is sold online. Wild rice is historically grown in China and North America.
Wild rice is rich in iron, potassium, and selenium. It is a great source of plant protein for any age group. You must know that, same size bowl of wild rice would contain lesser calories than white or brown rice. Regular intake of this rice may protect your skin from aging and reduces the risk of cancer as well.
10. Jasmine Rice
The Thai fragrant rice looks really long and contains a typical Jasmine floral Aroma. Jasmine rice blesses its consumers with unparalleled health benefits along with a delicious flavor. Jasmine rice is often used as an alternative for basmati rice. It is mainly grown in Thailand and the Southen part of Asia.
One can find white and brown jasmine rice in the market. If you are suffering from constipation then you must try brown jasmine rice and drink plenty of water to ensure proper health of the digestive system.
You can combine jasmine rice with vegetables, legumes, beans, fruits, and lean meats to serve some palatable dishes to your gusset. It is considered as a healthy source of carbohydrates. White jasmine rice is specially included in the dietary schedule of athletes to fulfill their carbohydrate needs and maintain glycogen levels.
Conclusion
Indian culinary science is ancient and includes many more varieties of rice but we include only the best of them. The enlisted rice varieties are simply incredible and you should never miss a chance to try them. Most of the time rice is grown in either western or southern parts of India. Besides these 10 varieties of rice, there are several others that are high in nutrition and fulfill the routine requirements of the consumers.
Contributor/Co-Author: Prachi Dubey
Reader Interactions