In India non-stick frying pan is the heart of cooking. Kitchens have these inevitably due to whole lot of dishes based on just frying. If one wants a healthy frying, then non-stick fry pan is great because it requires minimum oil in comparison to other normal frying pans that deliberately absorb more oil. Indian kitchens without a fry pan seem a dubious situation. It actually does not exist. Half of the Indian dishes are mainly dependent on frying and shallow frying.  You have to choose one fry pan for your kitchen. This article below will help you get the best non-stick frying pan at minimum cost and maximum benefits. Before you get to know some of the best non-stick frying pans, let's have a look at different types if frying pans available.
Types of non-stick frying pan
Synthetic coating– these are fry pans with synthetic coatings. They are durable, highly functional and least reactive. They are powerful and provide least usage of oils.
Natural non-stick fry pans– these are made from different materials such as ceramic, aluminium coated hard cast iron and so on. They are naturally non-stick and provide greater resistance to sticking than other synthetic coating ones.
15 best non-stick frying pan for your kitchen
Also Read:
8 Best websites to buy fresh vegetables and fruits online
Top 5 sites to buy beverages online
1. T-fal A85724 speciality non-stick dishwasher safe pot saucepan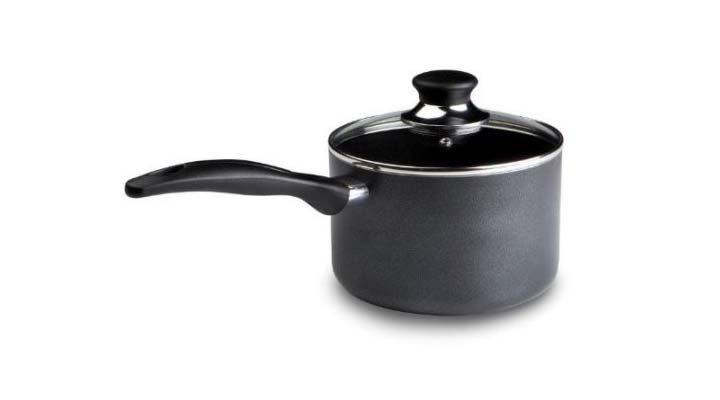 This T-fal non-stick dishwasher safe pot saucepan is a very attractive and well-built fry pan. It is the best non-stick frying pan in terms of quality, usage, features and cost. This non-stick pan transfers heat evenly throughout the surface for the food to be cooked properly. Also, It is dishwasher safe and also can be used in oven. It has a specially designed handle for easy handling and safe usage.
2. Utopia kitchen professional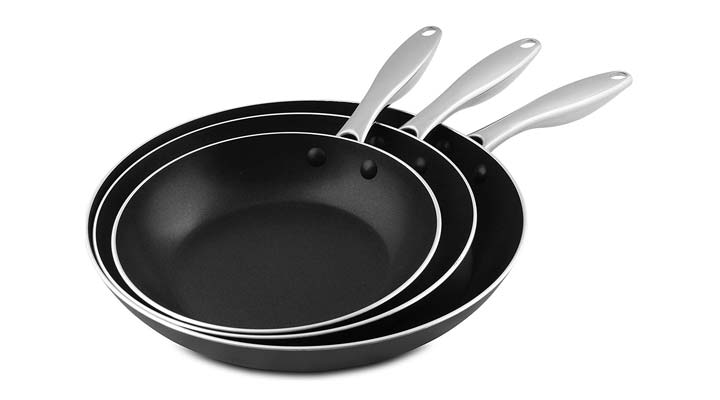 Utopia kitchen professional is a very professional looking fry pan. It is made using top quality aluminium alloy. This professional non-stick frying pan has a tow layer non-stick interior that is durable, scratch resistant and suitable for all types of cooking method. It is lead, FOA and cadmium free.
3. Hawkins futura non-stick fry pan
This Hawkins futura lets you cook food and its non-stick frying coated with anodized aluminium lets you fry food without letting it soak harmful oils. It is the best non-stick frying pan available in India at affordable prices. It is
4. Prestige omega fry pan
You can shallow fry or saute your food without the risk or burning it. This Prestige omega is scratch resistant and non-abrasive. It has Teflon coating which makes it easy to clean. Comfortable handle makes It easy to use.
5. Nirlep select + fry pan
This black 1.5 litres fry pan is highly rated as the best non-stick frying pan by Indian users. It has a 4 layered non-stick coating and 12 months guarantee. It comes in two colour black and red.
6. Nirlep selec + fry pan with glass lid
This 1.7 litres glass lid fry pan makes sense when you have whole lot of cooking and variety of dishes to make. This one comes with cost-effective price structure. It is two way non-stick and induction compatible also. It has a non-stick coating which is scratch and abrasion free.
7. Hawkins futura non-stick fry pan with steel lid
Hawkins futura is a bit expensive but it offers you a range of functions. Any dish can be cooked here. This pan can be used for shallow frying, deep frying, cooking meals. All these benefits justify the price. Along with this its abrasion and scratch free coating allows handy cooking. It is the larger version and comes with 1.7 litre capacity.
8. Nirlon ceramic non-stick fry pan
This ceramic natural fry pan has been coated with non-stick material also. It is very cheap and can be afforded easily. It is a 4 layer fry pan which comes in the list of best non-stick frying pan.
9. Pigeon special induction base non-stick fry pan
This 24 cm fry pan comes at a modest price and cooks fast. It is 3 layered and scratch resistant. Pigeon non-stick frying pan comes with a durable touch handle. It is made from PFOA free material.
10. Prestige omega select plus residue free non-stick fry pan
Prestige omega has a scratch free and abrasion-free technology that comes at very low prices. It has residue free cooking. It is suggested as the best aluminium non-stick frying pan by many users.
11. Prestige creme ceramic fry pan
This non-stick frying pan has an extra thick body and strong handles. It comes in vibrant orange color. Prestige creme non-stick fry pan is made of ceramic and has a PFOA free coating. It cooks food evenly and properly.
12. Avon Non-stick professional fry pan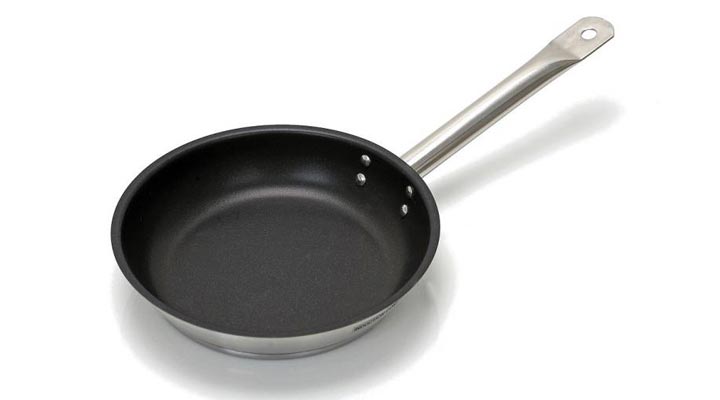 It is a bit high priced but it is certainly the best non-stick frying pan in terms of any feature. Avon non-stick fry pan is highly resistant to scratches. This professional frying pan is used in restaurants and chefs. It has double stainless steel with platinum plus non-stick coating. It is also induction compatible.
13. Alda ceramic aluminium fry pan
This 20 cm fry pan comes in a lively green colour. It has a ceramic coating material which makes it naturally scratch and abrasion free. It has a strong handle to keep users safe.
14. Nirlep ebony kadhai fry pan with glass lid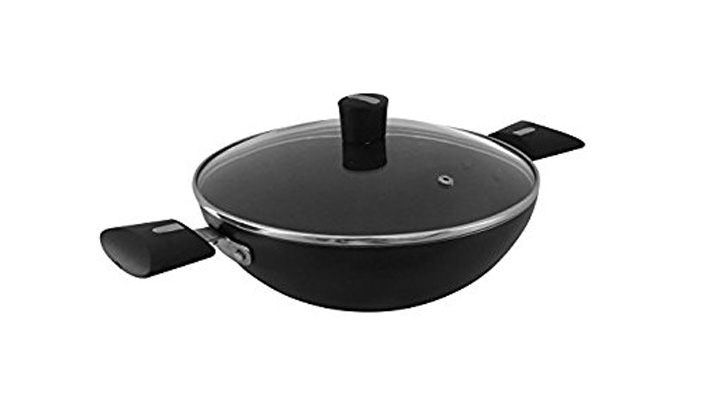 Nirlep ebony fry pan comes with 3 layer coating and hard anodised surface. It also comes with the longest guarantee of 30 months for being scratch free. The steady grip handles are easy to grasp and long-lasting.
15. Stoneline- the original frying pan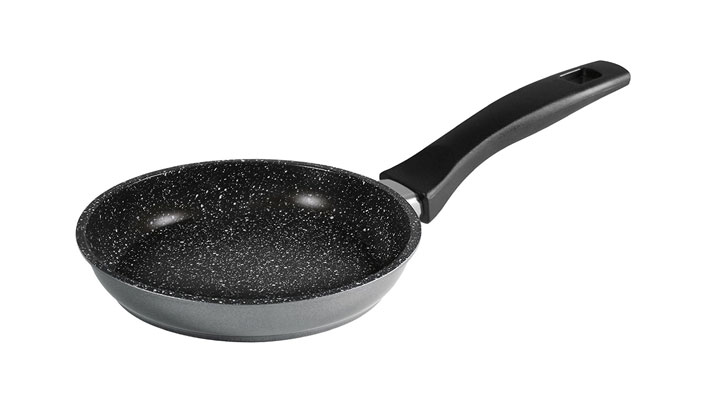 This German company makes exceptional quality frying pans. It is lightweight and makes your food tastier. Stoneline frying pan has the highest quality and good design. It allows the meal to retain its original characteristic taste all along.
While shopping for the best non-stick frying pan, choose wisely!
If you are fond of cooking, then you must have utensils that suit your interests. Selecting a powerful, beneficial, harmless and most featured fry pan for your meals is a step towards better quality products and healthier life. Not only it soothes your cooking process, it also allows you to cook fat and oil free delicious food.
 So, in the end, the choice is yours. You need to choose the best quality frying pan at affordable prices to cook healthy and delicious food for you and your family. It is time to show prudence and differentiates between the perfect and useless utensils in your kitchen.
Reader Interactions