Hello beautiful ladies! Today I am going to share my honest review on my recently used product that is Biotique Wheatgerm Youthful Nourishing Night Cream.
Biotique is a herbal and organic brand and the products that they introduce in the market are purely free from parabens and all sorts of chemicals. I have used a couple of products from this brand and recently I purchased this night cream and I thought to share my honest review with you all.
You might also want to check out my previous reviews Nature's Co. Red Wine Sleeping Face Gel and Best anti-aging moisturizer creams for aging women in India.
About the Brand
Biotique is a prestigious brand which mainly manufactures body care, skincare as well as hair care products. The products that the brand manufactures contain a blend of botanical extracts of herbs, plants and protein content of roots, flowers an fruits. All the Biotiue products are organically pure, preservative-free and dermatologically tested.
Product Claims
Biotique Wheatgerm Youthful Nourishing Night Cream is based on 5000-year-old Ayurvedic recipes known to integrate and celebrate body, mind, and spirit. This is the perfect blend of proven Ayurvedic therapies. Wheatgerm oil is one of the most sensitive oils in the botanical world. The cream contains antioxidants as well as Vitamin E which helps to make the skin nourished and firm. It also contains a blend of wheat germ dermatologically preservative-free xtracts of carrot and galangal that are known to moisturize the skin and keep the skin younger.
Ingredients
Ankurit Gehun Seed: 5.0%, Sunflower Oil: 2.5%, Badam Oil: 1.0%, Gajar Seed: 1.0%, Khubani Seed Oil: 0.5%, Kulanjan Rhizome: 0.25%, Purified Water: Q.S.
To Use
Apply the cream after washing your face at night. Massage the cream in an upward circular motion.
Quantity and Price
The price of the cream is Rs 230 for 50 gm.
Inner and Outer Packaging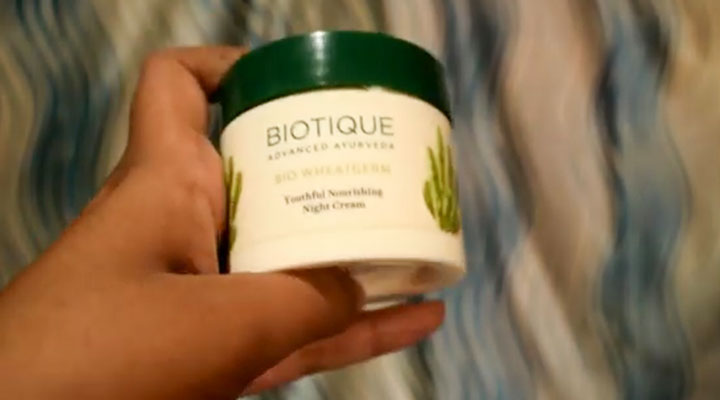 Biotique Wheatgerm Youthful Nourishing Night Cream comes in a simple cardboard box. Inside the box, you will get a plastic tub which is white in color with a green color lid. The inner and outer packaging is extremely travel-friendly. All the details of the product are given in the cardboard box itself.
Texture
The consistency of the cream is very smooth. As this is a night cream, so it is comparatively richer than a regular moisturizer. Also, it has a good fragrance which eventually fades away after you apply it.
My Experience
As I have mentioned earlier that I have used a couple of products from Biotique. And I have been using this cream for two months. I apply the night cream after washing my face with a regular face wash. Also, I make sure to hydrate my face with rose water before applying the cream. The cream is thick in texture and after I apply this on my face, my skin looks a bit oily for a few minutes. After 1-2 minutes the cream easily gets absorbed. I have normal skin and I must say this cream perfectly suits on my face. If you are a dry skinned beauty, then you can apply this product. I massage the cream in an upward circular motion which helps to improve the blood circulation on my face.
When I applied the cream for the first time I didn't find any noticeable difference in 1-2 days. But after a week, I felt that my skin looks nourished and healthy like never before. I have used various premium quality night creams earlier but never found such results. But within this price, the results I got is totally worth it. Even my mother is also using this cream, she has some wrinkles in the under-eye area, after a month I noticed that the wrinkles faded quite a lot. With the regular use, it will vanish completely.
The cream contains a blend of various oils which helps to keep skin nourished. I have a problem of the breakout but this cream didn't make me upset. It is organically pure and preservative-free which is the best part.
Even if you do not have problems of aging, then also you can use this cream which will help your skin to protect from early signs of aging. Also, it is highly recommendable for all the ladies to start applying anti-aging cream from 27 years of age.
Pros
Rich in texture.
Deeply nourishes the skin and makes skin soft and supple.
Fades away fine lines and wrinkles.
Travel-friendly packaging
Affordable
Purely organic
Does not contain parabens.
Suitable for normal to dry skin people.
Mild fragrance.
Does not cause any breakouts
Cons
Not suitable for oily skin.
Ratings
4.5/5
Will I buy Biotique Wheatgerm Youthful Nourishing Night Cream?
Definitely Yes! And this has turned out my favorite night creams so far. The creams provide the same results as it claims. As it is purely ayurvedic so it one can use it for the long run and with this price point of view, this cream is worth purchasing. I highly recommend everyone to try this cream out at least once.
Biotique Wheatgerm Youthful Nourishing Night Cream Review by Joyeeta
Reader Interactions