Hey, Beauties! I hope all of you are fine. As you all know that it is very essential in using a night cream or night gel. Applying night cream on a regular basis will help you to get a healthy as well as flawless looking skin. Night cream will not only keep your skin hydrated but also protects your skin from many issues. Our skin is one of the most sensitive parts, so it is very essential to take care of our skin. Most of us ignore to take care of our skin initially but after a certain point of age, we face many problems dark circles, wrinkles, fine lines, redness, age spots, etc. So, I hope you do not want to face such problems.
But you also need to make sure that you choose a night cream that suits your skin well. A good night cream will not only help in keeping your skin hydrated but also reduces swelling or irritation, improves blood circulation and nourishes your skin. So in this article, I have something to share with you girls. I want to share my experience about Red Wine Sleeping Face Gel from Nature's Co that I have been using for a couple of months now. First I received the product in the Glamego Box and ever since I started using the product, I became a fan of it. So, here goes my experience.
A short glimpse about the brand based on my previous experience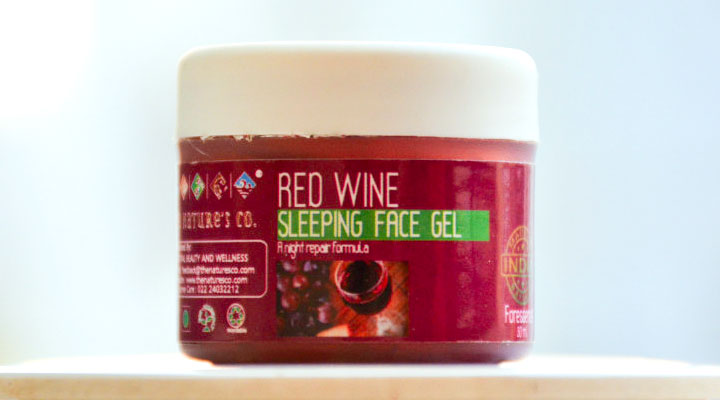 I have tried many products from Nature's Co. Earlier I used Vanilla and Vitamin E face cream, tea tree hair nourishing cream as well as the Saffron Face Cream from this brand. And I must tell you, those products are just awesome. And this Red wine face gel is the exclusive product of the brand. So I thought of writing the red wine sleeping face gel review.
About The Brand
Nature's Co. Is a pure paraben free as well as the organic brand that was founded in the year 2003. The brand manufactures the products that are totally safe, effective, gentle as well as environment-friendly. As they do not use parabens, they make the perfect use of natural preservatives to increase the shelf life of the products. The main ingredients that they mostly use are Cocoa, Olive, Shea butter and various essential oils.
What does the brand claims?
Nature's Co. Red Wine Sleeping Face Gel is the magical face gel that enhances the beauty. Regular application of this product makes the skin look flawless and nourished. It contains a hydro-based formula that helps in purifying the skin whereas the natural ingredients will induce to a good night sleep. It does not make you feel rested but also make your skin look plump, soft and supple every morning.
Active Ingredients
Raw Unfiltered & Unpasteurised red wine vinegar, red grape extract, Liquorice extract, grapefruit extract, vegetable glycerin, Aloe Vera gel base, color, aroma, and natural preservatives.
Price: Rs 1,195 for 50 ml
My Experience With Nature's Co. Red Wine Sleeping Face Gel
Nature's Co. Red wine sleeping face gel comes in a maroon colored plastic container. Yes, there is no pump dispenser so you just have to take out the product with the help of your fingers. This seems a bit unhygienic to me. So make sure you wash your hands before applying. Apart from this, packaging wise, it is very travel-friendly as well as light-weight. The shape of the container is very cute and it has a maroon colored sticker on it. Whereas in the backside of the container they mentioned the price, claims as well as the ingredients list.
Texture
The gel is red in color because of the presence of red wine vinegar, red grape extracts, etc. And talking about the texture, it is very lightweight in the form of the gel. Also, it has a good fragrance exactly like grapes that seems very delicious.? As I have mentioned in my previous post that I have oily skin so this gel perfectly suits me. However, if you have extremely dry skin then it may not suit you in winter. But for summers you can definitely try this out as it will help to keep your skin hydrated. As I apply the gel on to my face, it easily gets absorbed and my skin looks so well-nourished.
I don't know whether it is true or not, but literally get good night sleep after applying the gel. Yes, price wise it is expensive but it is definitely worth trying once. The gel will perfectly suit for oily skinned beauties. Trust me you will get amazing results.
Direction to use Nature's Co. Red Wine Sleeping Face Gel
First of all, cleanse your face with your regular face wash to remove all the dirt and impurities from the skin. Then apply the gel on your face and start massaging in upward circular motion. Leave it on for overnight. It's as simple as that.
Pros of Nature's Co. Red Wine Sleeping Face Gel
Extremely lightweight
Absorbs into the skin very quickly
Go to product for the normal to oily skinned beauties
Travel-friendly packaging
Instant results
Aromatic smell
Keeps your skin hydrated
Cons of Nature's Co. Red Wine Sleeping Face Gel
Price wise it is very expensive
As there is no pump dispenser, you need to take out the product with the finger. It is unhygienic.
May not work well for extremely dry skinned beauties but you can for it during summers.
Available only on online
Will I recommend this product to us?
Yes, you can definitely go for this product. Even I am going to purchase this product as this container gets over.
My Ratings and Final Take
My ratings for this product will be 4/5. As they should introduce a variety for the dry skinned people. Apart from that, it is the excellent gel. I bet you girls, you are going to feel the difference in your skin within 7 days of use.
I hope this review was helpful to you. Do not forget to leave your thoughts in the comments section below. If you have used this product, let me know.
Love you all, Until next time, stay glamorous.
Reader Interactions