Summer or winters we need to hydrate. Summers make hydration especially necessary as we lose a lot of water through sweat. We want to avoid any dehydration related problem or a heat stroke at all costs. Women tend to not care much about themselves. Drinking water is really important for them to have glowing skin as well as for their organ functioning.
As our best friend water is in the form of liquid we need to carry it in bottles. There are so many options to choose from and you may say why not just buy packaged water when thirsty.
Let me give you some reasons why we should carry our own water bottle
Mother nature
We will not trash our environment if we are not dependent on packaged water. You can save a lot of plastic waste by refusing to buy packaged water.
Safe Water
Although your packaged water is safe to drink but we forget the packaging is plastic. By the time it arrives in stores it goes through so many places and weather conditions. Having water which was inside this harshly treated plastic is just not safe.
You will always have water
If you are carrying your water bottle your water supply will be continuous. With packaged water, we need to have a store around. Here you can simply refill whenever required.
You will drink more water
Because you are carrying your own water bottle you will continuously be reminded to drink water. Without water around we simply ignore the fact we are thirsty.
Before diving into the best water bottles for women let us discuss what all we need to keep in mind while choosing a water bottle.
Things to keep in mind while choosing a water bottle for women
The material
Plastic bottles are definitely the easiest to carry but they do more harm than good both for your body and environment. Even BPA free products might not have BPA but they will have some other chemicals in them. Even Aluminium bottles may have BPA liner which we have to be aware of. Nowadays, people are switching to Copper bottles while copper is needed in our body overuse may cause toxicity. Doctors often debate the pros and cons of copper vessels. Steel is a good option that you can consider.
Size
The more volume it carries it should be better right? Well no, because then you will avoid carrying your water bottle. Your water bottle should be travel-friendly if you are carrying them. However, if you just keeping it on your desk then you can buy something that will hold more volume of water.
Easy to carry
Remember when we used to be kids and used to carry water bottles with a shoulder strap. Life was so easy. We should bring the trend back. There are bottles with tiny straps or locks which we can attach to our bags or hold it easily. Some bottles in hourglass shape have a grip in the middle which makes it easier to hold. In the end, the choice is yours what you find easy.
Nozzle
Smaller nozzles may make it easier to drink but can be difficult to clean. If you are looking for a sipper bottle, make sure to avoid plastic sippers.
Ease of cleaning
As mentioned earlier the design of the bottle will affect the cleaning process. Even the material for instance copper bottles can be washed in a particular way only. When I say water bottles for a woman I do not mean to stereotype any color but I want you to pick something that is pleasing to your eyes.
Colour and design
This is not a big deal but if you will like something you will not forget to use it. Aesthetics come in play here. If you like how your bottle looks you may carry it more often.
The 10 best water bottles for women
Now let me give you a few examples of water bottles which you can carry.
1. Milton Astir Stainless Steel Water Bottle
Who knows how to make water bottles better than Milton? This is bottle provides good insulation, is made of steel and is practically odorless. You can choose between color options blue, orange, pink, etc. Some of them have the motivation quote written as never give up stay focused. You can also choose between sizes. Milton Astir is an office-friendly water bottle for women.
2. Signoraware Ozel Stainless Steel Water Bottle Sipper, 750 ml, Silver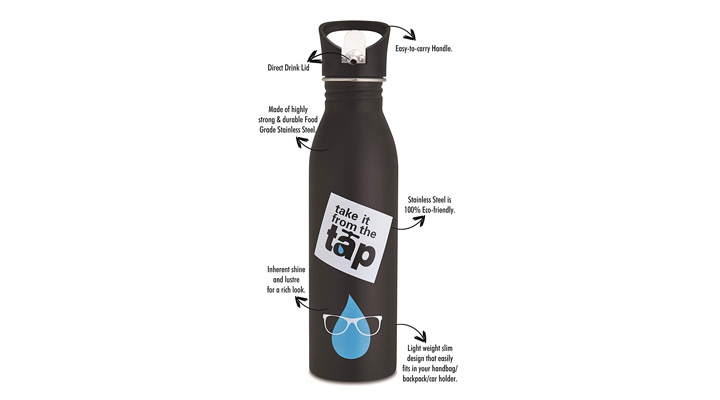 This beautiful stainless steel bottle is great for on the go as well as to keep it on your desk. It is BPA free and very affordable. Comes with a year of warranty too. However, the drawback is that it has a plastic sipper and is not insulated. Signoraware Ozel is also an office–friendly water bottle for ladies.
3. Nike Sport Water Bottle 570 ml Sipper
This is a 570 ml water bottle ideal for carrying to the gym. It has a sipper and comes in color choices like Cool Mint/ Black, Green/ Black, anthracite/black, etc. Its design makes it very comfortable to hold and carry. The cons are that it is a bit on the expensive side if not on discount and is made of plastic.
4. Wild & Free Sipper Bottle by Chumbak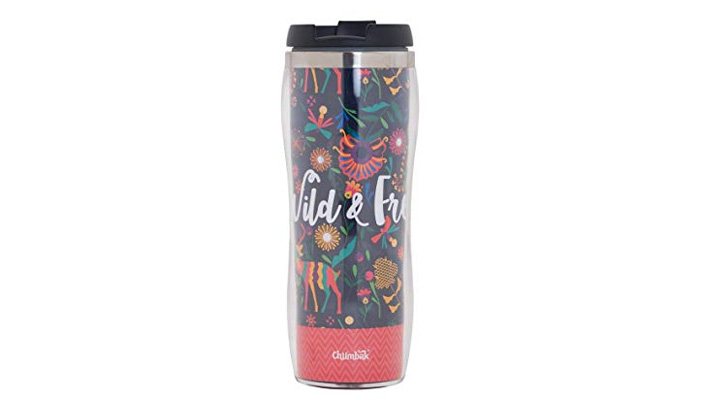 Made from steel with plastic as an outer cover. This also has a rubber lid so as to avoid any leakage. But the best part about Chumbak's bottle is their intricate designs. Although it is on the expensive side but such amazing designs makes up for the price. They are definitely cutest of them all.
5. Fitkit Premium Bottle Shaker
This is the best thing for the gym. It has a mixer and 2 components where you can carry your powder mix. It is very light to carry as it is made from plastic which is a downside to it too. You can keep this when you want to have your compulsory juice or shake after the gym.
6. Clay Water Bottle by the better India
Clay Water Bottle by the better India is the most unique and eco-friendly water bottle in India. Profits from this website are directly sent back to the rural India where this was made. Clay is supposed to be a natural coolant and if you want to go back to your roots this is the one for you. It has a good grade silicone cap to make sure it is leak proof. If you want to give back to the community, this is the way to go.
7. Mr. Butler Pure Copper Water Bottle, 925 ML
Copper bottles are all the rage in India and around the world these days. However again a suggestion drinking water 2-3 times is enough from this per day. Copper also seems to provide many benefits like preventing arthritis which makes it important for women, better immunity and aids in weight loss as well.
8. Personalized Glass Bottle, 500 ml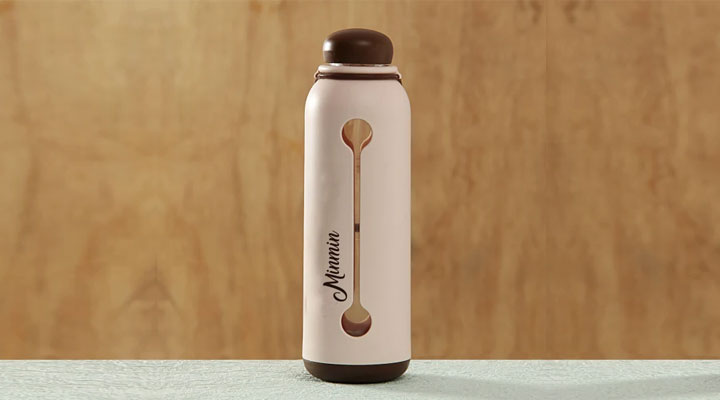 Want to add your family photo on your bottle. Get creative add anything on the cover using this website. It also acts as an amazing gift for someone. This water bottle is one of the best design water bottle for women.
9. 500 Ml Flexible Trail Running Water Bottle in Blue by Decathlon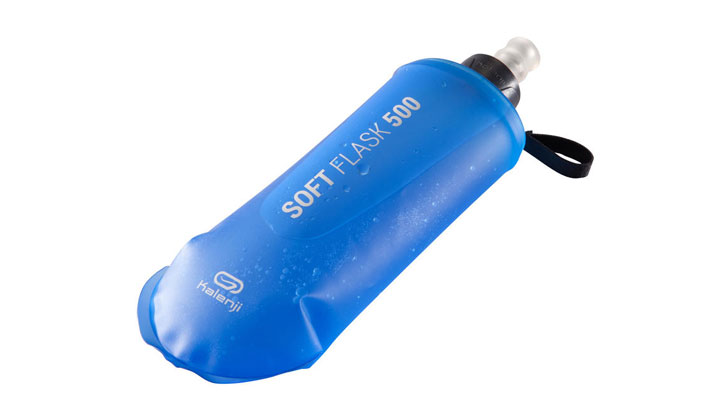 Comes with a 2-year warranty who knows better to make sports accessories than Decathlon. It is great for runners who can comfortably carry it in their pockets too.
10. Vaya Water Bottle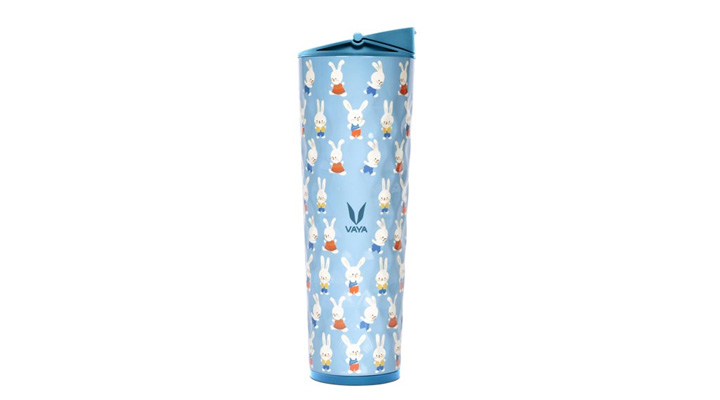 Choose between patterns, lid, volume, and your bottle accessory. This Vaya water bottle will keep your hot coffee warm for 12 hours and your cold coffee cold till 18 hours. Plus I think the bunny pattern is really cute. Vaya water bottle is best for students and college girls.
Always carry your own water bottle
Remember to carry a small water bottle wherever you go to stay hydrated and always keep permanent ones at your office desk or your bedside. I hope you liked these options. If you have any suggestions on which water bottle became your best friend, please let us know in the comment below.
Reader Interactions