Fruits and vegetables are crucial components of a healthy diet, and their daily consumption could help prevent major diseases such as cardiovascular diseases and certain cancers. As per the recent report published by WHO/FAO, a minimum of 400g of fruit and vegetables per day(excluding potatoes and other starchy tubers) is recommended for the prevention of chronic diseases.
However, the drastic change in work culture has made it almost impossible to spare time for anything but work itself. In a fast-changing world like today, everything else but work has become time-consuming. And that includes preparing your fruit salad—washing, peeling, and cutting them, which is not something most of us can afford nowadays. This is why juices have become so popular, and more ideal for the current world.
Advantages Of Juice In Your Diet
If we're being honest, most of us never hit the daily recommended intake/servings of fruits and vegetables. Probably perhaps because we're too busy, or don't like the texture, or perhaps because we never really gave a chance to it. Well, if you're one of those, here are a few reasons to juice it up:
Fast: Unlike peeling and cutting up fruits, you don't need to spend a lot of time when it comes to juices. Just pour it in a glass, and drink it, or take the bottle with you and drink it on the go.
Wholesome: One large glass of juice per day is enough to provide you the daily recommended amount of nutrients.
Nutritious: Juices are rich in antioxidants and phytochemicals too which are beneficial for health.
Easy to digest: Since juices are in liquid form, they are easier to digest than wholesome fruits, and do not take a toll on the weak stomach
Instant hydrating effect: Juices offers instant hydrating effect. When one feels parched up or suffers from dehydration, rather than water, drinking juices can instantly quench your thirst.
Soothing and refreshing in hot climate/ summer season: On a hot summer day, drinking a juice gives a refreshing feel, and helps one to cool down quickly.
Top 9 Organic Fruit Juice Brands In India
1. Raw Pressery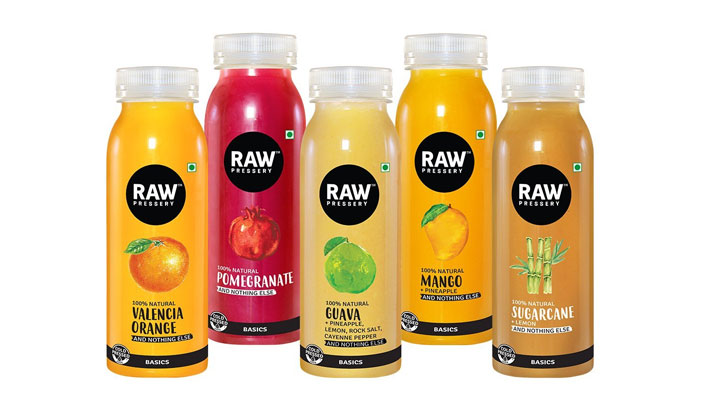 Available at Amazon.in, Raw Pressery is a famous cold-pressed juice brand in India. They make fresh cold-pressed juices in varieties of flavors and almond milk too. With no artificial flavor, no added sugar, no preservatives, Raw Pressery juices might just be the new best organic fruit juice in the market today.
2. 24 Mantra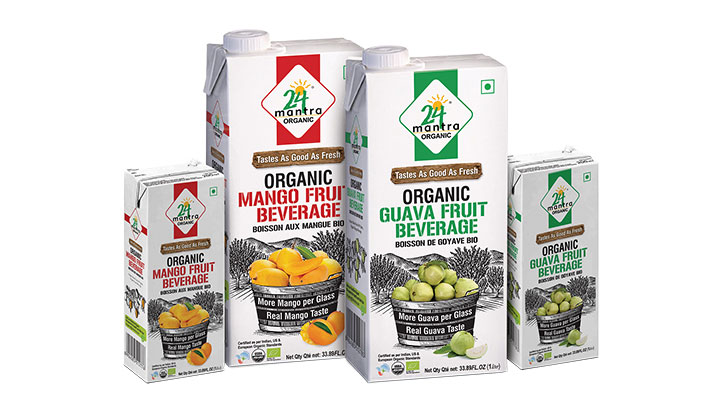 A pioneer in organic foods, 24 Mantra supports sustainability, and empower farmers by associating with more than 45,000 farmers on 30 projects, and procuring directly from them. So, if you're a devotee of the healthy and eco-friendly movement, and you're looking for beverages, choose from 24 Mantra's range of certified organic juices. With 100% juice and no added sugar, 24 Mantra juices are also available online at Amazon, Big Basket, Jio Mart, and more.
3. Tropicana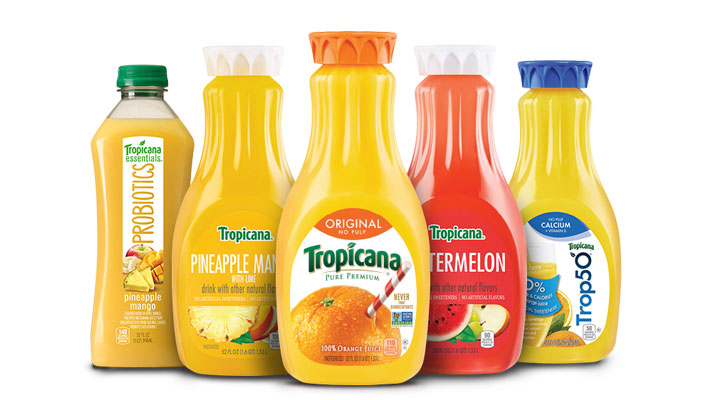 Founded with the mission of making the goodness of the finest fruit accessible to everyone, Tropicana is initially famous for its orange juice. Committed to making the best juice in the world, Tropicana juices are with added benefits of vitamin c, potassium, calcium, protein, magnesium, carbohydrate, folic acid, and riboflavin. With 100% pure juice, Tropicana also claims to have no added sugar, no artificial flavors, and no preservatives. Acknowledging the many instances of iron deficiency issues in India, PepsiCo India also launched Tropicana Essentials-Iron to suffice the nutritional demands among the Indian youths.
4. B Natural
B Natural crafted their entire range from fruits sourced through local Indian farmers from all across the country. The brand ensures that their fruit juices are made with 100% fruit and 0% concentrate—involving no heating of juice/ pulp to remove water content which may otherwise lead to loss of nutrients. So, if you're a #vocalforlocal person, B Natural might just be the best fruit juice brand that suits your philosophy. Besides, the brand has also launched its first-ever immunity range of fruit juice with clinically proven ingredients including Green Coffee Extract, probiotics, Vitamin C, Zinc, Vitamin A, etc.
5. Real
Voted by consumers as the most trusted fruit juice brand for four years in a row, for most Indians, Real fruit juice range needs no introduction. With 14 exciting ranges in the fruit juices category, Real is all about fruit power and is supposedly made from the best quality fruits with no added preservatives.
6. Paper Boat
With their drink pouches having 10% lower carbon footprints than glass bottles, Paper Boat juices are the next best thing to 'freshly plucked and juiced'.  Their soothingly smooth juices are made with natural and nature-identical flavors – helping one get the closest there is to the real thing without putting their health at risk. Besides, if you're looking for a brand that's super confident about the absence of preservatives and artificial flavors in their drink, Paper Boat is definitely the one. And we'll quote, "Preservatives and artificial flavors are monstrosities masquerading as civilization. So there are not and never will they be in any Paper Boat drink. Mummy promise!"
7. Del Monte
Known for their reputation with a series of innovations and a singular commitment to quality, Del Monte ensures that only the freshest fruit is used in the preparation of their beverages. Their juices are 100% fruit juice from concentrate and are naturally sweet with no added/ artificial sugar.
8. Ceres
Providing the very best in natural goodness that Mother Nature has to offer, Ceres promotes products that are gluten-free, rich in Vitamin C, all-natural 100% pure fruit juice, no artificial colors, and more. Besides these, Ceres' products are Kosher for Passover; the brand acknowledges the needs of certain communities like the Jewish's– something that most brands failed to recognize despite the growth in globalization. From papaya to apricot, or from pear to passion fruit, Ceres offers an exotic range of pure fruit juice that is nutritious, cholesterol-free, and contains minimum sodium; they taste good when used in shakes and smoothies too.
9. Minute maid
With more than 100 different flavors and varieties, Minute Maid ensures its consumers the highest quality juices—made from perfectly ripe, natural fruit. Minute Maid being India's no.1 juice drink in the oranges segment, it is famous for its Minute Maid Pulpy Orange. Fat-free, and with energy-giving components, Minute Maid is one of the best juices that satiate the taste buds of those with rich taste.
Also Read
Balance is Key
Drinking fruit and vegetable juice helps us to foster daily intake of fruits and vegetables but one shouldn't consume it in gallons. Drinking juice is a faster and easier way to get the nutrients found in fruits but it is not generally recommended for people with diabetes or weight loss goals. However, just as Hippocrates has quoted, "everything in excess is opposed to nature", the approach towards juices should also be moderation. Like everything else, the key to health is to eat a balanced diet; the same applies to juices too.
What's Special About the List?
All things considered, we hope our list of Top 9 Organic Juice Brands In India comes in handy, and that our efforts may prove fruitful on your journey towards finding the juice that suits you best. We listed out the best juice brands for our readers—based purely on selectively identifying the brands' unique individual features, for the sole reason that you may have access to information (about the brands) that are often ignored, and even not realized.
When it comes to choosing brands or products, we believe that stories are one of the things that shouldn't be ignored because that is what makes the product come to life. And that is exactly what we've done with this list too. We hope our list of Best Organic Juice Brands is an eye-opener for you. Happy juicing!
Reader Interactions