Do you ever feel a sharp twinge in your teeth when you eat ice cream or hot drinks? This feeling is because of sensitive teeth, and it usually restricts you from having what you like the most. Toothpaste can be helpful, and in this article, we will talk about the 10 best herbal toothpaste for sensitive teeth.
Causes for sensitive teeth
Before we go talking about the best herbal toothpaste, let us know what causes sensitive teeth. Tooth sensitivity is a condition when the enamel in the teeth or a tooth starts decaying. When decaying starts, the nerve ends in our gums and tooth are exposed. These exposed nerve cells can send impulsive waves to our brain when we eat something very hot or cold, leaving us with a sharp feeling or twinge on the teeth.
There are several factors that cause sensitivity in our teeth like
Worn out tooth enamel.
Exposed root tooth.
Cavity.
Cracked or chipped tooth.
Side effects of any dental procedure like tooth bleaching.
The symptoms are usually a sharp temporary pain in the tooth or a twinge while having cold drinks or hot drinks. The sensitivity can also range because of eating sweets, brushing, flossing or eating.
Can certain toothpaste help?
Yes, toothpaste can help. Toothpaste is very necessary not because it cleans our mouth, but also because it's ingredients can help build up the missing minerals needed in our teeth. It also helps in removing stains and polishes our teeth so that it stays healthy and shiny.
Natural and herbal toothpaste is the best choice instead of using strong chemical toothpaste for sensitive teeth. Natural toothpaste usually contains herbal elements that help in building up the enamel and protects the teeth from further decay. People who have sensitive teeth can opt for natural toothpaste because of a number of reasons:
Though toothpaste doesn't have sugar contents in it that can aggravate tooth decay, it does have artificial sweetener to give it a better taste. Experts usually debate on the issue of artificial sweeteners should be used or not. So, to eliminate the chances of having sugar in the paste, herbal toothpaste is a better choice.
The Natural toothpaste doesn't contain man-made dyes, which usually gives a blue color to the toothpaste gel.
Herbal/Natural toothpaste doesn't consist of ingredients taken from animal products, so it is biologically safe for the ones having allergy issues.
Natural toothpaste either doesn't consist of fluoride or has very little quantity in it, so it eliminates a high amount of toxicity.
SLS (Sodium Laurel Sulfate) is usually the element that causes the toothpaste to foam. It is found in detergents and soaps which are allergic to many people. A natural toothpaste doesn't have SLS in it.
Top 10: Best herbal toothpaste for sensitive teeth
Now we know why herbal toothpaste is better for sensitive teeth. Let us have a look at the best natural toothpaste that can be used by people with tooth sensitivity.
1. Colgate herbal toothpaste
Colgate is one toothpaste brand that is used by the majority of people in India. It has secured its name and fame since years and it has also come up with different kinds of toothpaste that suit the needs of people. The Colgate Herbal Toothpaste is a completely natural and herbal toothpaste which can be preferred by people having sensitive teeth.
Colgate Herbal is the first herbal toothpaste produced by its brand. The key ingredients in it are – Myrrh, Eucalyptus, Chamomile, and Sage soothes. It has zero artificial ingredients and the natural properties make it the best herbal toothpaste for sensitive teeth.
Price: ₹ 80 for 200g.
2. Herbodent premium herbal toothpaste
Herbodent Premium Toothpaste is a product of Dr. Jaikaran's oral care unit. It is also one of the highest exporters of oral care products of India. This herbal toothpaste assures the best protection from dental problems like a cavity, gum bleeding, sensitivity, and pyorrhea.
This toothpaste has a unique blend of micronized herbal ingredients of 21 herbs. It is perfect for gum tightening as it has anti-bacterial properties. It is an ayurvedic toothpaste that is totally natural and herbal.
This toothpaste is best for the ones with sensitive teeth as it doesn't contain artificial flavors, gelatin or chalk powder. The herbal ingredients are easily soluble in saliva and the natural freshness gives a soothing effect in the mouth.
Price: ₹ 95 for 100g.
3. Pepsodent herbal toothpaste
Pepsodent is another brand that is widely famous in India. It is also an oral care unit, which has been manufacturing different toothpaste with the growing needs of people. It is also one tough competitor of Colgate.
Pepsodent Herbal Toothpaste is a natural toothpaste which uses highly examined chemicals, natural herbs with the latest technology. The key ingredients are- Calcium Carbonate, CAPB (an organic element found in coconut oil) and Salt. Its herbal qualities can be considered as the best natural toothpaste for sensitive teeth.
Price: ₹ 95 for 200g.
4. Dabur meswak toothpaste
Dabur is one of the leading ayurvedic manufacturing units. The brand was founded in 1884 to provide ayurvedic medicines and other products. One ayurvedic herbal toothpaste manufactured by this brand was Meswak.
It is also one of the best natural toothpaste for sensitive teeth recommended by the expert. Its key ingredient is the extract from Meswak herb for healthy gums and strong teeth. It is scientifically proven to fight germs of plaque, tartar and tooth decay.
Price: ₹ 140 for 300g.
5. Sensodyne toothpaste
Sensodyne is the No. 1 Dentist's recommended toothpaste for sensitive teeth. It provides relief from the pain of tooth sensitivity and also provides long-lasting sensitivity protection. The key ingredients are – Fresh mint, Glycerin, and Potassium Nitrate. Sensodyne is one of the best herbal toothpaste for sensitive teeth.
The herbal qualities and the de-sensitivity properties of this toothpaste make it the best natural toothpaste.
Price: ₹ 100 for 70g.
6. Himalaya herbals dental cream
Himalaya Herbal Health Care is a herbal manufacturing unit. It uses ayurvedic ingredients for its products and has its manufacturing unit all around the world. Himalaya Herbals Dental Cream is a herbal toothpaste of this brand.
Its key ingredients are – Neem to fight bad germs; Meswak to prevent gum bleeding; Pomegranate which keeps gums healthy; and Natural Fluoride. This refreshing herbal toothpaste makes it one of the best natural toothpaste for sensitive teeth. The price of the toothpaste is 80INR for 200gms.
Price: ₹ 80 for 200g.
7. Patanjali dant kanti
Patanjali is an ayurvedic company with manufactures mineral and herbal products. It uses herbs which usually come from the Himalayan region, as well as local herbs. Patanjali Dant Kanti dental cream is an ayurvedic toothpaste by this brand.
Its key ingredients are- Akarkara, Babul, Neem, Timbaru, Turmeric, Clove, Pudin, and Pippali. This blend of pure ayurvedic formulas makes it the best herbal toothpaste for sensitive teeth.
Price: ₹ 75 for 200g.
8. Vicco vajradanti
Vicco is a manufacturer of ayurvedic herbal products and natural medicines. It is also a well-known manufacturer of international products. It has its manufacturing units in many parts of the world. The company has always researched to produce natural products for people.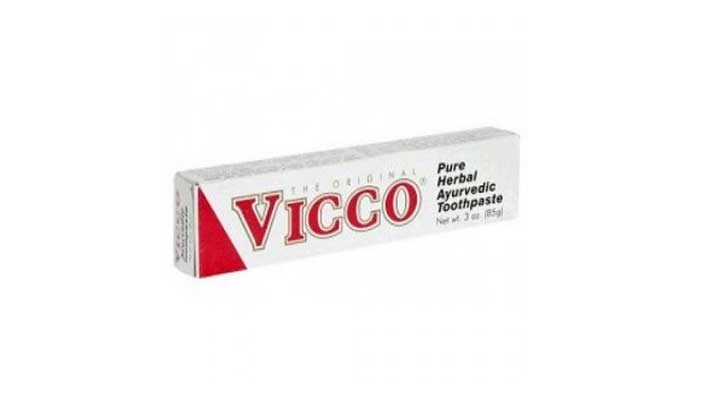 Vicco Vajradanti is a herbal toothpaste and best for people with sensitive teeth. It has a blend of 18 natural herbs. The key ingredients are- Gum Arabic, Indian Medlar, Jambhul, Clove, Bengal Madder, etc.
Price: ₹ 40 for 125g.
9. Neem active toothpaste
Neem Active Toothpaste is a product of Jyothy Laboratory Limited. This toothpaste gives the complete care of neem protection along with modern oral medicinal properties. The main function of neem in this toothpaste is to protect our teeth from bacteria. The key ingredients are – Neem and Mint.
The key ingredients are – Neem and Mint. It is proven to fight germs, protection from the cavity and ensures a clean and soothing mouth freshness. People with sensitive teeth can opt for this toothpaste for its soothing properties.
Price: ₹ 60 for 125g.
10. Babool neem
Babool is an Indian oral care brand. The brand is known for its toothpaste Babool Neem. It is famous for the use of the bark of babool tree, which was traditionally used for brushing.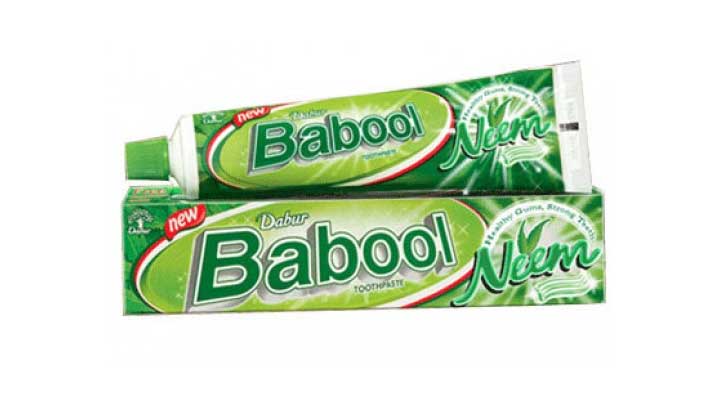 The key ingredients are – Babool and Neem. People with sensitive teeth can opt for this toothpaste because of its less artificial elements. It is also one of the best herbal toothpaste for sensitive teeth.
Price: ₹ 85 for 350g.
People with sensitivity must check with the dentist to ensure an easy and quick recovery. Though the list mentions all the best herbal toothpaste for sensitive teeth, one must also check with the dentist to ensure complete protection. All products price mention above might be different from the actual price.
Reader Interactions