Dental care and oral health are an essential part of our overall hygiene and well-being. For every bite of food and drink consumed, the action is directly on the enamel and gums. Maintaining healthy oral cavity is a lifelong commitment. The earlier we realize the importance of dental and oral health; it would be easier to avoid crunch on our pockets with the costly dental procedures. Poor oral health can lead to bleeding gums, weaker enamel, and ulcers. Dental cavities and gum diseases are one of the common health problems. According to the World Health Organization, nearly 100% of adults suffer from at least one dental cavity in their lifetime. In most of the countries, there are about 1-10 cases of oral cancer listed per 100,000 individuals. The burden of oral diseases is higher in India, due to the consumption of chewing tobacco and smoking. However, dentists recommend the use of dental floss, herbal toothpaste and tooth powder, mouthwashes and regular oral health check-up to avoid serious oral problems.
Mouthwashes or mouth rinse are a liquid which is held in mouth passively or swilled around the mouth or maybe gargled. These mouthwashes are antiseptic solutions intended to maintain oral hygiene in an individual. In some cases, mouthwash also acts as saliva substitutes to neutralize acid and helps in keeping the mouth moist. There are cosmetic mouth rinses also available which help in reducing bad breath. There are various mouthwash brands available in India, however, with the current discussion, we would focus on the best mouthwash brand in India through our article.
Is using mouthwash important for oral health?
Yes, mouthwash is important for oral health. Mouthwash can do more than just freshen your breath. It can ward off gum disease. If you use mouthwash, it is still recommended to brush twice a day with an ADA-approved toothpaste.
There are few loose food particles in the mouth after every meal. With the use of mouthwash, an individual can get rid of these loose food particles making oral hygiene effective.
The use of mouthwash helps in preventing oral problems such as bleeding gums, plaque formation, cavities, gingivitis at early stages.
In India, the consumption of tobacco is high which has led to an increased number of oral problems. With the regular brushing, flossing, and use of mouthwash, the oral problems can be controlled.
In children, mouthwash is effective in strengthening enamel and gum with the increased consumption of chocolates and carbonated beverages.
What are the benefits of using mouthwash?
Benefits of mouthwash have been described below focusing on the growing rate of oral health concerns across India.
Freshens breath: Mouthwashes helps in temporary reduction of bad breath in an individual. It helps in killing the bacteria associated with bad breath.
Prevention of Plaque Build-up: Mouthwash also helps in the prevention of plaque build-up on the gums, in-between teeth, and the surface of teeth.
Removes Particles: After every meal, there are few food particles that remain the oral cavity. Mouthwash rinse helps in removing loose particles in the mouth, making brushing and flossing effectively.
Fights Cavities: Mouthwash contains fluoride in the composition which helps in fighting cavities and strengthening enamel.
What are the different types of mouthwash?
There are various types of mouthwash available such as:
Fluoride mouthwash: The use of fluoride mouthwash helps in fighting germs and strengthening the oral cavity from tooth decays.
Antiseptic mouthwash: The most common type of mouthwash available for oral health. The antiseptic mouthwash mainly contains alcohol and it is used for controlling bacterial infections. These mouthwashes are also effective for bad breath or halitosis. However, the presence of alcohol in the mouthwash restricts the usage, as the overuse of this mouthwash can lead to tooth discoloration.
Cosmetic mouthwash: Cosmetic mouthwash is mainly used to mask bad breath in individuals.
Natural mouthwash: The natural mouthwash is alcohol-free mouthwash which is safer for individuals. The natural ingredients in the mouthwash help in maintaining oral hygiene without causing any degradation of the oral cavity.
How to use mouthwash correctly/effectively?
Every mouthwash comes with a small cup which should be used for the measurement of mouthwash. Some of the mouthwash dosages are restricted to 20mL and others are restricted to 10mL.
Pour the mouthwash in the mouth at once, close the mouth and seal without squirt the mouthwash. Do not swallow the mouthwash as it may contain strong chemicals.
Swish it through the teeth for 30 seconds to 1 minute. Swish all over the oral cavity, through the molars, front teeth, under the tongue and across the roof of the mouth.
Spit out when you are done swishing.
Depending on the type of mouthwash, you can wait for half an hour before consuming drinking water or eating anything.
Before using mouthwash, you must go through the instructions on the bottle for the regular dosage and precautions during an emergency.
Top 10 best mouthwash brand in India
Here is the list of best mouthwashes in India. Mouthwash or mouth rinse products can prevent tartar build up. Mouthwash helps fight plaque, so daily rinsing can be good for your oral health.
1. Listerine
Listerine is the best mouthwash brand in India, for the past few decades. The product is one of the most trusted products by the dentists. The brand is one of the oldest available brands of mouthwash in India recommended for better oral health. The mouth is an alcohol-free product, used for gum protection and effective in fighting plaque. The mouthwash helps in refreshing giving the best freshness in comparison to the other mouthwashes available in the market. The mouthwash is available in three varieties: original, cool mint, and fresh burst. Menthol, Thymol, Eucalyptol, and Oil of Wintergreen are the four essential oils used in the preparation of Listerine mouthwash.
2. Pepsodent
The toothpaste and tooth powder brand -Pepsodent entered into the mouthwash business in the year 2012. Currently, there are two variants of mouthwashes by Pepsodent, namely, Fresh Mint and Herbal Fresh. The zinc powder formula by the toothpaste brand helps in fighting germs, building strong teeth, and prevention of germ attack. The product is available at the online and offline stores for customer convenience. The brand also introduced fluoride mouthwash to prevent cavities and restore mineral loss in an individual.
3. Oral-B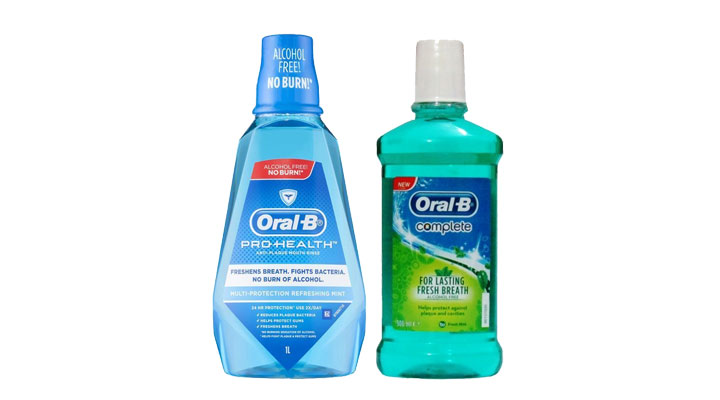 Oral-B is one of the most trusted brands by the dentists when it comes to the oral health of an individual. The brand has been engaged in the production of toothpaste, toothbrushes, and mouthwashes. There are mainly two types of mouthwashes segregated on the type of rinse. Chlorhexidine and fluoride rinses are two types of rinses which classify the mouthwashes by Oral-B. Oral-B Pro-Expert Multi-protection mouthwash, 3D White Luxe Mouthwash, and Pro-Expert clinic line mouthwash are the major products available by the brand.
4. Colgate
Colgate Plax Sensitive Mouthwash is the best mouthwash in India recommended by dentists. The mouthwash provides 12-hour protection, strengthens enamel, freshens breathe, and prevents plaque build-up. The product is an essential oral health step to help in cleaning hard-to-reach areas in the mouth and helps in gum protection. For better results, dentists recommend the use of Colgate advanced toothpaste along with the Plax sensitive mouthwash. There are varieties of mouthwashes available by Colgate such as Active Salt, Complete care, Fresh Tea, Freshmint Splash, Peppermint Fresh, Sensitive, and Visible white. Colgate also introduces the first recyclable toothpaste tube.
5. Himalaya Mouthwash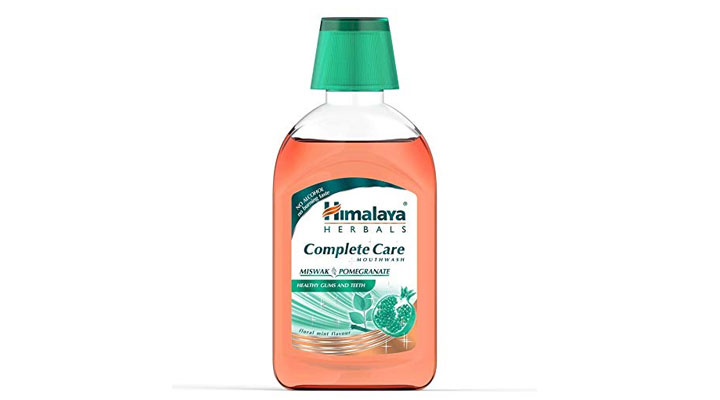 The brand Himalaya is famous for its herbal products. The brand manufacturers the best mouthwash in India with high ayurvedic quotient. Himalaya mouthwashes are anti-microbial, antiseptic, and herbal. HiOra mouthwash is the herbal mouthwash by Himalaya used to fight germs and helps in reducing bad breath. The natural potassium used in the mouthwash helps in reducing tooth sensitivities from varied etiologies. For best results dentists recommend use of herbal toothpaste and mouthwash in order to help an individual in maintaining oral hygiene.
6. Sensodyne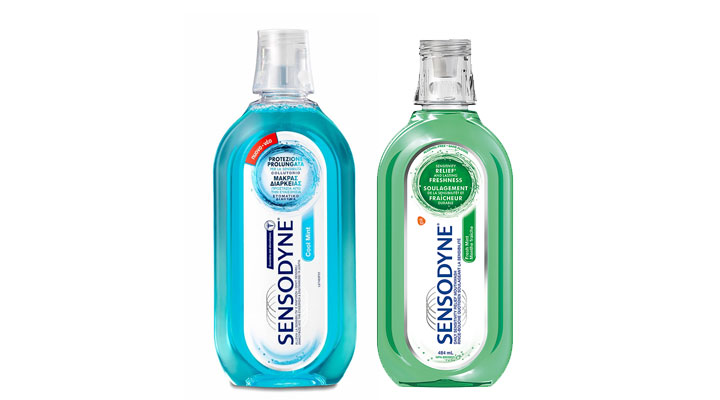 Sensodyne Cool Mint Mouthwash is recommended for sensitive teeth under the best mouthwash brand in India. The mouthwash has been formulated to reduce sensitivity and relieve pain in an individual. The fluoride present in the mouthwash helps in fighting cavities and strengthening teeth. The fluoride also helps in remineralizing enamel and prevention of cavities. The mouthwash is recommended to be used twice daily for the protection of sensitive teeth. Sensodyne Pronamel Mouthwash is also available in the market as one of the mouthwashes for the protection of enamel.
7. Befresh Herbal
Befresh Herbal mouthwash is mainly available in Asian countries. It helps in fighting bad breath, mild throat infection, oral bacterial or fungal infections. Befresh Herbal mouthwash has a natural mint flavor added to it, along with the aromatic oils such as cinnamon, spearmint, clove & eucalyptus oil. The mouthwash also helps in preventing mouth ulcers.
8. Scope
Scope is one of the mouthwash brands available in India. The mouthwash by Scope is believed to be a better-tasting alternative to Listerine. The active ingredients present in the mouthwash are cetylpyridinium chloride, domiphen bromide, and denatured alcohol, whereas the inactive ingredients are water, glycerine, Polysorbate 80, sodium saccharin, sodium benzoate, benzoic acid, Blue 1 and Yellow 5. The mouthwash is used for fighting germs similar to all the other mouthwashes.
9. Orbis Mouthwash
Orbis mouthwash is available in India manufactured by Ritz Pharma. The product contains a salt composition of chlorhexidine gluconate. Orbis mouthwash is mainly recommended by dentists for mouth infections. It helps in killing bacterial contamination, which can cause serious damage to the enamel and gum. The mouthwash contains alcohol in its composition unlike all the other mouthwashes available. The dosages of Orbis mouthwash must be used under a doctor's prescription. The canker sores ranging from mild to moderate can be controlled with the use of Orbis mouthwash.
* Orbis mouthwash must be used only under a doctor's prescription.
10. ACT Mouthwash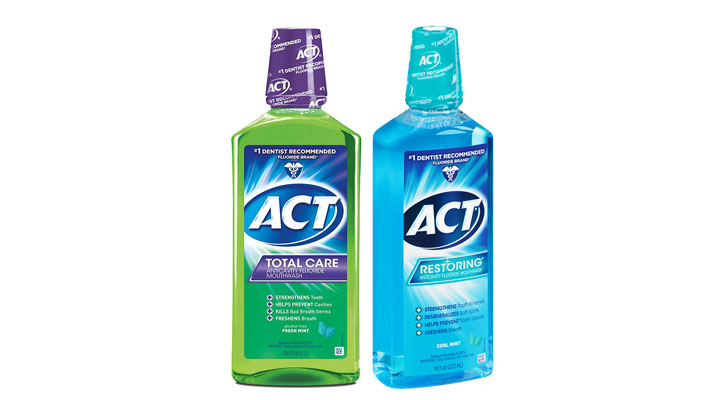 ACT mouthwashes are available for various age groups. There is a range of mouthwash branded under ACT for different oral health problems. Anticavity Arctic Blast, Anticavity Mint, Anticavity Cinnamon, Restoring Mint Burst, Restoring Cool Mint, Total Care ICY Clean Mint, Total Care Fresh Mint, Advanced Care Frosted Mint, and various other ACT mouthwashes are currently available in the market. The mouthwash helps in preventing cavities, bacterial infections, and maintaining oral hygiene. ACT mouthwashes are also available for kids such as Anticavity Kids Pineapple Punch, Anticavity Kids Wild Watermelon.
Is it okay to swallow mouthwash?
Swallowing of mouthwash should be avoided as it contains strong chemicals such as sodium fluoride and other salts which can damage the gastrointestinal tract. Swallowing a small amount of mouthwash can lead to diarrhea in some of the cases. Children must use mouthwash only under adult supervision.
Is it okay to swallow spit after mouthwash?
The saliva secretion increases with rinsing activity, which is a normal phenomenon. Swish and spit the mouthwash as much as you can after the use. After rinsing, you must not feel conscious or overthink about it. There is no harm in swallowing the saliva afterward.
How often should you use mouthwash?
Mouthwash should be used as recommended by the dentist if an individual is suffering from oral problems such as cavities and gum infection. However, mouthwash can also be used regularly after meals to avoid oral problems. Most of the best mouthwash brand in India recommend that you must use the mouthwash twice in a 24-hour period. The overuse of mouthwash can lead to discoloration and harm to the enamel in some of the cases due to the chemical composition of the mouthwash.
Who should use mouthwash?
Mouthwash should be used by every individual after meals, as it would help in reducing problems of bad breath and kill germs in the oral cavity if any. The use of mouthwash should be a regular habit similar to brushing of teeth regularly. With eating habits, an individual must also take care of their oral hygiene. In children, the use of mouthwash can be incorporated after dentist consultation. The use of mouthwash helps in complementing brushing and flossing; therefore it must be used by every individual for better oral health. Mouth Wash may be unsafe to use during pregnancy.
If you wanna pull a "Pass Aao" Close-up Moment, use mouthwash
Advertisements are killing it nowadays, and articles have taken a back seat. Well, however, we would like you to read along and use the mouthwash recommended to pull under your "Pass Aao" moment in future. Keep brushing, flossing and swishing mouthwash for your smile can add to millions of smiles around you. We would love to hear about your "Pass Aao" moment in the comment section, building up smiles and connecting hearts.
Reader Interactions