Are you still looking for some gift ideas for your wife? Are you planning for the occasion of a holiday, your anniversary, or her birthday?
It isn't a cakewalk to come up with thoughtful and loving ideas in one go, especially when you can think of such dreamy ideas like a palace on an island. We are here to help you out. As a first step, you need to think about what is the thing that your wife is fond of and values.
Is your wife outgoing or a homebody? Is she pragmatic or driven by sentiments, traditional or fashionable or shopaholic?
Next, think about the current ongoings in her life. Are you starting new jobs, celebrating a milestone, deciding on a trip, or decorating your home?
Trust your guts when you decide and you'll enjoy it. Look below at our suggestions for some gorgeous ideas your wife will cherish:
Here are the 7 best gift ideas for the amazingly special wife
1. Eternity Roses
Now this one is a classy article from Venus ET Fleur. Its elegance and fragrance certainly will amaze your wife.
Eternity roses are peculiar in that they come encased in a luxury box. These roses can sustain an entire year if cared properly.
Bundled up in Parisian hat boxes or a transparent acrylic case, they are specialized roses that retain their scent, shape, and texture.
Due to their mild aroma and a strikingly uniform appearance, the eternity roses are ideal for a wide range of events. They are especially suited to events such as valentine's day, anniversaries, weddings, and marriage proposals.
Keep in mind the delicate nature of the rose arrangement and handle it with utmost care.
2. Custom Handmade Portrait Painting
Is your wife obsessed about taking her pictures? Or is your wife a dormant photo shooter?
In any case, you might remember a photo of her that you immensely cherish. A photo fulfills its purpose for you, but have you ever thought about a portrait painting? This could be one of the best gift ideas for your wife.
How about a professionally handmade painting of your wife, and that too, from a photo you cherish the most?
Some website like Portraitflip offers you just this service. Specially chosen quality artists create a stunning portrait painting, which is delivered at your doorstep.
You get many options for choosing the type of painting you wish to be made. You can select from oil paintings, pencil sketches, watercolor paintings, charcoal drawings, colored pencil drawings, and acrylic paintings.
3. Calligraphed Wedding Vows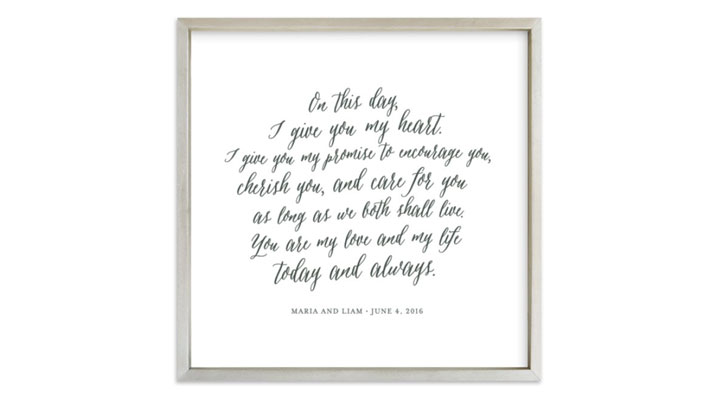 Capture your wife's heart further by presenting her a vow of your love and dedication. Set your love in stone with calligraphed wedding vows.
The day of your wedding was certainly the most auspicious part of life – the day you won't forget and the promise you made.
What better way to keep the promise alive than by displaying and creating your vow for wedding art?
This time, use a gift made of pure gold foil. Turn a poem of a vow or your wedding into a stylized and personalized artwork.
Hang the vow article in a special place in your home so you never forget about your promises. Grab this opportunity by buying from Minted.
4. Statement Gold-Plated Earrings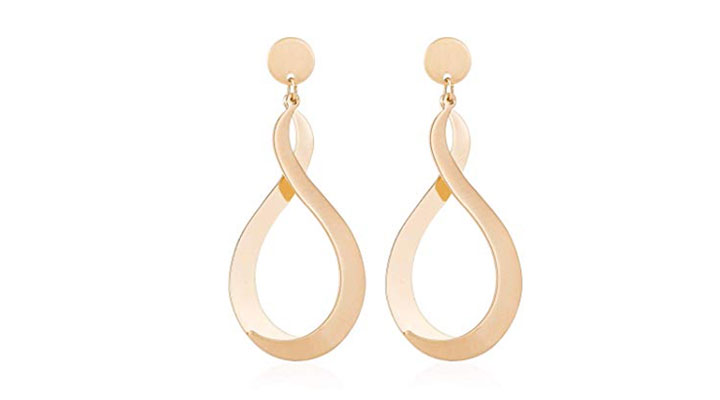 Which woman doesn't like earrings? Earrings are one of the most cherished ornaments a lady chooses. On a special occasion, she will be delighted to have these gifted by you.
Saphira brings fashionable and good quality earrings for women and girls. It offers them at reasonable, affordable prices.
This hoop-shaped earring is built from zinc alloy. They are comfy and unlikely to bring about allergy.
Create a romantic ambiance while presenting these to your wife. The charm of these earrings will delight her to a great extent and will fetch you tons of compliments.
This gift is most suited to proms, birthday parties, weddings, etc. It will enhance her look altogether.

5. Handbag for Women
Well, handbags are treasured by females, I guess more than they are by males. There are a lot of cool and trendy handbags for women available in the market.
A multitude of designer handbags, all unique in their style and statement can be seen flooding fashion stores.
Yup, keep no doubt about the one from Baosha. You won't be left disappointed once you buy a bag from them.
These weekend bags are permitted in most airlines. They work not only as bags for the weekend but also as gym and night bags.
The band on the back of the bag makes it easy to slide just like a luggage bag. The shoulder strap is composed of leather.
6. Skyline Inspired Pillow
Have you ever wondered why you should give a pillow as a gift? So, how about a pillow?
Don't start thinking anything yet, this gift isn't going to be the same, old plain pillow that may be on your bed. This one will be special.
The skyline pillow (find it on Etsy) has the skyline digitally printed onto a linen background. The intricate design will be visible in the artwork as the printing is crystal clear.
A perfectly finished product, the soft fabric will be ideal for you to cuddle. The pillows come with an unobtrusive zip fastener for convenient accessibility that makes it easy to wash them.
The cover is fully washable and can be ironed with a cool iron.
7. Personalized Necklace
Fill that portion. Let her neck have something that she will like. A golden-colored necklace with her name molded on it. That would be great, wouldn't it be?
Necklaces are surely the ones that your wife will enjoy having as a body accessory. She may choose to flaunt with that thing, which is up to her.
A necklace would certainly add to the charm of her appearance and will give her a stately look.
Etsy brings a range of necklaces to select from. You can order to customize by designing your wife's name, image, or date. You can also select your preferred chain length, text font, color, and material.
Final Words
These are the seven best gifts ideas handpicked for your lovely wife for any special occasions. If you have some other interesting unique gift ideas, please mention in the comment section below.
Reader Interactions