Who said that Guwahati is just known for its natural beauty? Let us just go beyond its beauty and explore some of the shopping destinations. The travel enthusiasts can find inspiration and fashion along the way!
Guwahati is the capital city of Assam and it is best known for its shopping destinations in the North-Eastern part of India. There are various famous places in Guwahati which attract tourists for shopping and travel. There are different items found at the marketplaces of Guwahati ranging from traditional dresses, funky jewelry items, statement cloth line, and handcrafted items for home décor. The marketplace has something or the other for everyone visiting the place, be it locals or tourists. Here, we would take a tour at what to shop in Guwahati and listing some of the famous shopping destinations here.
What should I buy in Guwahati?
Guwahati city is great in terms of shopping, being rated as the central marketplace for shopaholics in the North-Eastern part of the country. The collection ranges from spices, clothes, jewelry, shoes as well as northeastern souvenirs, attracting tourists around the year. Along with these, there are also some special things to buy in Guwahati. The best part about the city is that lots of tribal people from Nagaland and Meghalaya come here during Sunday Haat to sell their handmade items. This makes Guwahati, the one-stop destination for Northeastern handicraft shopping. The people cannot just resist the variety of unique items here, which are available at affordable prices. Textiles, handicrafts, art, pickles, jewelry, furnishing and much more on display on the street market in Guwahati, state emporiums and even shiny shopping malls. The city produces items with a blend of modern and contemporary influence of the state, adding to the designer fashion inspired by the traditional times.
In this shopping guide, we will cover what to shop in Guwahati and the must-buy things from Guwahati. Not only this but also, we will be listing top things to buy in Guwahati. We have even shortlisted the popular souvenirs from Assam which you can get from the city. These items are truly handpicked products by us which are attractive.
List of best souvenirs from Assam
Each and every place has its own importance and specialties. When it comes to shopping choices may vary from one person to another. However, we would like to make some recommendations for your upcoming visit to Guwahati, anytime sooner or later. We have listed some of the best souvenirs from Assam to help out travelers.
1. Assam Silk
Assam produces one of the finest qualities of silk in India. There are three different types of silk available in the state such as Pat Silk, Eri Silk, and Muga Silk. Among these three silks, Muga silk is the most popular one used for making traditional attires such as Mekhela Chador, sarees, etc. Eri silk is used for making shawls and Pat silk is mainly used for making summer outfits.
Place to shop: G.S. Road, Guwahati
2. Assamese Pickles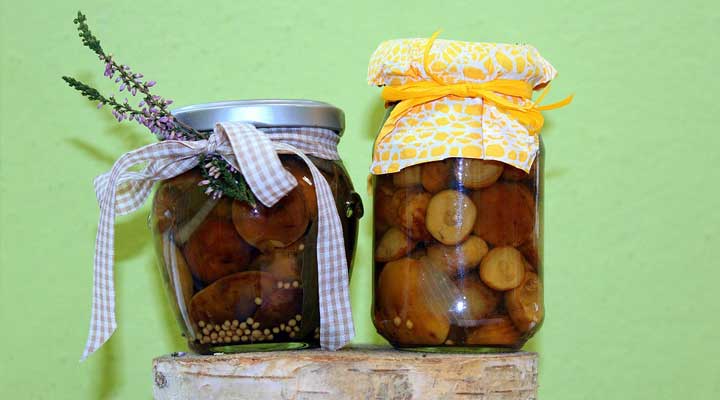 Do not miss the chance of buying pickles from Assam. Pickles are generally available all around the world, however, the pickles of Assam are unique in comparison to the other pickles. They are delicious and spicy in terms of taste. Along with these qualities, there is a wide range of pickles available to choose from. They are purely homemade and organic, with natural preservatives and no chemical emulsifiers added to them. The pickles are prepared using local herbs and other ingredients such as dry fish, chicken, bamboo shoots, sesame, pork. These are sold in glass jars and are extremely travel-friendly, making them a perfect souvenir from Assam.
Place to shop: Ganeshguri Street, Guwahati
3. Phulam Gamucha
Phulam Gamucha signifies respect for the people and it plays a key role in the culture of Assam. The Gamucha is white in color, embroidered with red-colored thread along the sides. It is widely used in various socio-cultural ceremonies, which makes it one of the most must buy things from Guwahati.
Place to shop: G.S. Road, Guwahati
4. Assamese Jaapi
Jaapi is a round-shaped hat, which is designed in the form of a funnel in the center. Jaapi is made of woven bamboo and palm leaf, which makes it look elegant. It also holds great importance in the Assamese culture, as the Phulam Gamucha described above. It is mostly used during Bihu dance performances, and as interior decoration, item to welcome the guests.
Place to shop: NEDFi Haat, G.S. Road, Guwahati
5. Assam Tea leaves
The state is well-known for its production of tea. The tea of Assam is rich not only in taste but also in terms of fragrance. You can often purchase Assam tea from a local organic tea store. The tourists who visit Assam always purchase tea in the form a souvenir. If you have extra time with you, never miss the chance to visit the local tea gardens in Assam and tea factories located in the vicinity. People also usually purchase Tea stem or root, to plant in their kitchen garden as a souvenir. The greenery and charming tea gardens are worth sight-seeing for the traveler's bucket list.
Place to shop: G S Road, Guwahati
6. Singing Bowls
Another must-buy souvenir from Assam is singing bowls, which are mostly preferred by tourists. These bowls are often used in monasteries, as they bring peace and calmness to the surrounding. These bowls are made with mantras carved on them, which adds tranquility in the environment. The tourists who stay outside of Northeast love these bowls, because of the soothing sound coming out of them.
Place to shop: NEDFi Haat, G.S. Road, Guwahati
7. Handicraft items
Assam is also famous for various types of handicraft items. The state is the hub of cane, bamboo, and woods. Almost in every corner of Assam, you will get ornaments, furniture and decorative items for the household. The tribal people of Assam are experts in designing these vivid handmade products. The handicraft items mostly include woodcraft, wooden jewelry, bamboo products, traditional paintings, handmade toys, terracotta, pottery, etc. The only thing you must do is, grab your favorite handmade item from the local stores in Assam.
Place to shop: NEDFi Haat, G.S. Road, Guwahati.
8. Wooden Rhino
The one-horned rhino is the pride of Assam and is also the state animal. The wooden rhino intricately crafted and it looks like a replica of the living rhino. The wooden miniature is beautifully carved out of lightweight local wood and given it a brown finish. People mostly purchase it as an interior decor item. This wooden rhino is a must buy things from Assam.
Place to shop: NEDFi Haat, G.S. Road, Guwahati.
9. Bhoot Jolokia
Bhoot Jolokia is the hottest chili in the world. It is cultivated in Assam since the ancient era. The chili is a light green color which turns orange or red at maturity. People of Assam mainly use it to make pickles. It is also known to have various medicinal uses. It helps in reducing Asthma, muscle pain, toothache and even cure Arthritis. You may want to add this unique species of chili to your new kitchen garden collections.
Place to shop: Every vegetables market in Assam.
10. Metal Crafts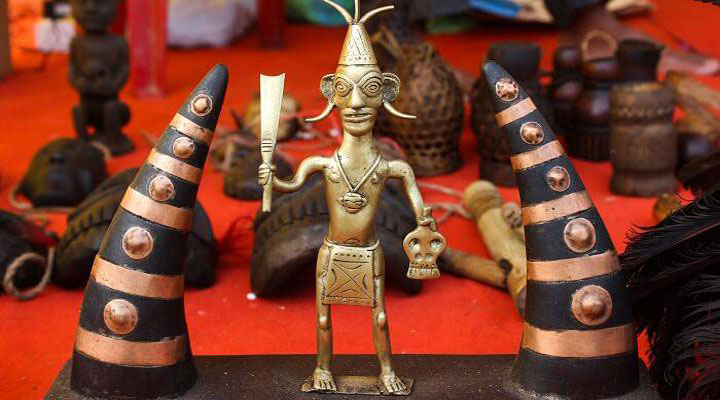 Metal crafts products of Assam are famous for their strength as well as beauty. These metal crafts are mainly used in the form of decorative items and also are used in religious ceremonies. These brass metal crafts are mainly known for their longevity. Assam is not just a land of tea grade but also a land of creative craftsmen, designers and, entrepreneurs.
Place to shop: Paltan Bazar.
Popular Places for shopping in Guwahati
As we all know, Guwahati is the capital city of Assam and the gateway to the Northeastern region. Shopping places range from extravagant shopping malls to street markets satisfying the demands of the shopaholics. The best part about Guwahati is that it provides ample of shopping options ranging from pocket-friendly products to high-end brands. So, if you are thinking about what to shop in Guwahati, then you are in the right place.
1. Fancy Bazaar
Located in SS Road Lakhtokia, Fancy Bazaar has always been the center of attraction for all the shopaholics. It is a shopping hub from the locals across the North-Eastern region and tourists thronging around the year. Having said that the place always remains crowded. Do you know the main reason behind the popularity of Fancy Bazaar? It is a budget-friendly shopping place, not only in Guwahati but also in the entire Northeast region. Ranging from clothes, footwear to traditional items, shopping budget-friendly is the mantra of this shopping hub.
If you want to experience the best street shopping experience in Guwahati then, do visit the Sunday Haat in Fancy Bazaar. You would go crazy with the budget-friendly shopping experience in this marketplace. The budget-friendly feature of this place makes it the best street market in Guwahati. We would recommend you visit there during the day time.
The place is also known for its premium quality items sold here along with the budget-friendly items. Goenka Shoppe is one of the famous places for a premium quality item here at Fancy Bazaar. This market place is a one-stop destination for all your shopping requirements. Fancy Bazaar offers the must-buy things from Guwahati, especially Jaapi, tribal jewelry, and Assamese Gamucha.
Additionally, the marketplace also has many restaurants as well as street foods where people can have a leisure time. The most famous things in this market are clothes, footwear, handicrafts, and local beverages.
2. GS Road
Guwahati Shillong Road, popularly we call it as GS Road is situated near Bhangagarh. It is the Northern part of the city. Over the past few years, the place has been consistently developing with the presence of various branded showrooms. All the brands are available in the malls of the GS Road market. Western outfits are the major attraction of this marketplace. Basically, clothes and footwear are GS Road's popular things in Guwahati.
Guwahati City Centre is the best place where you can enjoy the ultimate shopping experience. The mall was recently launched in the city. There are various shopping malls such as Brand Factory, Guwahati Central Mall, Dona Planet, Roodraksh Mall, Pantaloons, Big Bazaar and lots more. As we have mentioned earlier the place is best known for a high-end variety of shopping. So, once you have completed your shopping you can chill out at restaurants.
3. Ganeshguri Market
Ganeshguri market is situated near Ganesh Temple Tiniali and the name is derived from that temple. The place is also quite similar to the Fancy Bazaar. The place always remains congested because of the traffic and no footpaths are present. The main reason for the popularity of this place is due to the traditional designer clothes for various Pujas, Wedding as well as Bihu. If you want to explore traditional wear of Assam then no one can beat the popularity of Ganeshguri market as the shops here offer a variety of genuine fabric and Assam silk items. If you are planning to visit the Ganeshguri market, never miss the chance to buy traditional attire from here.
The Sikalay is the famous place here in the Ganesh Guri market from where you can purchase the traditional Assamese attire. This place never fails to attract its buyers. Starting from Pat Silk, Muga Silk to Mekhela Chador, the Sikalay has a wide range of options available as per your need. Having said that the prices are fixed, hence there is no chance of bargaining.
Apart from clothes, you can also purchase household utensils, home decor items as well as footwear. Want to explore the taste of Assam? Ganesh Guri is the place where you can enjoy Assamese food. How can you miss Bhoot Jolokia when you have visited Assam? This is one of the popular things to buy in Guwahati. Bhoot Jolokia is the hottest chili in the world and the most famous spice of Assam. You can easily get it from the roadside store.
4. Paltan Bazaar
Situated near the Guwahati Railway Station, Paltan Bazaar is the heart of the Guwahati city. The market place is famous for interior home decor, furniture, specifically the wooden ones. If you are fond of traditional items, then you must try out bamboo products here. You can also get tribal garments here in the nearby shops.
As we all know Assam is world-famous for tea. If you want to experience the taste of pure organic tea of Assam, then you must visit Paltan Bazaar. Different varieties of tea are available at this marketplace. Kamakhya Tea Trading is one of the famous places at Paltan Bazaar for its tea varieties. They are famous for offering Herbal Tea, Green Tea, handcrafted tea and other varieties.
5. Bhutia Market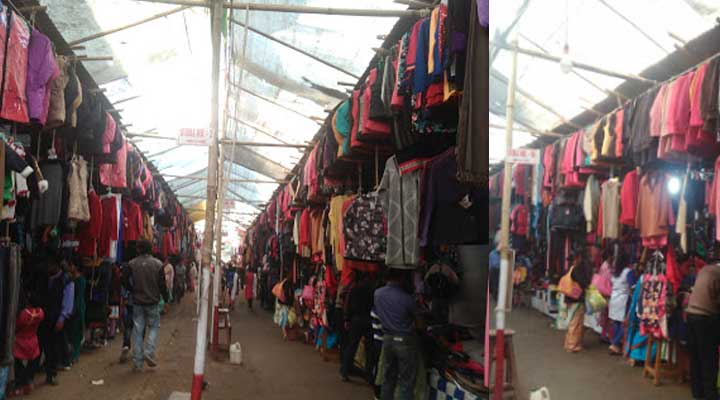 Bhutia Market is situated near to Paltan Bazaar. It is a seasonal market which opens at the end of the year. The place is famous for its collection of winter cloth line. The sellers specifically import good from Nepal and sell those at a lower price. So, if you are planning to visit Guwahati in October or so, you can visit this place for some stylish winter garments at an affordable price.
6. Pan Bazaar
Pan Bazaar is situated near Guwahati Baptist Church and it is the central spot for the college students. The main attraction of this place is its book collection and the book lovers will never deny visiting this marketplace. There are various institutions near to this place such as Cotton College, Icon college and others. The book collection at the marketplace is vivid ranging from the academic books to novels. There are various second-hand book shops located in this marketplace. Yes, you heard it right! Novelty Book Shop is one such place where you can purchase second-hand books at lower prices.
Also, if you are planning to buy bridal Assamese attire then, Pan Bazaar is your ultimate shopping destination. The place is popular for Pat and Muga Silk. Manju Silk Centre is the one-stop destination for all your bridal collection. The attires are extremely authentic within a reasonable price range.
These are the best shopping destinations in Guwahati and as you have seen we have listed the special things to buy in Guwahati in the marketplace. But it doesn't end here, if you visit Guwahati, you will end up spending all your money shopping. Therefore, here are some tips which are very important whenever you go out for shopping in Guwahati.
Tips on how to shop in Guwahati
As we have already mentioned above, you will be lured with the unlimited shopping options in Guwahati. We are here to help you with some of the best shopping tips for tourists visiting Guwahati, anytime sooner or later. As you already to know what to shop in Guwahati, but now its time to guide you through "how to save and shop till you drop" in the shopping hub of India. These shopping tips will help you in saving both your time and money.
1. Make a perfect plan
First and foremost, make a list of things that you specifically want to buy from Guwahati. If you are a tourist and are visit the city for the first time, find out about the souvenirs to be picked up from Assam. Assam tea is world-famous, on the other hand, you cannot deny the beauty of Assam silk clothes and traditional handicraft items. So, first try to purchase those items which are unique to this place.
2. Use the perfect language to communicate
Assamese is the local language of Assam. Most of the people here prefer to speak in Assamese. But in case you do not know this language, you can speak in Hindi. They also understand Hindi.
3. Take it easy
Guwahati is costly as compared to other Indian cities. We would like to recommend you research about the shopping and being touristy here. Suppose if you plan to purchase handloom clothes, make sure to check the quality and pricing.
4. Be comfortable while bargaining
Bargaining is the thumb-rule whenever you plan to shop in Guwahati. The shopkeepers always mark high price for the products, as they generally resell the goods which they have purchased from the suppliers. Be smart while bargaining and never get ashamed of it. If the seller is too stubborn to bargain just show a fake walk. If he still not intends to sell you the product just go to another shop. You will get better deals for sure.
5. Do not show interest in your face
Never show your excitement when you want to purchase a product. If the sellers get to know about it, they will charge a huge price which can often lead to frustration. Just be normal and neutral, we assure you that you will be getting better deals.
6. Take enough time in your hands
The markets in Guwahati are vast and each market is far away from the other. So, if you want to explore every market, you must manage your time accordingly. We would recommend a morning or afternoon hour for shopping. The city gets immensely congested during the evening hours.
7. Take information from locals
No one knows better about shopping than the local people. Do not go with the recommendations from auto drivers as they will take you to the expensive shops from where they can earn commissions. Before you go shopping, ask the local people. They will suggest you the best shop from where you can get your desired products as per your budget.
8. Take care of your belongings
While shopping in Guwahati, always make sure to take care of your belongings such as a purse, wallet, and phone. As the street shops always remain crowded, and there is a chance of pickpocketing.
9. Always prefer public transport
Buses and public autos are the best mode of transportation to reach the market. Do not spend more money on hiring a cab. If you are in a group, then you can opt for a shared cab instead. Having said that, we will recommend you go to public transport as the charges are low.
Assam is not just a land of Tea garden!
Shopping is an important part of traveling. So, even if you are in Assam for a few days, never miss the chance to go shopping in Guwahati. No one can beat the authenticity of its traditional items, be it outfits, handmade products or spices.
Co-Author: Nidhi Srivastava, Feature Image Credit: Swadesi.com
Reader Interactions