Ice cream the sugared frozen food eaten as a dessert across the country is loved by each one of us. Ice-cream varies from one country to another. Some call it "frozen custard", "frozen yogurt", "gelato", "and sorbet" and other names depending on the flavors and varieties they are served in. These frozen chilled desserts are enjoyed in every season and loved by all communities.
Ice-Cream: The delicacy loved and enjoyed by all
People love ice cream as per their choice; some like light flavors while some enjoy heavy garnishing on it. Ice cream is paired with choc chips, almonds, coconut, chocolates, Oreo, etc. For those conscious about their diet ice cream is also diet these days. Ice cream is also served with milkshakes, sundaes or even ice cake. Some chefs make the innovation by baking it. Ice cream is the most delicious treat each one of us love in every country and state. Children's love eating ice-cream, they love it more when ice cream is of their favorite flavor. Every third Sunday in July is the National Ice Cream day since it is holiday people go out and enjoy scoops of Ice cream.
Also Read:
Best nutrition foods for elderly people
Kudos to the American community who enjoy every scoop of their favorite ice-cream flavor and for being loyal to their favorite ice cream parlors listing the popular ice cream flavors in the United States.
The best ice cream flavors – Survey!
According to a survey done in new data from YouGov they say ice-cream is eaten by 96% of the American community. Topping most preferred is chocolate followed by vanilla, third is Butter pecan. They are pronounced differently in different parts of the United States. Our favorite ice-cream flavors are likely to change as we grow. Millenary enjoy more cookies'n'crème and choc chip more than older people. The full-fledged crowd like butter pecan and vanilla more.
America's most favorite ice cream flavors
1. Vanilla
Vanilla is the most chosen among all since it is the most versatile flavor, 90% of the house usually consuming frozen dessert chooses vanilla, and it can be paired well with cookies and choc chips. Appropriates for every age group it is the best- selling ice-cream flavor in the United States. As per the report of IDFA (International Dairy Foods Association) and ice cream experts, Vanilla is America's favorite ice cream flavor.
2. Butter Pecan
Butter Pecan is the leading ice cream flavor in United States; it is combined well with cookies, cakes, roasted pecans, butter and even vanilla flavor ice cream. Butter Pecan is America's most favorite ice cream flavor. It is the smooth vanilla flavor ice cream with butter flavor. Butter pecan is produced by almost every ice cream manufacturing companies and is the third flavor of Baskin Robbins.
3. Chocolate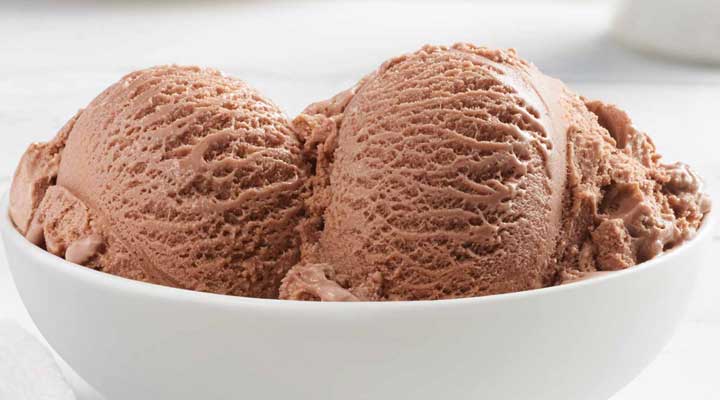 The most popular flavor among millennial is Chocolate, they love being treated with chocolate ice creams. Mix it with any ingredient it matches perfectly well. Chocolate mixes so well with each of your household flavors that you might sometimes forget the store brought ice cream. The chocolate frozen recipe was first tried by the Naples. Chocolate ice cream is the perfect treat for your taste buds.
4. Strawberry
Strawberry is the favorite of most people and when it is blended perfectly to make ice cream it is the treat to oneself. The Strawberry ice cream is either pink or red in colors depending on the flavors added. It has several variants like the strawberry cheesecake ice cream, ice cream sandwich, etc.
5. Moose tracks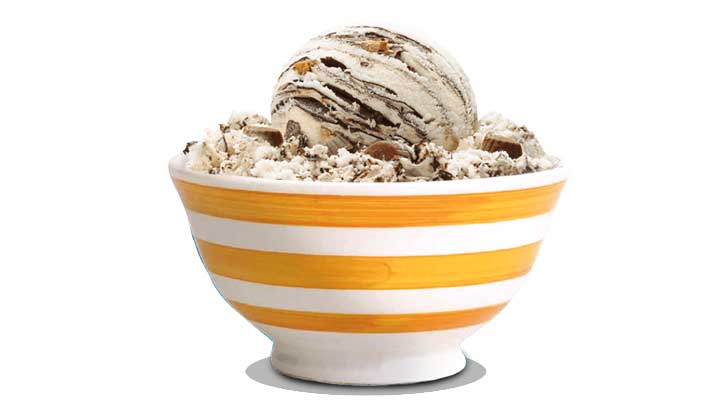 Moose tracks are the favorite ice cream flavor of the Americans for the past 30 years. They melt in the mouth, moose tracks are still the same mouth-watering delicacy as it was in the very beginning. You may discover a new moose track flavor anytime. It is perfect for every age group; people enjoy moose tracks cups with their families, these cups melt in the mouth like no other.
6. Neapolitan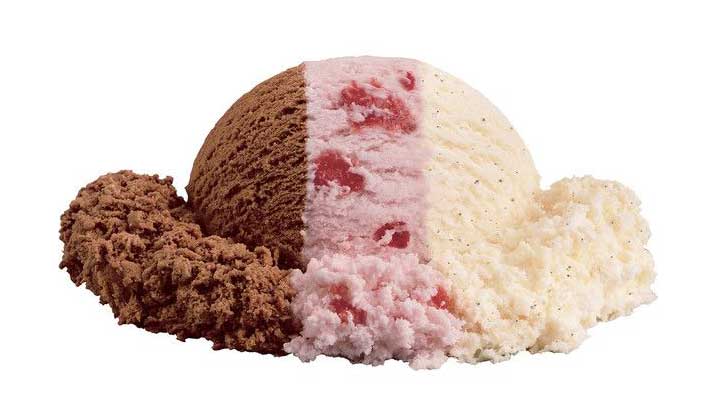 In the beginning of the 19th century, Neapolitan was famous among the people of Paris it was first produced there but is the heartthrob of the United States now. The ice cream flavor has 3 layers each of different flavor and adding different colors to the ice-cream, chocolate, vanilla and strawberry cut into slices and molded to form a block of your favorite ice-cream flavor.
7. Cookie Dough
The perfect blend of vanilla ice cream mixed well with loads of choc chips or honeysuckle adding more flavors. The world's first cookie dough was produced in 1984 and since then nothing has changed. The cookie dough still phenomenally melts in your mouth. People save the dough to eat later so that they can cherish every bit of its favor.
8. Mint chocolate chip
mint chocolate chip is one of the favorite ice-cream flavors of every house, loved by all the cream has a delicious creamy texture with the refreshing mint flavor. You can add flavors as per your taste; you can go for extra minty if you like. The mint chocolate chip is one of the classic treats for summer heat having the freshness of mint.
9. Cookies'n'crème
One of the richest treat to your taste buds. The combination of fudge with cookies and ice cream gives you the ultimate sense of happiness. Everybody loves cookies and cream, mix them well with the flavors and garnishing of your choice. It melts in the mouth and gives you a sense of fulfillment. Try it with caramel sauce, cookie dough or sea salt to enhance its flavor.
10. Chocolate chip cookie dough
A bowl filled with your favorite choc chips, dough pieces and delicious mouth-melting mini chocolate chips. Treat your senses with the amazing combination of working flawlessly well. Chocolate chip cookie dough is loved by all especially kids since they already love chocolate; it is like a treat to their happiness. The store-bought ice cream that you can always customize as per your desire.
Conclusion
There are many ice cream flavors in the United States. But those mentioned above are some of the best flavors you get to each; each scoop gives you the ultimate sense of joy. The ice cream flavors may vary from one state to another and even the taste may vary from one age group to another. The chocolate is flavor of minimal and butter pecan is the choice of grownups. Ice cream is said to be a good mood enhancer. Which is your favorite flavor? Do let us know in the comment section below.
Reader Interactions