Chennai is one of the most happening cities in Tamil Nadu. It is claimed to be the soul of South India. It has the country's longest beach "Marina". It has diverse people, culture, tradition, and colors. It has most of the state's population and hence many shopping malls, stores, multiplexes, top fashion boutiques, and so on. Because of diversity, you will find everything you want in the city from top branded items to budget-friendly goods.
In contrast to skyscrapers and large shopping malls, you can also do street shopping in Chennai. It is a city for shopaholics as it has many street shops. Streets like Ranganathan Street, Ritchie Street, Panagal Park, and other streets has many options at an affordable price. All you need is some money and a day's time to explore all these shops. The street shopping in Chennai is always the first priority for many people out there. There are many areas where you can find shops and you could see all those compiled in this article for happy shopping.
Things to keep in mind while going for street shopping in Chennai
Street shopping might feel like a tedious process, but it has more fun. Check out some following tips that make street shopping as an enjoyable.
Research about the shops
This is very important because you really do not know the best things in the best places. You can do research online or even ask your friends about the popular goods sold in that area.
Digital payments may not work
Street shoppers mostly prefer payment through cash. So be sure you have drawn enough money for the complete shopping experience. The fashion street in Chennai is quite cheap. Literally, the shopkeepers would be annoyed if you give them a 2000 rupee note. Always keep change with you to avoid any inconvenience.
Also Read:
Clinching the deal
When you want a deal to work, then you have to talk. If you are close-mouthed then you have to pay even more price than usual. Make sure you use words like "Anna" (Meaning brother in Tamil) or "Akka" (Means sister in Tamil) to clinch your deal, as who will not like the respect you show towards them?
Budget is to be kept in mind
You all would get excited about the designs for a cheap price and that desire to buy everything at a time will be burning in you. But try to plan a budget before going to street shopping. If you find something really nice and affordable, then you are good to go.
Beware of low-quality goods
In most places, this is not a case, because they will strive to maintain their popularity. But every coin has two sides. There might be a few shops, trying to sell the old and expired products. Make sure you check the product twice before giving the amount.
No bills and No returned products
Street shopping in Chennai is good if you buy the perfect items. The shopkeepers will not give you a receipt during street shopping. There is no way you can return the goods. Be very careful while buying a product, as there is no policy to return or exchange.
Bargain
Bargaining is an art in which few people are talented. If you want a product with a low cost, then you have no other way. Try to have a conversation initially and then go for bargaining. Do not start rudely and no matter what he is going to sell the goods for his desired price amount.
It's going to be elbow-to-elbow
Be ready to get into very crowded place in the scorching heat. Carry a big tote bag, water bottle, snacks for the day. Be in you comfortable clothes and footwear and buckle up to complete the purchase within your budget.
10 Fashion Street in Chennai
Chennai is a huge city and you can find many shops across the city. There are many shopping malls and complexes where you can find peculiar clothes and jewelry. To make your work easier, the top 10 streets you can do street shopping in Chennai.
1. Ranganathan Street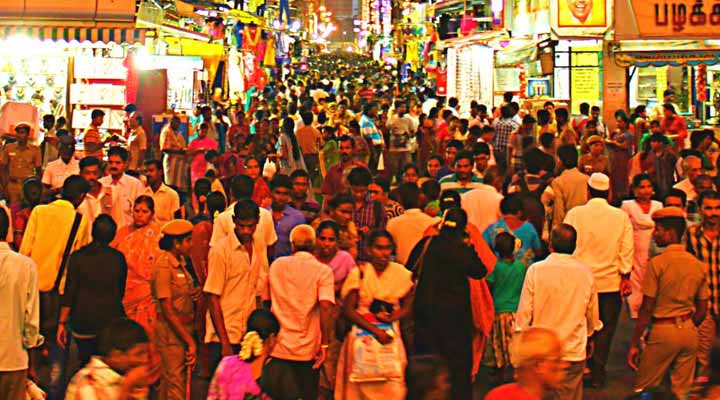 This is the hub of many shopping centers in Chennai. Anytime and any day of a week, you will find a huge crowd on the street. It is a narrow lane of T.Nagar area, where multiple shops can be found. You can find big shops like Saravana stores, which is a store containing all the clothing for men, women, and children. It also has electronics, home appliances, kitchen appliances and everything at an affordable price. In addition to these large shops, there are thousands of small shops that sell kurtas, slippers, watches, and mobile phones.
2. Pondy Bazaar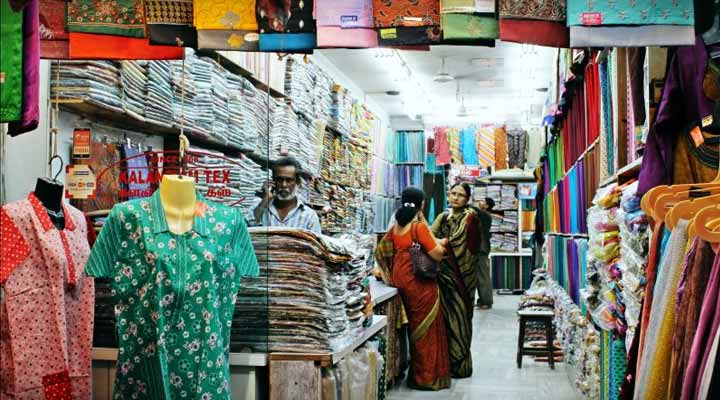 It has many shops where you can find cheaper goods. There is a clothing store called Kalanjiyam. Here you can find Kalamkari sarees and fabrics at a very affordable rate. There is another fancy store called "Five Rose" fancy, from where you can get all the junk jewelry like earrings, neckpieces, and rings. Their price range varies from 50 INR to 250 INR. You can also see a wide range of small shops like footwear, cosmetics, and fancy stores.
3. Perumal Mudali Street
This street is the happening shopping street in the region of Parry's corner. There are around 450+ shops in this street, where you can get different types of bangles made of glass, ceramic, clay and metals. These bangles are very popular here in the city and are affordable. Shops like Kamal bangles and Narpat Jewelers are most popular for their antique, imitation and artificial pieces. Many other shops include fancy items like beads, laces, stones, buttons, and others.
4. George Town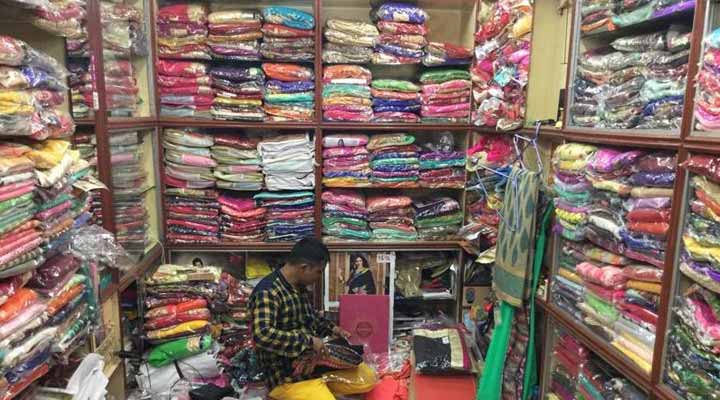 It is another popular fashion destination in Chennai. It is famous for all silk saris. The most popular silk you can get here is Mulberry silk. It consists of many shops selling Mulberry silks, Kanchipuram sarees, and many other lustrous saris. You can also find hardware shops, electronic items, and other household products. Mint Street in George Town is famous for Street shopping in Chennai. If you need bridal collections, then Morni Dziners Lookbook (women's bridal shop) is the suitable place. It has excellent collections of women's bride wear.
5. Mint Street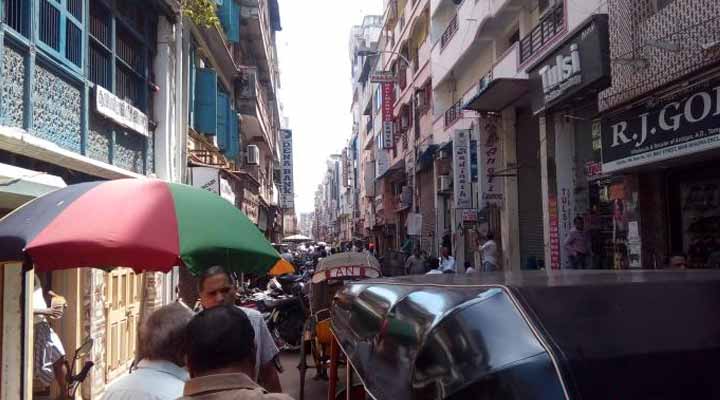 Sowcarpet region has many fashion streets in Chennai. The streets situated in this region are separated for saris and jewelry shops. Mint Street has many street shops that have a wide range of collections. You can go and check all the street shops to inquire about price and quality. Ganesh collections in Mint Street is famous for amazing kurtis and western wear. You can get a remarkable collection of semi-stitched and fully stitched Lehengas in a store called New Choice. Many street shops are available for footwear, imitation jewelry, earrings, bangles, and all the modern ornaments.
6. Cotton Street
This street is at Pantheon road. There are many fashion shops related to kurtis, palazzos, cotton materials, and other dresses at a very affordable price. You can even get materials to stitch for a shirt. This is a go-to shopping place for those who wish for quality dress materials in an affordable price. You can see the complete lane stuffed with many clothes.
7. Purasaiwakkam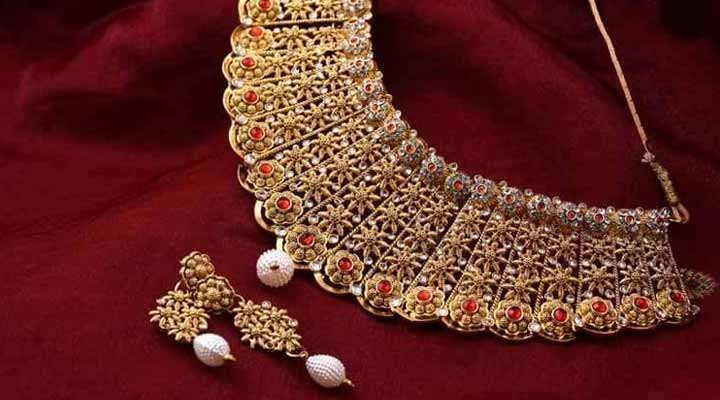 It is one of the most popular fashion streets in Chennai. You can do street shopping in Purasaiwakkam, as there are multiple shops for jewelry, footwear, and dresses. You can find different types of earrings such as Afghani multi-beads, and antique pieces. In Thacker street, you can find Aari work blouses done in Deensha complex, where you can get customized stitching of ladies blouse and churidhars, and all the patch designs and laces at a cheaper cost. In the same lane, you can find an Aaran designer, where you can get all types of handmade embroidery and machine embroidery patches and fabrics.
8. Stringers Street
This street in Chennai is famous for footwear like shoes, sandals, and stylish party wears. Many shops are available here that sells these items at an affordable cost. There are many wholesale shops where you can order for bulk shopping. You can get trendy and stylish footwears in a shop called Panama chappals.
9. Anna Nagar
It is the shopping hub for many branded items and larger textile showrooms. There are many street shops too. For women's clothing, there is an awesome showroom called Blend in Style, which has kurtis for everyday use, ethnic wears, and other fashion stuff like sling bags and backpacks. You can also find accessories for women like necklaces, antique collections, and other fashion wear.
10. South Usman road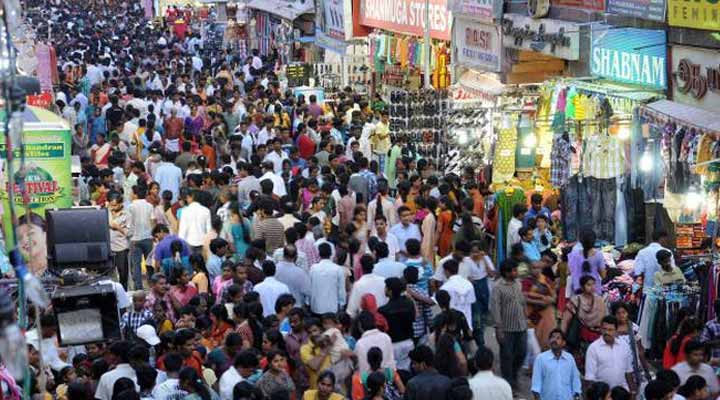 This road is very famous for textiles and jewelry. There are biggest showrooms like Pothys, The Chennai silks, Saravana Selvarathinam, and many others. You can find clothing for men, women and kids, and other items like groceries and electronics items at an affordable cost. South Usman road is also famous for street shopping as there are many shops like footwear, artificial jewelry shops including earrings and neckpieces that you can get in your budget.
Enjoy your shopping experience
As Chennai is known for its ethnicity and culture, it has a contemporary side too. It has many fashion boutiques that are very famous for their collections. It is recommended to go shopping at weekdays, as many people will turn up mostly at weekends. Have a day off at weekdays and go shopping with fun and excitement. Wishing you a happy shopping!
Feature Image: ©McKaySavage/Flickr
Reader Interactions