There is an endless list of dresses for women in India. With so many cultures, religion and beliefs, different people of India wear different kinds of outfits. Christianity, Islam, Hinduism, and Sikhism are some of the major religions that dominate the cultural trend of India. The impact of such religions all over the Indian sub-continent can be clearly seen.
10 Reasons why you must use cash on delivery while shopping online in India
Talking about the fashion, Indian women are amongst the most stylish personalities in the world. They are a mix of Indian and western culture. You can often see some of the leading International magazines portraying Indian women as the symbol of Style and status. The ever-changing fashion trends are quickly adopted by the ladies of this country in their own version. To make things better, India has some of the most talented fashion designers that again stimulates the style sense of an Indian woman.
How to select an appropriate lingerie
How should you dress in India?
You don't have to follow a pattern to follow the dress of women in India. If you have your own style and set of choices, you are going to fit in the box. However, few modifications may be required if your country has a specific dressing style that is totally different and unique. Let's know about some of the do's and don'ts of how women dress in India.
If you are a young lady belonging below 20 years of age, go for Indo western dresses like long skirts, palazzo, and short blouses.
Shorts and Club dresses are the best to be carried in places like Delhi, Bombay, and Chennai
Wear some matching accessories to get more of an Indian look
Go for yoga pants only when you have a long shirt or kurta to cover your bum
The comfortable harem pants should not be missed if you are looking forward to copying the clothing for women in India
Showing bare cleavage is ok if you are dressed up in saree or salwar kameez
If you don't get anything to where you can always team up a pair of denim with a simple V-neck shirt
You can always wear a skirt if it reaches your feet. Mini skirts are generally not appreciated until and unless you are a part of goa and  Delhi gentry
If you are a person who wants mode of a comfort rather than style, go for Maxi skirts and floor-length Kurtis
The evergreen tank tops and scarves are available all over the Indian markets. Finding them is not going to be a problem at all. They can be sleeveless or half sleeve depending on your choice.
Always carry a dupatta as it will be needed more than you think
List of 10 most popular dresses for women in India!
1. Saree
The reason why saree tops our list is because it is free from bondages of culture, cast, and creed. the 9-yard unstitched cloth is draped over the waist in a set pattern. it reaches the ankle and you can Alter the Look by converting it into a lehenga, skirt, and Ghagra. Saree is amongst the most common dress for women in India. Every second woman can be identified wearing a full-fledged saree all over the country.
2. Salwar kameez
The first choice of cultural Muslims and Punjabis is the typical salwar kameez Indian dress. A long choli that reaches the knees accompanied by a lower that is stitched in a pattern called salwar is the mundane dress of many people. So, if you are looking forward to knowing how women dress in India, have a glimpse of Punjabi and Islamic culture to know the intricacies of everything.
3. Floor length Kurtis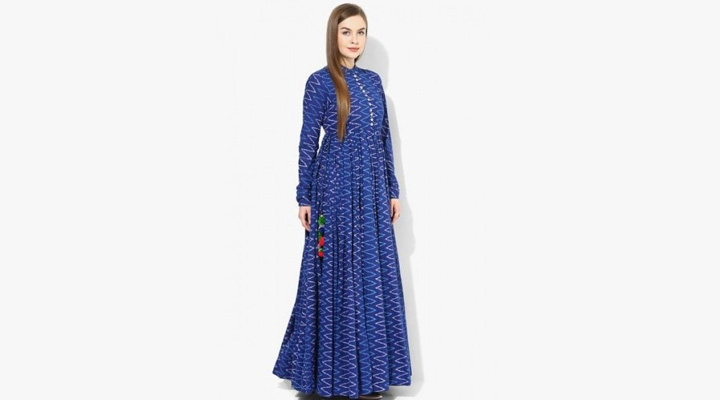 The Indo Western culture comprises of a long length kurta that reaches the feet of an Indian woman. It can have a side ward opening or remain stitched till the end. the floor length Kurtis have the resemblance with western gowns.
4. Long skirts
Since miniskirts are not a dress for women in India, most of them go for something that covers maximum part of their bodies and yet give them a stylish appearance. Long length skirt that reaches the ankle is amongst preferred clothing for women in India.
5. Lehenga Choli
All the lehenga choli is maximum of the time preferred to be carried in functions and occasions, yet there are some lighter versions that let you carry the dress in a casual form. A short choli accompanied with a flared skirt and a matching dupatta clearly tell you how women dress in India. The look of a lehenga choli can be altered into a saree by wearing the dupatta in a way.
6. Tops and denim
Indian women have curvaceous physique. they often wear dresses that cover their bum and breast. Hence, if you are planning to carry a pair of Denim with a nice matching top, make sure it adequately reaches your hips and gives you a decent appearance altogether. The combination of kurta and Denim is also quite common across the Indian subcontinent. The best would be to wear search dresses in Metropolitan cities instead of villages.
7. Hijab
If you have planned your tour towards Hyderabad and other cities where Islamic population is more, wearing a Hijab will give you a subtle appearance. A colored scarf that covers your hair and leaves your face open symbolizes Islamic culture. You can wear a Hijab and salwar kameez as an outer accessory.
8. Nighty
The night dress for women in India is the best one. It is a long one-piece dress that covers your entire body at a single go. It is extremely comfortable and gives you a good night sleep. So, if you are willing to go and adopt how women dress in India, this is an important thing that every visitor can copy. Night suits today and buy a nice and sexy nighty from any of the Indian markets.
9. Long Blazers
If you happen to visit India during winters, make sure that you have a nice long blazer for exaggerating your style and gaining the slimming effect. Left unbuttoned, most of the Indian women wear long Blazers with a sweater and a denim underneath.
10. Shawl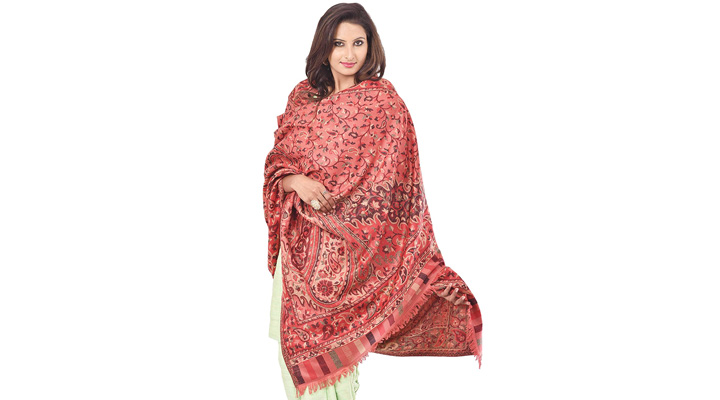 Again this is another impressive dress for women in India. the woolen knitted cloth ranging up to 2.5 meters is casually hung over the body to encounter winters. Wearing Pashmina shawl is indeed the most elite form of clothing for women in India.
What makes Indian clothing so special?
All the above-mentioned dresses except shawl and jacket are meant for summers. Comfort, style, and flexibility is the reason why anyone can conveniently copy the clothing for women in India. You don't have to undergo rocket science or follow strict rituals to give an Indian effect to your dress. Any simple dress that is accompanied by some jewelry, makeup, and dupatta turn into a nice dress for women in India.
Reader Interactions