When puberty hits the hormonal changes causes hair growth in private parts of the body. Nobody wishes to expose such hairs on their body. Removing such hair is a tedious task. Though many technologies like waxing and laser hair removal treatment are available, many find it expensive. Shaving is a lot easier as compared to painful waxing, but it leads to the problems of ingrown hair, bumps, and inflammations. One of the easiest ways to remove hair is by hair removal creams. In this article, we are going to mention some of the best hair removal creams based on the specific skin type.
Waxing is a treatment that is used today by many women, but it is very painful. Hair removal by laser treatment requires much time as well as money. All these methods are done by professionals and we cannot try them at home. The only easiest way to remove hairs in the home is by using hair removal creams. These creams are also available according to the type of skin you have. The hair removal creams are very handy and can easily be carried during travel. They are cost effective as compared to other treatments and barely takes a few minutes.
Which is the best hair removal cream for you?
Hair removal cream should be chosen according to the type of skin you have. It is necessary to do a patch test before applying the same. If the cream causes itchiness or redness, then you immediately have to change the cream. There are basically three types of skin: Normal, sensitive and dry. For normal skin, the best hair removal creams have ingredients like milk for skin softening and calming properties. Hair removal cream for sensitive skin should contain anti-inflammatory and antibacterial properties like Aloe Vera and Vitamin E. For dry skin, the best hair removal cream contains ingredients that have moisturizing properties like Shea butter, coconut oil, and olive oil.
Also Read:
How to use hair removal creams?
Prior to applying hair removal creams, you should follow the series of steps to remove the hair completely. Else, you might suffer from itchiness and ingrown hair. Determine your skin type and the respective hair removal cream. Everything is available online, you can easily research it and use according to your budget and skin type.
If you have any allergies already in the particular area, consult your dermatologist before applying.
If there are no such issues, still you need to do a patch test by applying in a certain part of your body. Wait for 24 hours to check for any reactions like redness, itching or any other allergy.
Wash the area or take bath and exfoliate before applying the hair removal creams.
The spatula is provided along with the hair removal creams. Sterilize it before using on the skin.
Apply the cream opposite to the direction of hair growth and follow the timings mentioned in the instruction panel.
After removing the cream, wash the parts with cold water and apply the after-cream gel if provided.
Do not use any soaps and body wash products for the next 24 hours. Try to avoid direct sunlight, swimming, and tanning after the usage of hair removal creams.
10 best hair removal cream
There are many hair removal products available in the market. But here is the best hair removal cream you can give a try the next time.
1. Veet Hair removal cream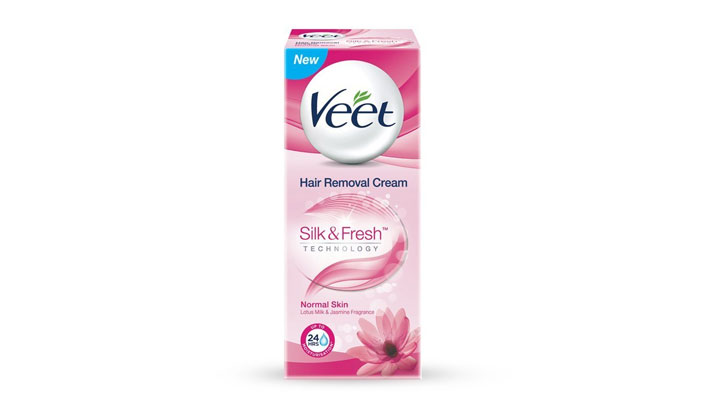 This is one of the best hair removal creams widely available in almost all the shops in India. They make separate hair removal creams based on the skin types. It has incorporated lotus milk and fragrance of jasmine for moisturizing and soothing. It can be used on hands, legs and intimate parts. You need to wash off the cream from 3-6 minutes for a smooth and radiant skin. This cream comes along with a spatula, where you need to use the bent surface to apply and the other side to remove the cream. After applying rinse the cream thoroughly off the skin and pat dry. A patch test is recommended if you are an amateur.
MRP: 58 INR / 25 gm
Pros
It takes less time
Instant shiny effect on the skin.
Cons
Thicker hair might be difficult to remove at the first use.
2. VI John hair removal cream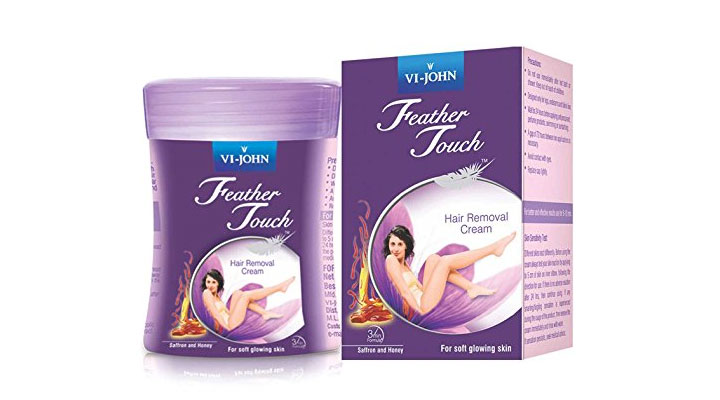 The hair removal cream contains ingredients like Aloe vera, Aqua, Titanium Dioxide, Thioglycolate, and Calcium hydroxide. It comes with different flavors like lime, honey, saffron etc. Apply the hair removal cream on the body parts and leave it there from 10 – 15 minutes. Take a towel and wipe it off for better results. Rinse thoroughly to take off all the residues from the skin. It is recommended to do a patch test one day prior to the usage.
MRP: 120 INR / 40gm
Pros
Good smell.
Provides moisturization.
Cons
Takes more time
You may need to apply twice for a flawless look.
3. Cosmo Herbals silky hair removal cream
This is the best hair removal cream that we would like to recommend because it is free from chemical substances. The ingredients include Shea butter, Cocoa butter, and wheat germ oil. The butter is very helpful in moisturizing the skin and preventing from rashes. Apply the hair removal cream on the area for 10-15 minutes and wash it off with cold water. Check for any allergies by doing a patch test beforehand.
MRP: 44 INR / 40gm
Pros
Removes till the hair root
Budget-friendly
Cons
4. Anne French hair removal cream
It is also one of the best hair removal creams available since the previous generation. It has natural moisturizers as ingredients like Shea butter which makes the skin very soft after its use. It works great and requires from 5 to 10 minutes to completely remove the hair. It is a very good product that comes along with an applicator and a sponge. You can apply the hair removal cream easily with the help of an applicator and remove them after 10 minutes using the given sponge.
MRP: 60 INR for 45 gms.
Pros
Available for all the skin types.
Cost effective.
Cons
Hair regrowth in two to three days.
5. Nair sensitive formula hair cream with green tea
This is the best hair removal cream for your intimate areas if you are afraid of waxing. It contains natural antioxidants such as green tea that fights against free radicals and prevents our skin from aging problems like wrinkles. It acts as a very good anti-hair growth cream and also prevents from ingrown hairs. It can be easily bought from online shopping sites.
MRP: 1706 INR for 48 gms.
Pros
Instant smooth finish
Works great against ingrown hairs.
Cons
Expensive compared to other hair removal products.
6. Fem Anti Darkening hair removal cream for sensitive cream
This is the best hair removal cream which you can get at an affordable price. It is very easy to apply and contains the ingredients Jojoba oil and anti-darkening substances. As many suffer from dark patches on their skin after using hair removal creams, this is the best cream to avoid such problems. It is also best for people with sensitive skin and is enriched with rose oil. The fragrance is great to smell. The packaging is great and travel-friendly. It also contains spatula that is made of rubber and is easy to apply.
MRP: 55 INR for 44 gms.
Pros
Specially made for sensitive skin.
Contains jojoba oil, which is great for the skin.
7. L'Oreal Magic Smooth Hair Removal Cream
That's a big surprise, as most of us are not aware that L'Oreal has a hair removal product. It is specially made for making your head bald. Those ingredients can be used for removing hair from our skin. It gives a razor free look and is the best hair removal cream as far as we are concerned. The finish is absolutely good and the most recommended for its quality. Apply on the skin and wait for 20 minutes, take a warm wet cloth and remove the cream completely. It is recommended to take a bath after its usage.
MRP: 1799 INR / 6 oz
Pros
Needs more time to remove coarse hair.
Removes completely without leaving a single strand.
Cons
8. Everteen hair removal cream
It is one of the best hair removal creams and it is great for removing from your intimate regions on the body. It is formulated for sensitive skin and is free from razor cuts, nicks, burns, darkening, and bumps. It is 100% natural product made of chamomile extracts. It leaves a gentle cleansing effect on the skin. Most hair removal creams contain harmful chemicals designed to remove hair from your hands and legs.
MRP: 150 INR / 50 gms.
Pros
100% natural
Prevents from burns and inflammation.
Cons
Might require large amounts for thicker hairs.
9. Caley hair removal cream
This is great for sensitive skin beauties, without any side effects such as bumps, redness, itchiness, and swelling. It has skin nourishing and soothing ingredients such as lavender, lemon and orange extracts, Vitamin C, and aloe vera. All these natural ingredients help in moisturizing and softening the skin.
MRP : 95 INR for 25 gm
Pros
Natural ingredients.
Cost effective.
10. Mud and more Premier dead sea mud hair removal cream
The name might be strange, but the product is quite an amazing one. They are the most sought-after hair removal creams as it contains natural minerals from mud. It has tiny particles that naturally exfoliates when we give a massage and leave it there for 10-15 minutes. The price might be a bit expensive but the product is totally worth it.
MRP: 1200 INR for 25 ml
Pros
Tubular and Easy for travel
Contains natural minerals.
Cons
Be on the safer side
There are many products with natural ingredients and these are the most sought hair removal cream. Some might be expensive, but they are all worth the amount. The only thing to keep in mind is to do a patch test, as some skin might respond in a negative way. Also, do not go out in sunlight after using these creams. Try not to retain the cream on the skin for a longer time as it might cause irritation.
Feature Image: Freepik
Reader Interactions