A steaming hot cup to good health, green tea has become a global phenomenon and ritual for health enthusiasts worldwide and India has not remained untouched. One of the healthiest beverages of our times, it is renowned for its detoxifying and rejuvenating properties, aids in weight loss, boosts up your metabolism and whatnot, the list just goes on. It's no wonder that green tea has achieved this level of acceptance.
Founded in China, green tea originates from plant species Camellia Sinensis, which is the same one from which black tea is extracted. They differ on the basis that green tea undergoes negligible oxidation during processing and hence retains its key nutrients. Depending upon their cultivation, harvesting methods and the various infusions with other natural elements there are varieties of green tea to choose from and the best green tea brands in India are here to ensure that the demand and well being of its consumers stays that way.
List of top 15 Green Tea Brands in India 
There are lots of green tea brands in India to choose from. As we thought you might be confused in choosing the best one. Hence, we have listed the best green tea brands in India.
1. Lipton
It is one of the best green tea brands in India, owing to its success to its brand value, premium quality, subtle yet appealing taste, and distinctive flavor. Sir Thomas Johnstone Lipton founded Lipton in Great Britain, it is one of the world's largest tea manufacturers and has made its rightful place in the Indian market as well. Lipton offers green tea bags as well as loose leaves. In these categories, they offer flavors such as Classic, Pure and Light, Honey Lemon, Lemon Zest, Mint, Mint Burst and Tulsi Natura. Recently they have also brought Japanese Matcha Green Tea Sticks in the Indian Market.
2. Tetley
Tetley Tea was founded by Joseph and Edward Tetley in 1856 in Yorkshire. In 2001 Tata Global Beverages acquired them to claim over the global tea market. Tetley Green Tea which was launched later has made its rightful mark in the market as well. Adding on the renowned benefits of green tea, their popularity rises from the fact that they specialize in offering a wide range which includes green tea, super green teas, and long leaf green teas.
In the regular green tea range, they offer flavors such as Invigorating Mint, Lemon and Ginger, Soothing Aloe Vera, Refreshing Pure Original and Uplifting Lemon and Honey. The Super Green Tea range is claimed to be infused with vitamins to strengthen immunity and reduce fatigue. The range offered is Super Green Tea Boost with Vitamin B6 and Super Green Tea Immune with Vitamin C. In the Long Leaf category they offer Tetley Pure Original Long Leaf and Tetley Lemon Long Leaf.
3. Organic India
Founded by Bharat Mitra and Bhavani Lev, Organic India offers herbal formulations, packaged food, body care products, Tulsi Tea and infusions. Their green tea range comes infused with the goodness of Tulsi, which is renowned for its healing powers. They offer a wide range of green tea in a myriad of flavors and ingredients such as jasmine, ashwagandha, lemon, and ginger. The goodness of Organic India green tea can be judged from the fact that it is completely organic in nature and aid in detoxification, anti-aging, stress, and weight loss. It also boosts immunity, energy level, is nutrient-rich and packed with antioxidants.
4. Twinings
One of the oldest tea brands, Twinings is a name that needs no introduction. Founded in 1706 by Thomas Twining in England, this premium brand is one of the best tea sellers across the world. They offer a wide range of teas, flavored leaves, and gift boxes. Their hand-picked and rejuvenating green tea range comes in tea bags as well as whole leaves to brew. It is best from the rest due to the huge range of flavors, created to cater to the vast range of taste buds. The flavors offered are lemon, lemon, and honey, mint, jasmine, earl grey, cranberry, pomegranate, green apple and strawberry.
5. Girnar
Girnar was founded by Harendra Shah and Pravin Bhansali in 1978. They started as an exporter of tea and thereby gained an acclaimed reputation in over 48 countries where they supply their products. They produce Loose Teas, 'Dip and Sip' Tea bags and Infusions for varying preferences. They entered the Green tea market following the industry trends, in this range, they offer loose green tea leaves and in the tea bags category they offer variants such as Healthy Green, Light & Green, Health is Wealth, Desi Kahwa and Anytime.
6. 24 Mantra Organic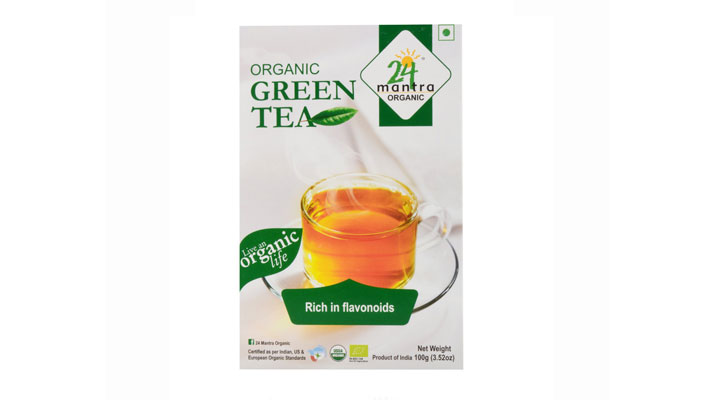 Founded by Raj Seelam to provide India with organic food options, this Hyderabad based brand provides healthier options across India and abroad in over 1500 outlets. They offer more than 200 products in the market amongst which green tea has achieved remarkable success and place for the brand. They offer two varieties in the category; Organic Green Tea Bags and Organic Tulsi Green Tea Bags. Apart from being organic in nature, their green tea also contains flavonoids that are beneficial to your health and makes the brand a worthy rival amongst its competitors.
7. Himalaya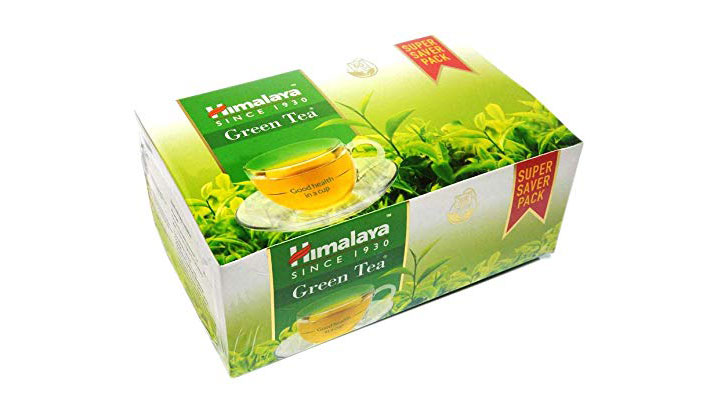 This Indian company was founded by M Manal in 1930. The aim was to enrich lives with the goodness of natural and herbal health care products. Today the success of this noble brand has reached far and wide and currently, Himalaya offers around 500 products in over 100 countries. Their green tea follows the same legacy and is offered to enrich your life with all its proven benefits, helps you to fight physical and mental fatigue and detoxify your entire body.
8. Organic Tattva
This Indian brand 'Organic Tattva' was founded in 2012. Being considered as one of the best organic food companies in India, they offer a range of certified organic products for your wholesome health and wellness. The green tea they offer comes in two variants; Organic Green Tea and Organic Tulsi Green Tea. Their green tea is completely organic and hence retains its natural color and minerals. Apart from its refreshing and soothing taste, it is rich in protein, calcium, iron, and vitamins.
9. Ty-phoo
Founded by John Sumner in 1903, Ty-phoo is one of the UK's largest tea brands. The brand name simply means 'doctor' in Chinese, it was kept keeping in mind the medicinal properties of tea. After being acquired by Apeejay Surrendra Group, Ty-phoo entered the Indian market in 2008 to offer a range of teas and fruit infusions. In the green tea category, they offer Pure Green Tea, Green Tea Jasmine, Green Tea Moroccan Mint and Green Tea Lemon Grass. These offerings intend to give you an experience of well being, enhanced with rich flavors.
10. Taj Mahal
One of the best and most popular tea brands with a rich legacy and heritage, Brooke Bond Taj Mahal Tea was founded in 1966. A product of Hindustan Unilever Limited, Taj Mahal Tea offers a wide range of loose and gourmet tea offerings. They offer two variants of green tea namely Darjeeling Whole Leaf Green Tea and Himalayan Oriental Pearls Tea. Premium quality, purest of pure tea leaves and unforgettable flavor are the signature characteristics of Taj Mahal tea, infused in every cup you make.
11. Basilur
Coming from the tea gardens of Sri Lanka, Basilur offers superior quality tea in a range of enticing collections. Their products are available and loved in over 75 countries, India being one of them. Their handpicked and specially created tea is a result of years of expertise. In the green tea category, they offer loose tea as well as tea bags. The loose tea is available in three exclusive variants namely Green Freshness, Cream Fantasy, and White Magic. Tea bags are offered in two variants; White Magic and Jasmine.
12. LaPlant
Founded in Mumbai, LaPlant Green tea is a known name amongst the green tea enthusiasts. In spite of being young, they have gradually made their presence known in the industry. They offer green tea in tea bags as well as loose tea. In the loose tea leaves category, there are two offerings LaPlant Unflavored Green Tea and LaPlant Tulsi Green Tea. In tea bags, they offer combinations of a range of enticing flavors such as lemon, mint, honey, ginger, and tulsi.
13. Society
A reputed name in the Indian tea Industry, Society tea was founded by Hiravan Pranjivandas in 1991 and is one of Maharashtra's leading Tea brands. It has made its effective presence known in the other states of India as well. They believe in providing the highest quality, which can be evident from their products available in the market today. In the green tea section, they provide premium green tea leaves and lemon-flavored green tea bags. Their green tea is high on quality, taste, flavor and nutritional value and stands bold on its ground to give competition to all its national and international rivals.
14. Eco Valley
A part of Weikfield, which is a renowned name in the Indian market, Eco Valley has made its strong mark in the green tea sector. Their green tea possesses natural taste and flavor and they claim to have around 50-100% of green tea in them. They offer a wide range of flavors to meet the needs of people with specific preferences. The product range consists of variants such as Pure Green, Tulsi Green Tea, Dandelion and Mint, Ginger, Mulethi and Lemon, Sunny Lemony, Garcinia and Cinnamon and Pahadi Kahwa.
15. True Elements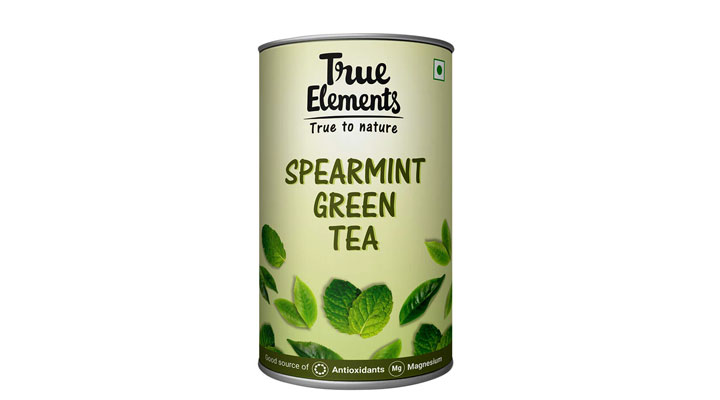 The brand was founded by Puru Gupta in 2014 with the aim to improve the quality of life by giving out products that are wholesome and packed with purity in mind. Bearing that thought, True Elements offer a range of food products including green tea. They offer spearmint flavored green tea in the market, which along with a multitude of health benefits gives the refreshing and invigorating flavor and taste of spearmint without the presence of menthol. Apart from that, it is rich in vitamins, magnesium, antioxidants, helps in fighting bad breath and is good for digestion.
Proven Health Benefits of Green Tea
Green tea has gained immense popularity to date due to the numerous benefits they offer to your body, helping it maintain its healthy status. The major effects on specific body areas and conditions are mentioned below.
1. Weight Loss: It can improve your metabolism, thereby increasing the rate at which your body burns fat. Green tea also boosts certain fat-burning hormones to work more efficiently. Catechins present in green tea influence your intestines to not absorb all the calories you consume.
2. Detoxifying Agent: Green tea helps to remove the toxins from your body, therefore, enhancing the health of your organs and blood.
3. Immunity: Green tea contains a number of antioxidants and polyphenols which are known to strengthen the immune system of your body.
4. Longer Life: Adding on to the benefits which green tea has on one's body, green tea drinkers tend to live longer. Green tea reduces the risk of stroke, heart and respiratory diseases, hence, its drinkers have a higher chance of living longer.
5. Heart Health: Green tea consumption reduces the risk of heart diseases. The catechins present in green tea have a noticeable effect in protecting your cardiovascular system.
6. Brain Health: Regular consumption of green tea can enhance and sharpen your memory, brain's cognitive functioning and therefore improves your brain health.
7. Better Digestion: Green tea is rich in antioxidants, which lead to better digestive health. It contains Vitamin B, C, and E, which are good for digestion.
8. Lower Risk of Type 2 Diabetes: Green Tea increases the metabolism rate and regulates the level of glucose in the body, preventing the rise of blood sugar.
9. Reduced Risk of Cancer: Certain polyphenols present in green tea may reduce and prevent the risk of cancer in individuals. It may kill the cancer cells without harming the healthy cells around it. It may have a positive effect on various types of cancer such as breast, prostate, ovarian, lung, skin, stomach, colorectal, throat.
10. Good for Tooth Health: Green tea may prevent the growth of certain bacteria and viruses that are harmful to the health of your teeth.
Side Effects of Green Tea
When drunk in a moderate amount, green tea is nothing but a reservoir of goodness. It is when the intake increases the recommended limit that the negative repercussions begin to appear. Some of the ill effects of drinking green tea are mentioned below:
1. Stomach Disorders: Excess of green tea may cause issues such as digestive disorders, diarrhea, acid reflux, constipation, and nausea.
2. Sleep Disorders: Since green tea contains caffeine, its excess can cause issues in falling asleep.
3. Not Suitable for People with Anemia and Iron Deficiency: Green tea restricts the absorption of iron in the body and hence can cause iron deficiency.
4. Liver Damage: When consumed in excess the caffeine in green tea can put too much stress on the liver and lead to disorders and even damage.
5. Harmful in Pregnancy: Again the caffeine in green tea is harmful to the development and well being of the fetus in the womb and can lead to miscarriage as well.
6. High Blood Pressure: Excessive green tea intake can increase the blood pressure level; therefore it can be harmful to people suffering from heart-related disorders.
7. It can Cause Dizziness, Vomiting, and Headaches: Excessive green tea intake can increase the blood pressure level; therefore it can be harmful to people suffering from heart-related disorders.
8. It can Increase the Risk of Osteoporosis: Sensitive individuals are at higher risk of this since green tea intake can lower the absorption of calcium in the body.
How to Make Green Tea the Right Way?
Green tea is available in the market in the form of either tea bags or loose tea leaves. You can choose either based on your preference.
1. Using Tea Bags
To make a cup of green tea from a tea bag is very simple, just put one tea bag in a cup of hot water, let it sit for a while, for like two minutes so that the water can absorb the flavor, color, and essence of green tea from the tea bag and your healthy, rejuvenating drink is ready.
2. Using Tea Leaves
If you are struggling with how to make green tea from loose leaves, just follow the mentioned steps:
Heat water to an optimum Temperature: Heat water before it comes to a boil, do not fully boil it. The temperature should be kept between 160 to 180 F.
Choose the right quantity: For one cup of green tea, ideally, take one teaspoon of tea leaves.
Strain it for a specific time: Take a strainer, put tea leaves in it and pour water on it, the amount of water in the cup should be such that the leaves remain immersed in it through the strainer. Let them dip for two to three minutes or longer if you want your brew to be stronger. Remove the strainer, your tea is ready to drink now.
Benefits of Green Tea for Treating Skin Acne
Acne occurs in the form of pimples, blackheads, whiteheads or cysts. Your skin pores open to a follicle which is made of a hair and sebaceous gland which secretes oil (scientific term sebum). So when either sebum production increases or when dead skin collects or bacteria builds up in the pores, acne tends to occur in either of the forms mentioned above. In this context, green tea has significant benefits as it contains EGCG which helps fight against acne by making your skin produce less sebum. Green tea also reduces inflammation on the skin and strengthens the immune system. The effects can be attained both by drinking or applying orally.
Is Green Tea Useful for Weight Loss?
Green tea is rich in antioxidants and nutrients. Apart from that it also contains minute levels of caffeine which has been known to aid in weight loss. Along with that green tea contains ECGC an antioxidant that helps in breaking down fat. So the combination of both helps in boosting your metabolism and also increases the capacity of your body to burn fat.
Who Must Not Drink Green Tea?
Even though green tea is considered a health elixir for everyone, there are certain health conditions in which green tea should be avoided.
Children should avoid it as the tannins present in it hamper certain nutrient absorption and it also contains caffeine, which is not advisable for consumption by children.
Not advisable for people suffering from insomnia again due to the presence of caffeine as it hampers with the sleep cycle.
People with diabetes should avoid it as it affects the sugar levels in the body and can be responsible for dizziness, anxiety, heartburn, etc.
High blood pressure patients should avoid it as green tea stimulates adrenaline rush.
People who are anemic should avoid green tea as it causes lower absorption of iron from food.
Pregnant women should avoid it as the caffeine in it can hamper the development of fetus.
People with stomach issues like ulcers, diarrhea, acidity, etc should avoid it as it tends to aggravate their condition.
Can You Put Sugar in Green Tea?
Sugar or honey can be added to green tea to enhance its taste if one is not used to it and yet has to develop a palate for its flavor. Although, adding sugar will add to the calorie content of your otherwise zero-calorie beverage. So if you are planning to drink green tea to aid in weight loss or simply to keep it healthy, avoid adding those unnecessary calories.
What is the Best Time to Drink Green Tea?
Although green tea is high on health benefits, still excess of it may override them. Since green tea also contains caffeine having it right after you get up may cause gastric disorders and acidity. Similarly, it is not advisable to have green tea before you sleep as it may hamper your sleep cycle. It is also not recommended to have green tea while having your meals as it may hamper the absorption of certain nutrients. Thus, it can be safely said that the best time to have green tea is between meals that should be at least one to two hours after and before your meal. If weight loss is what your primary objective for green tea intake is, then a cup before your work out is also advisable.
A sip of freshness, a cup closer to wellness
Green tea has taken the world by a storm with the benefits it bestows upon your body. Just take it in the right amount, the exact number varies but three cups of green tea in a day is safe to reap all its benefits. India is a tea-loving country and has accepted green tea in its everyday life with open arms. Therefore, shopping for green tea can get a bit overwhelming, considering the range of brands, types, and flavors that are available in the market today. Hence, this list of best green tea brands in India has been collated to prevent you from getting lost and help you save money, time and confusion.
Reader Interactions