Kolkata, the City of Joy is certainly a great place to be in. There are a number of reasons as to why Kolkata is famous. The first on the list has to be friendly people. Second, would be the reasonable food prices. Kolkata is probably one of the only places where street food can be found in every nook and cranny. Apart from the food and people, shopping is very popular here as well. Since the market caters to the mass population, items are affordable and available in bulk throughout Kolkata. If you are visiting Kolkata, or if you just want to know more about the best things you can buy in Kolkata, take a look at this list.
The Best Things To Purchase When Shopping In Kolkata
Here are some souvenirs that represent exactly what Kolkata is about. What to buy in Kolkata:
1. Bengali sweets or Sandesh
If you have a sweet tooth, then there is no better place to satisfy those cravings except Kolkata which is famous for their sweetest delicacies. There are all kinds of sweets available such as Sandesh (soft creamy sweets), Mishti Doi (a sinfully sweet and creamy curd), Rosagulla (soft, white, chenna balls soaked in syrup), Gur Bati (a soft and chewy sweet which has nolen gur in the centre, it is available in winters) and Rabdi (sweetened and thick milk) etc. There are many famous places throughout Kolkata that sell all kinds of sweets and if you don't find something you like in one shop, you will definitely find it in the next.
Best places: Ballaram Mullick, Gangurams, Radharam Mullick and Mithai.
2. Terracotta Figures
This is one of the best things that you can purchase as a souvenir from Kolkata as it will be as though you are taking back a piece of Kolkata with you. Handmade clay figures are very popular throughout Kolkata and there are many places where you can find some beautiful structures. These structures can commonly be found in 3 different colors such as black, reddish orange, and light orange. You can find structures of Bankura horses, Ganesha playing instruments and other traditional items such as clay pots, vases, plates, and cups. You can also find beautiful jewelry that is made from terracotta and hand painted colorfully. These are sold at affordable prices as well.
Best places: Art Gallery Gift Items in Madhyamgram, Biswa Bangla Hut in Park Street and Purbashree Emporium in Dakshinpan Market.
3. Ethnic Sarees
This is another thing that Bengali women absolutely love and take pride in, their sarees. You can find a saree for any and every occasion, be it casual wear, special occasions, weddings or funerals. There are different kinds of sarees that are available in Kolkata. One of the most famous is the 'Lal Paar' which is a beautifully simple white or one color saree that has a thick red border. Apart from this, there are also famous silk sarees that are available such as Tassar silk or Vishnupuri sarees. Handloom sarees are available in bright colors and simple ones that can be worn for any occasion. Kantha sarees have different patterns of embroidery and traditional motifs.
Best places: Raj Gharana Sarees in Mullick Bazaar, Dakshina Shopping Complex, and Indian Silk House Exclusives in Lake Road.
4. Hand Crafted Jute items
These also make great souvenirs because these pieces of work aren't just beautiful and useful but there is so much hard work that goes into it. Sweat and tears go into making a range of items which include handbags, wall hangings, photo frames, jewelry, dolls, doormats, and footwear all made from jute! There are many items that you can purchase which don't just last longer, but they are also eco-friendly. There are many different items available that can be taken as souvenirs or used at home. There is a classic jute color or other colors on different patterns that can be found.
Best places: Ankur Kala Kendra on Park Street and Handicrafts for U in Dum Dum.
5. Books
Kolkata is one of the best places for book lovers. Although there are many popular bookstores around Kolkata, the best place to visit would be a particular street would be a small but famous bookstore on Park Street or College Street which has many different stores that sell second-hand books in good condition. You can find a multitude of books on College Street which can range from academic to fiction to rare publications that aren't being sold in the market anymore. You can find almost any book that you want at half price here. You can even sell your old books here if you don't need them anymore.
Best places: Oxford on Park Street andCollege Street
6. Conch Shell artifacts
These beautiful items are created by taking a conch shell and then continuing to chip pieces off to get a particular shape after that designs are carved into the shell which depicts stories. The entire shell is carved on and it is popularly used for temples at home or just as a decoration. Apart from the shell, you can also find bangles that are made from the shell, although these are popularly worn by married Bengali women. You can also find other pieces of art such as earrings, birds, and even shells made to look like open flowers and bouquets.
Best places: Rangamaati Handicrafts Private Limited in Madhyamgram and Bengal Handicraft Traders in Barrackpore
7. Tea, tea and more tea
Those who are tea lovers can find many places in Kolkata that sell a variety of teas. The tea leaves are imported right from the hills of Darjeeling, and so you can find many flavors such as green tea, cinnamon tea, green tea, black tea, roasted tea, and mint tea. If you love tea then you can pick up tea leaves in bulk as there are many shops that sell them in bulk and on discount. If you roam around Kolkata, you will find almost every locality or area will be selling tea leaves.
Best places: Shubodh Brothers on College Street, Jain Tea Company in Lal Bazaar and Dhruba Tea Centre in Lal Bazaar
8. Paper Mache Masks
Since Kolkata is a place that is filled with artisans it isn't unpopular to find places all over the city that create pieces of art made from clay and other materials. You can find paper mache masks around Kolkata and these vibrant masks depict mythological deities or Gods. Paper is first dipped in glue and a clay model is pressed over it after it is dry, the model is removed and it is painted in bright colors such as pink, green, yellow, and orange. These marks are usually used for festivals but they can also be used as decorations at home.
Best places: Chamba Lamba in New Market and Sasha on Mirza Ghalib Street
9. Delicious goodies at Nahoum's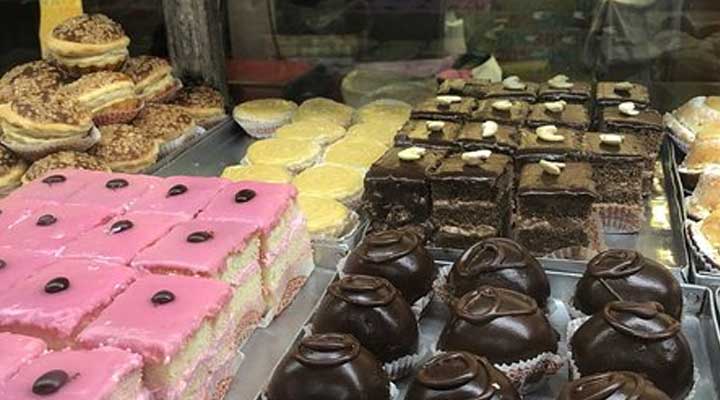 Although there are many places around Kolkata where you can purchase snacks, there is one place that is unprecedented. It has been around since 1902 and was originally started by a Jewish community. Whenever people visit Kolkata, they make sure to head to this place in New Market just to enjoy all the food. There are all sorts of things that you can buy from here ranging from biscuit to patties and pastries. During Easter, you can find Easter eggs, chocolate bunnies, and even chocolate baskets. During Christmas, you can get assorted chocolates in different patterns.
Location: New Market
10. Clay puppet or Putul dolls
These dolls are rather famous in Bengal and they are pretty miniature dolls that are created from clay and then painted in bright colors. Since these are small, they are perfect to take back as souvenirs because apart from not taking up much space, they have a lot of cultural value and they also have a piece of West Bengal with them. The dolls can be used as decorative items at homes although they were once used in folk shows.
Best place: On the Outskirts of Kolkata or Shyambazaar
11. Items of Kantha Embroidery
This popular kind of embroidery work is in popular demand in Kolkata. It is only done on cotton and silk fabrics. You can find this kind of work done on sarees, kurtis, dhotis, stoles, bags, and even beddings. Although this kind of embroidery is much more expensive throughout the country, you can find it here at reasonable prices and you can find a lot of different patterns and types to take with you as souvenirs.
Best places: Sanskriti in Ekdalia and Gariahat Marketplace
12. Traditional Kalighat paintings
These paintings were first created in the famous Kali temple in Kolkata. At first visitors were allowed to take these handmade paintings home as souvenirs but eventually, it became so popular that people paid to get their hands on them. The paintings don't just depict Kali but also other deities as well as particular scenes from the famous epics Ramayana and Mahabharata. Now you can get a lot of contemporary paintings as well but most of them are religious.
Best places: The souvenir stores right outside of the Kali temple in Kalighat
These things make great souvenirs
Although there are many such things that you can purchase in Kolkata, these are some of the best things to purchase from here and not just because they are beautiful. These things really make great souvenirs because they represent exactly what Kolkata is about and you get an insightful view about the rich cultural past of Kolkata while you get to enjoy some delicacies.
Reader Interactions