In this article we are going to discuss all the aspects of best backpacks for kids like the significance of bags, what are the different sizes of bags that are suitable for different age groups, along with that we will also discuss about some important tips that will help you during purchasing which will help you to get the best bag for your tiny toddler.
Apart from all these things, we will also let you know about the advantages of backpacks as well as discuss the harmful effects of carrying heavy backpacks.
Why do kids need a good backpack?
Kids need a good quality backpack to carry all their belongings in a convenient manner. Whenever kids step out of home they have to carry some essential things which they may require. So let's take a detailed look at the significance of backpacks.
To carry things safely
Usually, kids cannot hold objects in their hands for a long time there may be a possibility that they may lose those objects during their way, if all these essential items are kept in a bag then it becomes quite easy for the kids to carry these objects safely. A good quality school backpack for children ensures the safety of water bottle, books, lunch box, etc.
Finding things becomes easy
If books, pencil box, lunch box, water bottles, color box, etc are properly arranged in a bag in different sections then it becomes quite easy for your small kid to find out things quickly without disturbing other objects that are put inside the bag.
10 handbag essentials for women with kids
What size is a standard backpack for kids?
The ideal size of a backpack for kids between 2 to 4 years of age is 12 inches. At present the bags are not just limited to schools as your kids visit several other places like activity classes, picnic, sports classes, etc then in such a case, the size of the bag may vary. So let's discuss different sizes of the rucksacks for kids.
Preschools and nursery bags
When your kid is in preschool or nursery, then he or she will require a very small size bag with an average height of 30cm. In kindergarten kids usually have to carry a pencil box, water bottle, 2-3 notebooks and lunch box all these essentials can be easily fitted into a bag volume of 10 to 15 liters.
Primary bags
When your kids are a little grown-up, i.e. 4 to 8 years then they will require a slightly bigger bag. The approximate length of such bag is 15 inches and have four to five separate pockets, which allows your kid to carry all the belongings like a big lunch box, pencil box, color box, notebooks, books, project materials, sometimes sportswear, etc. During this age, kids are grown up and can easily handle weight up to 4-5 kilograms.
15 Best trolley bags for women in India
Things to consider while buying backpacks for kids?
You should purchase a bag according to the age of your kid. For every parent, their child is very special and they pay sufficient attention towards each and every small need of them. When you are going to purchase the best backpack for kids then you should consider following advice for an ideal selection.
Age of the kid
The backpack for children must be according to age. If the bag is too small or too big then it would be difficult for kids to carry that bag every day. On several websites, you will find a size chart of bags that will help you to choose the best kids backpacks according to age.
Boy or girl
You will find a big difference in the bags of girls and that of boys. In the case of girls, you will find bright colors like- pink, sky blue, purple, red etc with the images of dolls and princesses. For boys, you will find dark shades like black, dark blue, grey, military green, brown etc along with the images of different cartoons, bikes, cars, sports celebrities, etc. Hence while purchasing a rucksack for kids you should consider this point as well.
Budget
Your budget is the most important thing before making any kind of purchasing and the same logic applies to backpacks also. It is a well-known fact that the quality of the material depends on the price but you should visit all the prevent platforms and try to get the best backpack for kids at a minimum price.
Top 15 backpacks for children – Choose the best one for your tiny toddler
1. Bizarre Vogue Cute Small Cat Style Backpack
Bizarre Vogue Cute Small Cat Style Backpack could be an ideal choice for your small little princess which is going to school for the first time. You can use this backpack as a gym bag also. It has one compartment and two pockets but the front cat looks very attractive. This bag has a light cream color and very beautiful pink ears of the cat at the front side of the bag. It is a perfect combination of style and durability.
Price: Rs 399
Suitable for: Girls
2. Disney Mickey Mouse And Friends Striped Kids Bag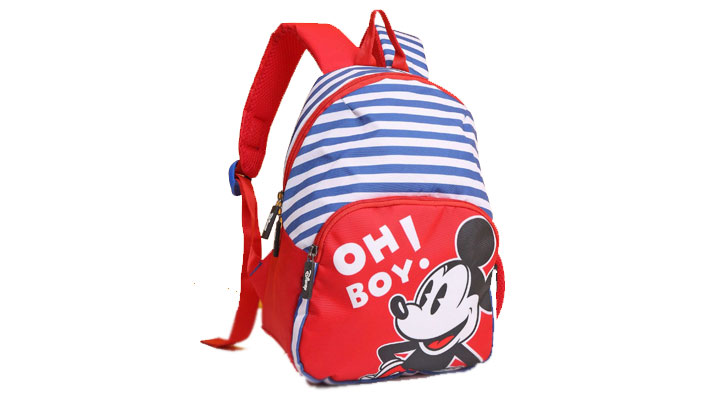 This lightweight school bag is suitable for both boys and girls as the red color and Mickey Mouse is quite favorite among the kids. It is suitable for children of 3 to 8 years of age as it has one main compartment, one small pocket at the front side and a side pocket also. The height of this bag is 12 inches which are perfect for a preschool kid. It is prepared from high-quality material and very durable. The Disney Mickey Mouse bag has adjustable straps as well, which makes it one of the best backpacks for kids of nursery and preschool.
Price: Rs 596
Suitable for: Boys and Girls
3. Frantic Premium Quality Soft Blue Elephant Velvet
The lovely light blue and elephant design make this bag a favorite one for many kids. If your son or daughter is in preschool or nursery then this bag can be the best choice no doubt. The fabric of this bag is skin-friendly and non-toxic. It has one compartment and one front pocket which is enough for small toddlers.
Price: Rs 217
Suitable for: Boys & Girls
4. Frantic Velvet Nursery Bag Panda Best Blue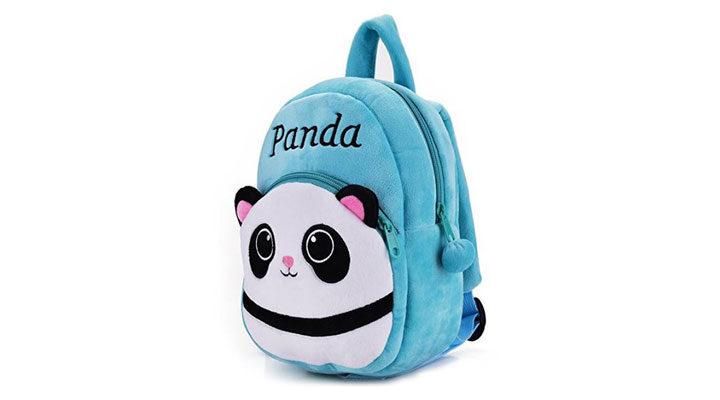 This preschool backpack for children is made up of soft velvet, your kid might confuse it for a toy. It is ideal for the kids of the age group of 18 months to 3 years. It has one compartment and one pocket at the front. This bag is small in size and just 10 inches high, which makes it very easy to carry for your kid when he or she is going to kindergarten for the first time. You will also find the pink variant of this bag with the same material and design. It is made up of high-quality material which is washable and can serve you for years without any problem.
Price: Rs 319
Suitable for: Girls
5. Blue Tree Girl's Plush Minnie Cartoon School Bag Backpack
Usually toddlers like pink color and if the bag is in pink color with very beautiful mickey mouse print then it becomes best kids backpacks no wonder. This bag is made up of non-toxic and very lightweight material so your kid can easily carry it for long hours. On the website, you will also find other color options in the same design. If your kid is just one year old then this bag can be used for schooling, traveling, and picnic as well.
Price: Rs 299
Suitable for: Girls
6. Barbie Preschool Reach Your Dreams
If your little princess is a big fan of barbie doll then you should purchase this one immediately. This beautiful purple bag has three compartments and it is ideal for preschool and nursery classes. It is made up of high-quality polyester. In this bag, you will find an attractive look as well as a very durable material. This bag is just 14 inches high which is easy for your kid to carry.
Price: Rs 499
Suitable for: Girls
7. DZert Soft Plush Fabric Multicolour Spiderman BackPack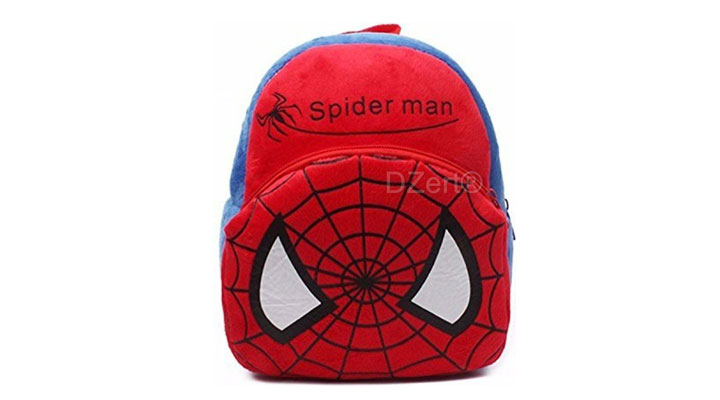 Spider-Man is the favorite cartoon of many small toddlers. In this bag, you will find a very attractive image of Spider-Man. Normally kids just love to carry this backpack all the time. This bag provides a unique look along with supreme quality. You can also purchase a combo of Spider-Man bag and lunch box from amazon. If you are looking for a useful and attractive birthday gift for a 3-4 year kid then this bag is the best option.
Price: Rs 299
Suitable for: Boys
8. Smiley School Bag with Happy Print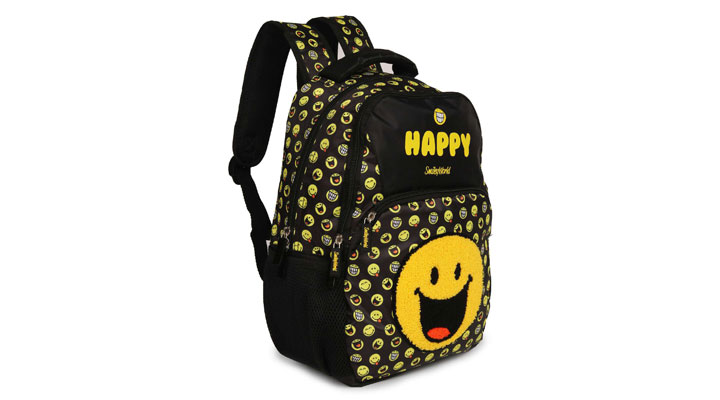 In this whole world, the most beautiful face is a smiling face. Hence this beautiful smiley school bag can impress anyone. It has two compartments, one front pocket and two side pockets which provide enough space to carry different belongings. Its height is 14 inches and suitable for boys and girls both. Apart from school, you can take this bag for the picnic also because of its attractive colors and print.
Price: Rs 299
Suitable for: Boys
9. GEAR Black and Orange Casual Backpack
This attractive bag is appreciated by several customers for its quality, looks and affordable price. It is designed in such a way that it is very easy to carry for long distances without any trouble in the back. It is suitable for reguar schooling as well as casual outings with friends and family. This bag is ideal for kids of 8 to 12 years.
Price: Rs 209
Suitable for: Boys
10. Yuneek Pink Barbie Trolly Bagpack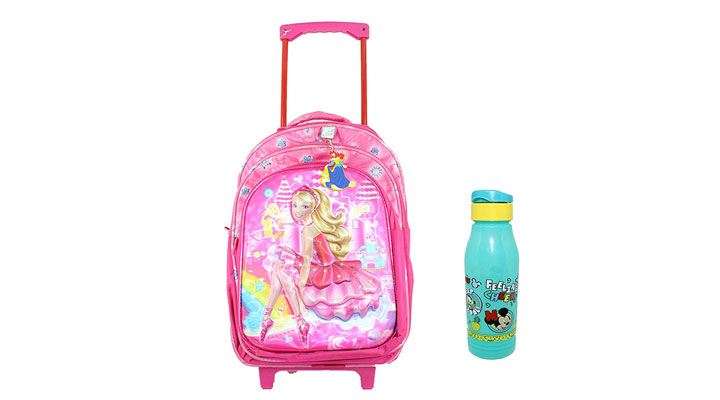 This beautiful bag has two big compartments, it is ideal for those kids who had completed their preschools and ready for primary teachings. It is made up of fine quality polyester and has a very beautiful and bright pink color. Along with the bag you will also get a matching water bottle in the combo. This backpack is provided with wheels and handle so you can easily pull it to cover long distances.
Price: Rs 1649
Suitable for: Girls
11. Frantic Kids Velvet Fabric Yellow Bag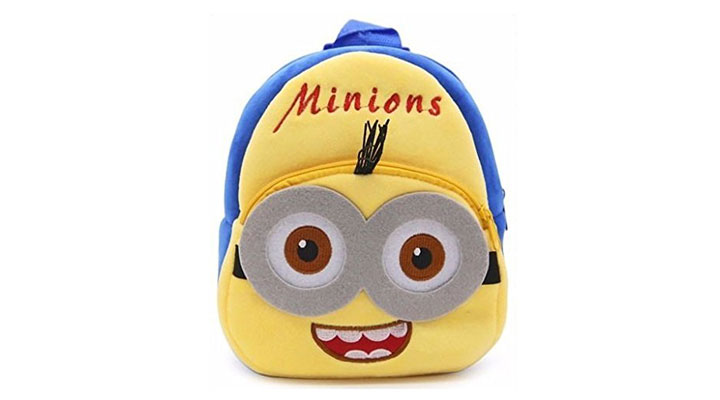 The bright yellow color of this bag is very attractive and liked by tiny toddlers very much. This bag is made up of very lightweight material hence your kid can carry it very easily. It has sufficient space for a small lunch box and 1-2 books. Frantic Kids' bag is suitable for the picnic as well.
Price: Rs 319
Suitable for: Boys & Girls
12. LTB058, 20 L Backpack (Multicolor)
This attractive backpack is actually a multi-utility product and comes up with a one year warranty against any kind of manufacturing defects. You can easily carry 7-8 big books in this bag so it is one of the best backpacks for children of middle and higher classes. It should be chosen for style and color. You can use it for your visit to the school as well as a picnic.
Price: Rs 497
Suitable for: Girls
13. Disney Junior 3D Embossed Kids Backpack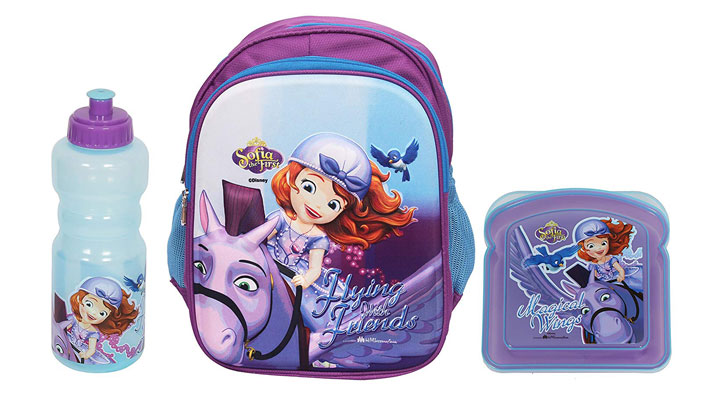 If you are looking for a matching combo of a water bottle, bag, and lunch box then Disney junior could be the best option for you. It is very attractive as well as affordable. In this combo, you can find a bag with two adjustable bottle holders and two big compartments. It has a very beautiful 3D emboss which gives a unique look.
Price: Rs 899
Suitable for: Girls
14. Marvel Avengers Captain America School Bag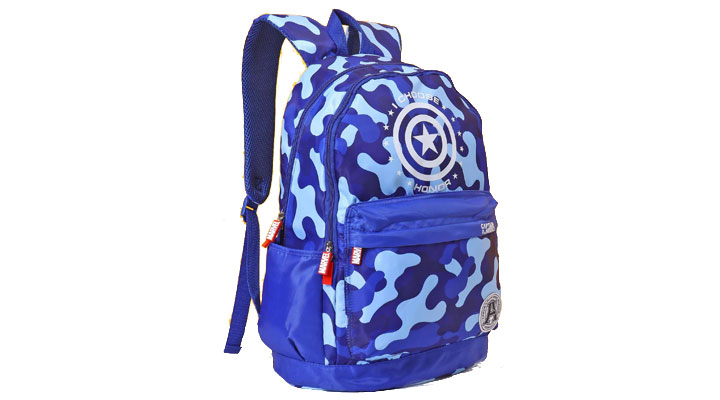 If your kid likes Marvel Avengers then is bag could be the best option. Though it is slightly costlier the quality of the bag is unmatched. It has two big compartments along with one front pocket and two side pockets. This bag is suitable for the kids of 12 to 14 years of age. The height of the bag is 19 inches and you may find other colors options in the same pattern on different online platforms.
Price: Rs 1259
Suitable for: Boys
15. Reelay mee
You cannot resist this beautiful water blue bag which has radium strip on the shoulder pad for a different look. It is very stylish and durable. This bag is prepared from high-quality polyester fabric which makes it waterproof. The pink variant of the same pattern is also available. You can use this bag for daily schooling purposes and picnic also. It is unique in design has three pockets and two big compartments.
Price: Rs 899
Suitable for: Girls
Why kids should carry backpacks?
To keep their belongings properly, kids should carry a backpack. While going anywhere all of us need some important things which we carry in our purchases, pockets, in the dashboard of the vehicle or any other place. But kids are not acquainted with all such facilities so they have to carry a backpack along with them to carry all the things they need like a small napkin, lunch box, water bottle etc. The main reasons can be-
To carry their belongings properly
Kids are usually careless about their books and toys. If you want your small baby to become responsible for their belongings then you should purchase a small backpack for them and assign the responsibility to carry their toys or books properly and safely.
Easy to carry
Backpacks are quite easy to carry for your kids. They don't need any external help to take on their bag and take it off. They can easily perform both these activities by themselves.
What are the effects of carrying heavy backpacks?
Heavy backpack is very harmful for your spinal cord and shoulders. When you carry too heavy bags in your shoulders then it will affect your body very badly. The main disadvantages of heavy bags are as under.
Body posture
Proper posture of the body is very important for all of us. Often we saw that when a kid carries a heavy bag on his back, the body slightly bands forward to balance that extra weight in the body. If we didn't pay sufficient attention to it since childhood then it becomes a prominent reason for the several problems of the future. When a child carries a very heavy bag then it may cause several postures related problems in the body.
Back pain
If kids carry a very heavy and oversized bag for a long duration then it may cause back pain. If your kid is too young then there are chances that he or she may not realize about the trouble. Hence it is very important for the mother or father that they should ensure that the bag that their kid is caring, should not be too heavy.
How we can reduce the weight of heavy bags?
If you prudently choose the items which you want to keep in bag then the heavyweights of the bags can be reduced. The issue of bulky bags is related to school bags of the children. If sufficient attention is given to this problem, then teachers and parents can reduce this extra burden from the kids very easily. Here we are presenting some suggestions to reduce the weight of the bag.
Proper time table
If the kids have a proper time table about their lectures in schools then they will carry only those books and notebooks which are required on that particular day. This will sufficiently reduce the heavyweight from their back.
The material of the bag
In the market, you may find different varieties of bags. Some bags are made up of very heavy materials that even the weight of an empty bag is more than 1 kg you should avoid purchasing such bags.
The proper design of the bags
The bags should be properly designed and the weight is equally distributed among all the parts of your back. In case of big size bags, it must have a waist strap which will reduce the weight from your shoulders and backbone.
Water bottles
Some mothers are quite bothered about the health issues of their kids and never allowed them to drink or eat anything healthy. They always come up with a big lunch box and even bigger water bottle, which makes the bag heavy. So it is advisable that you should select a water bottle of a reasonable size which is easy to carry.
Extra items in bags
Being a kid all of us wants to discuss all the things with our friends. Many a time small kids are too excited about new toys and take them to school just to showcase them to the school friends, it is a very lovely act of a small toddler but if the toys are heavy then it may hurt their soft bones. Hence it becomes very essential for the parents to check the bags of the kids every day and take out all such extra materials before going to school or anywhere else.
Conclusion
For school-going children, bags are not just bag they are a complete world to them. They carry the same bag every day and numerous good and bad memories are related to a simple bag. In such a scenario it becomes very important to select a bag of proper size, shape, and material that can prove to be the best companion for your kid.
Reader Interactions