Communicating your views without words is an art. Here we are discussing such an art form named doodle. One can define doodle as a very simple yet attention-seeking pictorial representation of thoughts. It requires a constant effort and hard work to design eye-catchy doodles, according to the vivid demands of the clients from different sectors. A doodle is an art form that uses cartoons, logos, and small taglines. The trend of doodles is not just limited to newspapers and magazines anymore. Now they are finding places on t-shirts, different online platforms like – Facebook, Instagram, websites, even on coffee mugs as well.
It is an old proverb that "one image can communicate more than a thousand words" and it is very beautifully adopted by our today's guest Gurmeet, she is having an online platform named as blackbuck studios which is dedicated for different kinds of creative doodle designs. Though this platform is at the budding stage, the quality and creativity of every creation are unmatched.
Also Read: Harneet & Kokil – The two sisters behind Dream Catcher business
We are getting the privilege to share the success story of Gurmeet with all the readers as we conducted a short interview with her. In this interview, she answered all the questions in a very flawless manner.
In order to pay her bills, she works as a content and advertising professional but doodling is a passion and she can work for it 24/7. She has a deep interest in movies, music, and cartoons.
When we asked her about the concept of doodles then she beautifully described that- first of all, she notes down all the important points that should be covered, then woven them to create an appealing story with some attractive doodles. She never forgets to add the ingredient named as "love" in every creation.
According to Gurmeet, if you are honest about your work and continue to learn new things then you can find numerous opportunities without much difficulty. The name of her platform Blackbuck Studios is derived from one of the exotic animal species that she likes.
Being a woman Gurmeet also faces different social pressures about marriage and personal life but she learned to deal with all these over the period of time. She tries to celebrate every tiny victory and take criticism in a positive way. End of the day, her commitment towards the work always wins the race.
In order to make her business different from others, she always maintains uniqueness in each creation as every client comes up with a different set of demands and the target should be to fulfil all of them.
Before starting her own business, she wanted to publish her own poetry book. Gurmeet thinks that she is very fortunate to have sufficient support from family and friends.
The word of mouth and different social media platforms are the chief sources of marketing of her products till now but she wanted to create a strong marketing strategy in the near future. While discussing the challenges she mentioned that she is from a non-artistic background and she has to work very hard to justify her talent and other challenges include management and finding of clients. For newcomers, she gave a simple mantra that is "don't be static" and try to keep working on your skills regularly. She also has very vivid future plans which she shared with us without any hesitation.
In order to develop her business, Gurmeet spends several sleepless nights and devote her weekends for the work instead of partying. She is still trying to learn Adobe Illustrator and other skills. She is very confident that on one fine day all of her efforts will pay back and that day would be worth watching.
Here is the detailed interview
1. Hi Gurmeet, can you please tell us a little bit about yourself?
Hi you all! I am Gurmeet. I work 9 to 5 as a content and advertising professional and 24×7 as a doodler. I believe every person out there in the world is unique, and my doodles are an expression of appreciation of that 'uniqueness'. If you ever want to talk to me – movies, comics, music, chai, and Cillian Murphy are the best ice-breakers!
2. When did you start doodling?
Well, it was 06th Dec 2016 and I had just finished watching a series called Westworld. It hit me hard and left me in a very turbulent emotional state. Hence, I made my first doodle of The Maze. I also posted it on twitter and believe me- Nobody in the world retweeted it, lol!
That was when I realized lines and ink are my voice rather than words. Ever since, I try to draw all the things, people and moments I cherish!
3. How the concept of doodle comes to you?
While making customized doodles, I pen down a (really long) list of unique traits of the receiver. All these points are then creatively woven into a pictorial story with doodles. This story is then hand-drawn on the mediums like Mugs, Cloth, Canvas etc. But I swear the secret ingredient is always – love!
This process is done for every order as each order is unique. It is then packed in the handmade packages that I personally make and ship worldwide. At times it takes a lot of iterations to get a piece right, but it's all worth it.
4. How did you find the opportunity?
I haven't seized enough opportunities to answer this question adequately! With an experience as little as mine, I can only suggest that staying honest to your work attracts opportunities. Keep your eyes open, pull up your socks and don't fear stretching your limits. Connect with people on the most genuine terms and you'll find your audience, just like I did.
5. How did you come up with the name "The Blackbuck Studios"?
It is one of the exotic animal species I adore. The choices were among guinea pig, blackbuck and T-Rex, I think I made a fair choice, lol!
6. What were the social pressures on you?
For someone not having a formal education in art, it is really difficult to venture as an artist. You have to maintain the balance and switch gears between the job that pays your bills & simultaneously grasp a new skill. The society is still a bit less accommodating to off-beaten tracks of careers but don't worry, time is on your side.
If it is something you really love doing, you'll find a way!
7. What exactly did you do to make your business different than others?
I tried finding my own unique business offering, which is distinctive hand-drawn illustrations for every client. No two people are identical so why depict them with the same piece of art!
Although this restricts the scalability but I have different models for different products. To cater to scalability, there is a variety of notebooks, badges, posters & coasters tastefully designed to celebrate your tiny details!
9. What were the challenges faced by you and how did you overcome it?
Ah! This is a tough one! The list of challenges sizes up proportionally to your mindset. There are micro and macro levels of challenges. From taking first step to facing criticism on your everyday work, there are countless demons you'd have to combat. Nothing worthy comes easy. 'Celebrating every tiny victory' has been the formula for me, you can try mine or figure out a new one for yourself!
Being One-Woman-Army gets a bit overwhelming at times. Even in this modern age, I come across people who suggest I better worry about marrying, eh! When you are hurt or stuck remind yourself what Ron Weasley told Harry Potter, Don't let the muggles get you down!
10. What was your dream before starting your business?
The same dream that at least 3.8 billion youth in the world has, publishing my poetry book, haha! I secretly still want to do that!
11. Are you encouraged by your friends or family?
Absolutely! I'm lucky to have crazily motivated people around me. Be it parents, friends or homies, everyone adds their bit. Their blessings are magical. I can't be more grateful.
But, there will be days when no one can actually help you but yourself. So make peace with who you are and what you want to do. It is the most underrated-yet-crucial support system!
12. Was there any support/guidance given by anyone?
I have no formal mentor; The Blackbuck Studios follows a learning-by-doing model. Nevertheless, there is a long list of people who have unknowingly been my motivation, support and guiding light. One day I wish to tell them all personally how much they have influenced my life and work.
13. How do you market your products?
Till date it has mostly been word of mouth and social media platforms like Facebook and Instagram. Also, websites like yours which bring us a whole lot more sunshine, so thank you Suan!
If you all keep loving my creations like you do, I'd soon have to set up a team for the website :).
14. What challenges do you find in marketing your label
To name a few, justifying a non-artistic academic background, finding clients, building rapport from scratch, managing different verticals with different approaches and meeting break even. All of it is going to beat you up repeatedly but makes you better too!
15. What ideas do you want to give to the newcomers which they can implement in this field?
Keeping in mind that the new generation is smarter than ours, I'd say just Don't Be Static. There is no rulebook for starting your journey in creative fields. Super duper good luck to all of you!
16. What are your future plans in this business?
Making a line of merchandise which lights up your day and reminds you how beautiful and unique you all are. Also, there are plans to make some kickass manga books to satiate my anime thirst! What say people, are you with me?
The Blackbuck Studios will continue to cater to individuals as well as corporate clients for gifting ideas!
17. When has your perseverance paid off to you?
Almost Every Weekend!! When most of us around me are either partying or sleeping, my perseverance pays me off with more client conversions, orders and meaningful connections laid on the grounds of art.
All the credit goes to perseverance that every instance in life, good or bad, turns into a piece of art I plan to curate!
18. Tell us something that you are still learning right now.
I am rigorously working to learn Adobe Illustrator and nuances of publishing to make some fun loaded comics very soon. Having given such a not-so-subtle hint, stay tuned you all!
19. What message you would like to give to our readers?
First of all thanks for reading all that was written above. Second, all the sleepless nights you spend to nurture your dreams are worth it. No matter what age you are at, please start! There may be a whole fortune waiting to come to you, if only you- begin!
You can reach out to me by dropping a post on my blog theblackbuck.weebly.com or on Instagram @theblackbuckstudios! See you!
We enjoyed this interview very much as Gurmeet beautifully described all the aspects of her life. This success story may motivate other youngsters and especially women entrepreneurs who wanted to take initiative for their economic independence. Gurmeet can be a role model for all those young girls who wanted to work as a one-woman army and afraid of taking the initial step.
Interview Team: Harneet, Joyeeta, Prachi Dubey, Suanlian.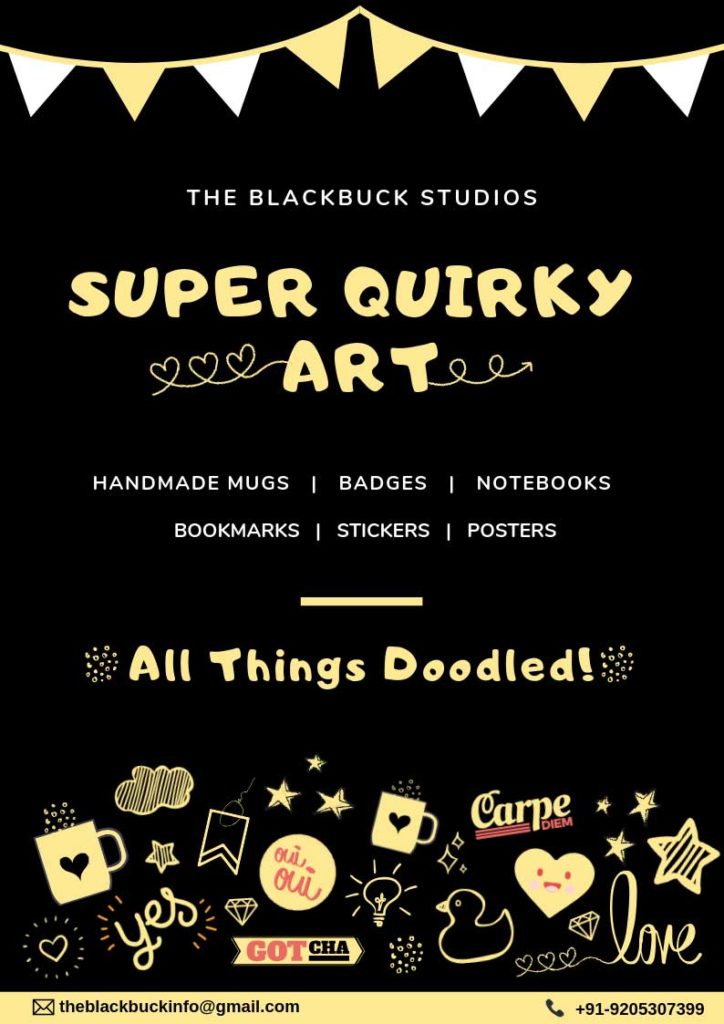 Reader Interactions